June 25, 2015
15-173
Whitney N. Yarber, Communications Specialist
Adolphus "Adolph" Butler Named VSU's Spring 2015 Employee of the Semester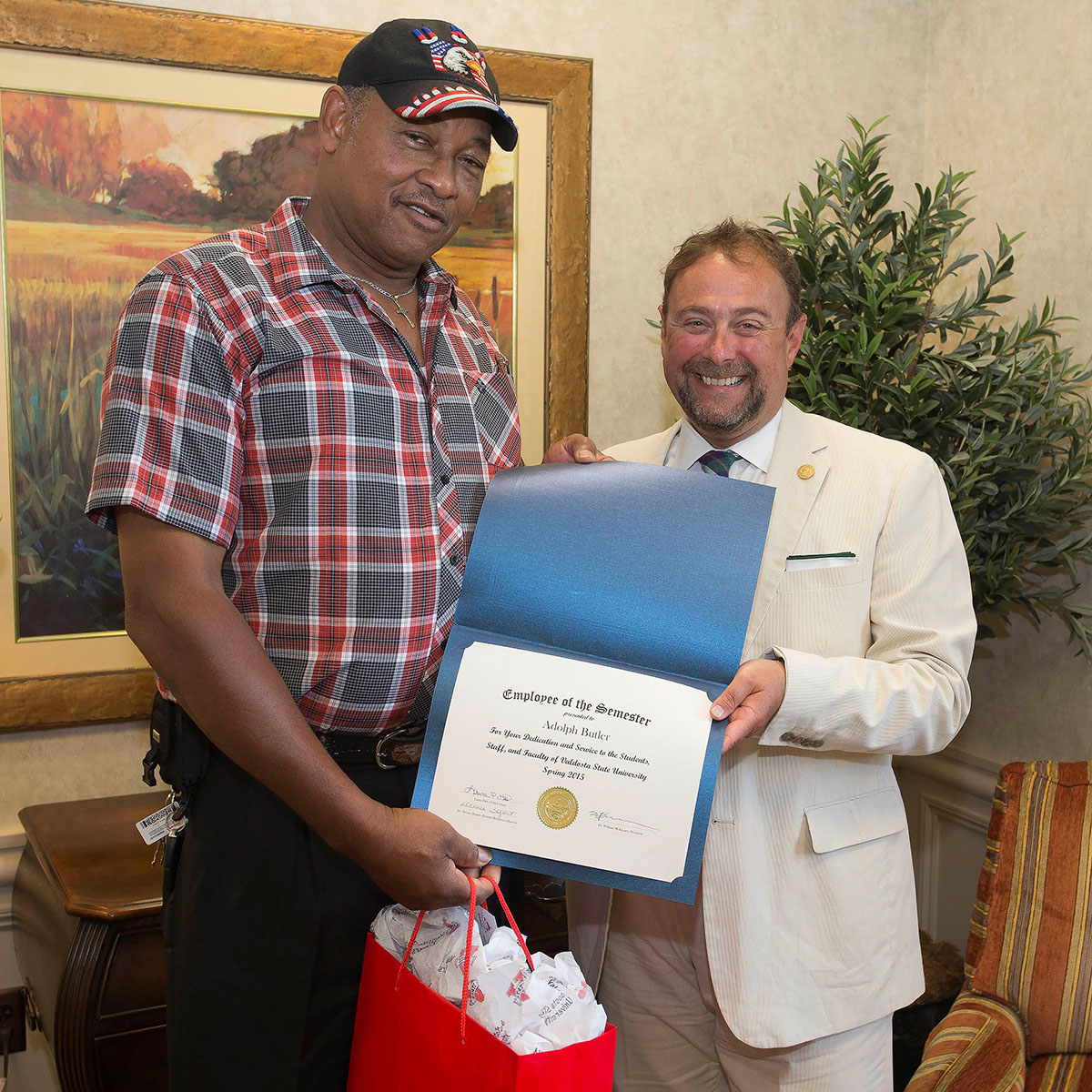 Valdosta State University named Adolphus "Adolph" Butler as its Spring 2015 Employee of the Semester. Pictured, from left to right, are Adolph Butler, landscape and grounds supervisor, and Dr. William McKinney, president of VSU.
VALDOSTA – Valdosta State University named Adolphus "Adolph" Butler as its Spring 2015 Employee of the Semester.
For more than 30 years, Butler has been working at Valdosta State as a landscape and grounds supervisor for the Grounds Department, a division of Plant Operations. He oversees all phases of routine maintenance on the north zone of main campus.
"Our daily activities start early at 7 a.m. cleaning the campus," said Butler. "Then we spend time mowing, trimming shrubs and trees, and doing all we can to make sure the landscaping of main campus is safe and attractive for our students, faculty, staff, guests, and the community.
"I am honored to finally receive the Employee of the Semester Award. Grounds work and landscaping are hard jobs, but I enjoy being outside and making sure the campus looks beautiful. Hearing the people of Valdosta State and the community comment on the beauty of the campus is what we work so hard for."
Butler was nominated by his supervisor Monica Haynes, grounds supervisor with Plant Operations, who shared that his dedication and service to the university is evident.
"He is a working supervisor that — after working for Valdosta State for over 30 years — still mows, trims, blows, and performs all of the tasks that his crew must perform," said Haynes. "He leads by example and is able to make main campus look fantastic with a minimal crew. Adolph works to make sure that [the] main campus' outdoor areas look their best at all times.
"During the unscheduled closing on April 24, he came in before 7 a.m. to begin cleaning main campus, as trash is collected daily. Since he did not have a crew available that day, he spent the morning cleaning the campus by himself. This is how Adolph is every day. He will do what it takes to make sure that his assigned area looks its best."
Haynes further stated that Butler has been instrumental in the transition of taking the Athletic Fields from an outside contracted service back to an in-house service by the Grounds Department.
"He has trained the crews to properly use the reel mowers, which is a necessary skill to effectively maintain the athletic fields. He has met with the crews and shown them closely how the mowing of the fields should be performed. He also returns and keeps an eye on their progress. Additionally, Adolph works well with his fellow supervisors to make sure that the entire campus looks its best. He has no problem speaking his opinion, and his opinion is valued information."
Butler and his wife Josie, who works as a bus driver for the Department of Parking and Transportation, have been married for 19 years. They have a 28-year-old son, Cory Strickland.
Kyle Culpepper, instructional technology specialist with the Media Center, and Beverly Porter, administrative specialist and coordinator with the Department of Anthropology, Sociology, and Criminal Justice, were runners-up for this year's Employee of the Semester Award.
VSU's Council on Staff Affairs presents the Employee of the Semester Award at the end of every fall and spring semester. All full-time classified staff employees are eligible for the award.
Visit http://www.valdosta.edu/administration/council-on-staff-affairs/employee-of-semester.php to learn more.
---
Valdosta State University's 2013-2019 Strategic Plan represents a renewal of energy and commitment to the foundational principles for comprehensive institutions.
 
Implementation of the plan's five goals, along with their accompanying objectives and strategies, supports VSU's institutional mission and the University System of Georgia's mission for comprehensive universities. 
 
Employee of the Semester award meets the following goals: 
 
Goal 1: Recruit, retain, and graduate a quality, diverse student population and prepare students for roles as leaders in a global society.
Goal 2: Increase financial support for the university
Goal 3: Promote student, employee, alumni, retiree, and community engagement in our mission.
Goal 4: Foster an environment of creativity and scholarship.

Goal 5: Develop and enhance Valdosta State's human and physical resources.

Visit http://www.valdosta.edu/administration/planning/strategic-plan.php to learn more.
General VSU Information
Office of Communications
Campus Address
Office of Communications Powell Hall West, Suite 1120
Mailing Address
1500 N. Patterson St.
Valdosta, GA 31698