May 20, 2015
15-146
Whitney N. Yarber, Communications Specialist
VSU Receives Ovum 2015 On the Radar Award for Innovation in Analytics and Big Data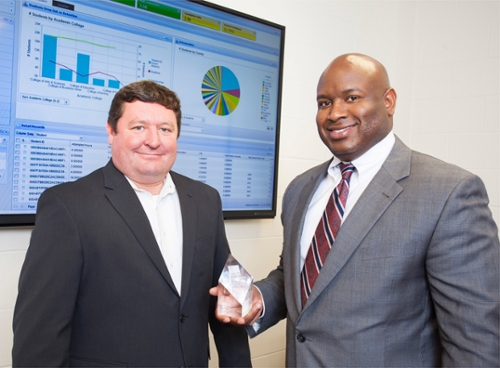 Pictured are Andy Clark, vice president of the division of Enrollment, Marketing and Communications, and Brian Haugabrook, 

chief information officer of the Division of Information Technology.
VALDOSTA – Valdosta State University received the Ovum 2015 On the Radar Award for Innovation in Analytics and Big Data on May 12 in London, England. This is the fifth national and international award that VSU has received for innovation and data analytics.
"It is a great accomplishment for Valdosta State University to be considered for this award," said Brian Haugabrook, chief information officer. "Of the 18 shortlisted companies, VSU was the only education-based organization. Winning the award highlights the strong commitment by our faculty and staff on efforts to improve student success. It proves our strong focus on improving business processes and being innovative in support of our strategic goals."
Ovum's "On the Radar" brand is all about technology innovation, highlighting the innovative ideas, products, or business models that enable end-user organizations to create real value in their businesses.
Valdosta State University is applying predictive analytics to improve student success, enable closer collaboration between faculty and support staff, and to provide alerts when action is recommended. Working with the Oracle Business Intelligence stack, the project combines structured and unstructured data from a wide range of sources, presenting it through a customized dashboard. The Ovum judging panel was particularly impressed by the data model developed to predict and analyze student success, and by the push notifications that are sent out to the relevant stakeholders.
"Participating in the event was a great experience," shared Haugabrook. "I was able to hear and speak with organizations from other countries who are creating amazing innovations in technology. All of the nominees are transforming their business through new technologies and improving customer experience. I also got to speak with analyst who focus on technologies and upcoming innovations. There were many comments about VSU being a leader in developing innovative solutions to improve student success.
"Receiving the award was an honor, but there is still a lot that can be accomplished. Our accomplishments so far are just the tip of the iceberg for what is possible at VSU."
Contact Brian Haugabrook at bahaugab@valdosta.edu or (229) 333-5974 for more information.
On the Web:
http://ovumindustrycongress.com
---
Valdosta State University's 2013-2019 Strategic Plan represents a renewal of energy and commitment to the foundational principles for comprehensive institutions.
Implementation of the plan's five goals, along with their accompanying objectives and strategies, supports VSU's institutional mission and the University System of Georgia's mission for comprehensive universities.
The story above demonstrates VSU's commitment to meeting the following goals:
Goal 1: Recruit, retain, and graduate a quality, diverse student population and prepare students for roles as leaders in a global society.
Goal 3: Promote student, employee, alumni, retiree, and community engagement in our mission.
Goal 4: Foster an environment of creativity and scholarship.
Visit http://www.valdosta.edu/administration/planning/strategic-plan.php to learn more.
General VSU Information
Office of Communications
Campus Address
Office of Communications Powell Hall West, Suite 1120
Mailing Address
1500 N. Patterson St.
Valdosta, GA 31698