May 29, 2015
15-152
Whitney N. Yarber, Communications Specialist
VSU Hosts Law Enforcement Training Conference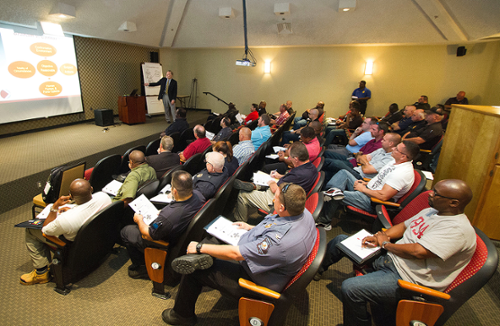 Dr. Darrell Ross, professor and head of VSU's Sociology, Anthropology, and Criminal Justice Department and director of the Center for Applied Social Sciences, presented to law enforcement officers during training at VSU May 6-8.
VALDOSTA – Law enforcement officers from across the state participated in a three-day workshop sponsored by Valdosta State University May 6-8.
In its fifth year, the Chiefs of Police Executive Training Series provides advanced level training for law enforcement personnel. The Georgia Association of Chiefs of Police, which certifies and regulates standards for all persons serving in the capacity of chief of police in Georgia, requires at least 20 hours of executive level training per year.
With limited availability for advanced law enforcement training, Lt. Tim Yorkey, VSU training specialist for Employee and Organizational Development, and Dr. Darrell Ross, professor and head of VSU's Sociology, Anthropology, and Criminal Justice Department and director of the Center for Applied Social Sciences, developed the Executive Training Series.
Ross and Yorkey have been collaborating on the training conference since 2011. It is a joint effort between VSU's office of Employee and Organizational Development and the Center for Applied Social Sciences, which was established to foster and support the expansion of human knowledge through innovation, research, and creative activities.
"The conference fits within VSU's and the center's mission by providing life-long and service learning for regional and state stakeholders (law enforcement professionals and law enforcement agencies)," said Ross. "The resources of VSU are being used in an outreach strategy to benefit regional and statewide law enforcement agencies through ongoing education and training, which will enhance their ability to lead their agencies effectively and efficiently."
The three-day workshop consisted of participants representing members of the Federal Reserve Police Department, as well as police departments and sheriff's offices from counties adjacent to Valdosta, south Atlanta, and the middle and south Georgia region.
The law enforcement participants were given training on administrative liability issues; assessing the components of the agency use of the force system; media relations; criminal procedure updates; 360 degree analysis of critical incidents; and evidence/outcome-based agency policy implementation, monitoring, and assessment.
Presenters included Brian Childress, Valdosta Police Department chief, Dr. Fred Knowles, professor of criminal justice, and Ross.
"This regional training began five years ago as a resource to ensure our area law enforcement executives and command level officers have an opportunity to receive quality training," said Yorkey. "This training is free and provides a central location where agencies can send officers. It reduces or eliminates costly travel expenses and in many cases allows for officers to be close to his or her jurisdiction and home."
"As a result of this collaboration, not only has the Executive Training Series been developed, a Summer Training Series was developed as well," shared Yorkey. "The Summer Training Series offers law enforcement officers advanced training in management, supervision, and investigations in areas that affect entire communities."
The date for the Summer Training Series will be scheduled in the near future.
The training is also available for non-command staff personnel and qualifies for training credits in the Georgia Peace Officer Standards and Training System.
---
Valdosta State University's 2013-2019 Strategic Plan represents a renewal of energy and commitment to the foundational principles for comprehensive institutions.
Implementation of the plan's five goals, along with their accompanying objectives and strategies, supports VSU's institutional mission and the University System of Georgia's mission for comprehensive universities. 
The story above demonstrates VSU's commitment to meeting the following goals: 
Goal 3: Promote student, employee, alumni, retiree, and community engagement in our mission.
Visit http://www.valdosta.edu/administration/planning/strategic-plan.php to learn more.
Newsroom
Office of Communications Powell Hall West, Suite 1120
Mailing Address
1500 N. Patterson St.
Valdosta, GA 31698
General VSU Information
Office of Communications