May 8, 2015
15-142
Jessica Pope
Communications and Media Relations Coordinator
Juwan Andrews Named Student Assistant of the Year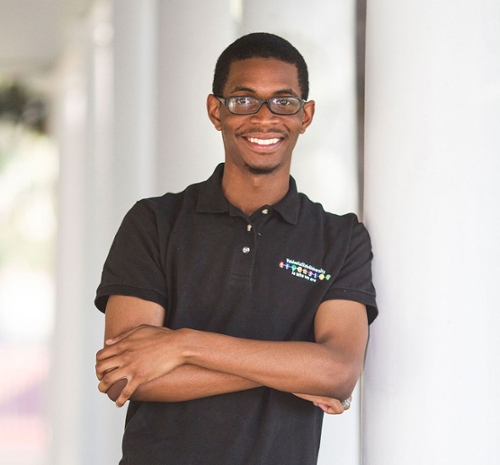 Juwan Andrews
VALDOSTA — Juwan Andrews of the Office of Social Equity is Valdosta State University's 2014-2015 Student Assistant of the Year.
"I was so caught off guard," said the 21-year-old son of Marilyn Staten and Steven Andrews. "It was cool because my supervisor had contacted my family to come down and attend the luncheon, and I had no idea. I walked in a little late, and I unknowingly sat at the table — beside the one my family was at — with my friend, Chad Lawson. I then took a moment to get settled, started scoping the room to see who was all there, and a familiar face struck me; it was my niece. I then looked at the other people at the table and my whole family was there, laughing at me because my face was priceless. Seldom do I get surprised, but they got me this time."
Andrews has worked for the Office of Social Equity for three years. He said that the experience has led to him being able to take advantage of numerous leadership opportunities, such as serving on the university's 50 Years of Integration: A Celebration of Inclusion planning committee; working with the Educational Talent Search Program, which seeks to break down social, cultural, academic, and economic barriers to college attainment and retention; assisting in the planning of two scholarship dinners; and chairing a Black History Month planning committee.
Andrews said that he enjoys projects that positively impact the VSU community and also make his Office of Social Equity team proud.
As a student assistant, Andrews responsibilities include answering the telephone, updating the Office of Social Equity's website and assisting with its social media accounts, monitoring the computer lab in the Seago House, making copies, helping with advertising, and setting up events. He works under the supervision of Selenseia Holmes, the office's administrative coordinator.
"I sometimes come up with ideas — some good and some outlandish — and shoot them to my supervisor for approval," he said. "She supports me a lot and gets me the necessary resources to accomplish my ideas. Together, I think we have accomplished a lot for the office."     
Holmes described Andrews as dependable and full of initiative, a leader among his fellow students.
"I have had the pleasure of supervising several wonderful student assistants over a number of years, but none have ever shown the level of initiative that Juwan has displayed over the last year," she said.
"Whether born or made, Juwan is a true leader," she continued. "He has vision and manages to get others to see and understand it. When he comes in to work, he will ask if I need help with anything, but he does not sit and wait for things to be handed to him, and that goes beyond the office setting."
"He is always willing to help were he can, and if he cannot give his best effort to a project, he is honest and upfront about it," she added. "If a task seems to be more difficult than it has to be, Juwan often suggests a better or more efficient way." 
Andrews was recently voted Mr. Superlative at the third annual Evening of Geniuses, an awards ceremony hosted by Media Arts Geniuses to recognize exceptional students and student organizations at VSU.
Andrews co-founded Media Arts Geniuses in 2012 as an opportunity for talented students to share their gifts with the university community. Its membership includes student singers, dancers, comedians, poets, graphic designers, photographers, event planners, and more. The organization hosts variety entertainment-type events designed to showcase the talents of its members and also makes its talented members available to other campus organizations in need of live entertainment or other services.
Andrews also served as the first president of Media Arts Geniuses, from 2012 to 2014.
A native of Thomaston, Andrews is pursuing a Bachelor of Business Administration degree with a major in management. He served as chairman of the 2014 Homecoming Step Show and was recently elected president of the Mu Omicron chapter of Alpha Phi Alpha Fraternity Inc., having previously served as vice president.    
General VSU Information
Office of Communications
Campus Address
Office of Communications Powell Hall West, Suite 1120
Mailing Address
1500 N. Patterson St.
Valdosta, GA 31698