May 5, 2015
15-138
Whitney N. Yarber, Communications Specialist
Gloria de la Garza Receives American Chemical Society 2015 Student Leadership Award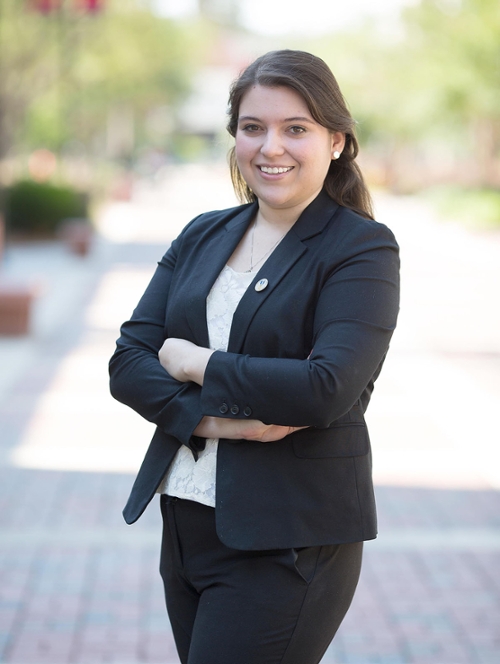 Gloria de la Garza
VALDOSTA – Gloria de la Garza, a 21-year-old chemistry major at Valdosta State University, received the American Chemical Society (ACS) 2015 Student Leadership Award.
To be eligible for the award, de la Garza had to of completed one or more years towards an undergraduate degree in the chemical sciences, be a paid ACS student member, and currently hold or have held an office in an active ACS student chapter. The award allowed her to attend the ACS Leadership Institute in Dallas, Texas.
The three-day ACS Leadership Institute consisted of 15 ACS student members from across the nation.
"… [we] had the unique privilege of learning new leadership skills and the opportunity to network with local section and division leaders, national committee chairs, and younger chemists," shared de la Garza.
The goal of the ACS Leadership Institute is to support and enhance the creation of ACS leaders, giving them the opportunity to share ideas, develop leadership and management skills, and foster new peer-to-peer networks.
"A big part of the Leadership Institute was networking among student leaders," said de la Garza. On the first day, the 15 undergraduate students got together to share ideas about how to guide their university ACS chapter to success. The student chapter leaders talked about how to increase the number of members, contribute to the society, organized events, and find funding.
"Throughout the whole leadership institute, networking with other chemists was the highlight of each day. Attending an event with more than 250 ACS leaders — and to network with them — is an opportunity undergraduate students cannot get at any other place other than the ACS Leadership Institute."
While attending Valdosta State, de la Garza has worked as a research assistant to Dr. Jenny Vu, professor of organic chemistry, since 2014. She worked with Dr. John Barbas, professor of organic chemistry, in spring 2013. De la Garza has also been given the opportunity to present four research posters at VSU's Undergraduate Research Symposium and one at the ACS Florida Annual Meeting and Exposition.
"I have a great passion for science, especially chemistry," said de la Garza. "At the moment, I am still exploring different options within chemistry, but I have always felt an appreciation for the chemical processes related to the environment. There are countless ways to make little contributions to help our planet, but I would like to create a development to make a bigger change. Doing research for the advancement of new energies or new ways to clean water are just some of the goals I have in mind."
De la Garza is vice president and president-elect of the Student Members of the American Chemical Society, past vice president and secretary of the Society of International Students, a member of the Sigma Alpha Pi National Society of Leadership and Success, and a university ambassador at Valdosta State University. She has earned the International Student Scholarship and the Outstanding Chemistry Student award for the Southwest Georgia Section of the ACS and has maintained a 3.94 grade point average.
De la Garza is scheduled to graduate in May 2017. When asked about her plans after graduation, she replied, "During the past year, I have explored organic research, which has given me the experience to be certain that what I want to do after college is to pursue a doctoral degree in chemistry. The highlight of my day is to be in the laboratory setting up a reaction or quantifying and characterizing products. I enjoy solving puzzles, and I feel like doing research is a puzzle which dazzles me and keeps me motivated to pursuing my goals."
Contact Gloria de la Garza at gddelagarza@valdosta.edu for more information.
On the Web:
http://www.acs.org/content/acs/en.html
http://www.valdosta.edu/colleges/arts-sciences/chemistry/
---
Valdosta State University's 2013-2019 Strategic Plan represents a renewal of energy and commitment to the foundational principles for comprehensive institutions.
Implementation of the plan's five goals, along with their accompanying objectives and strategies, supports VSU's institutional mission and the University System of Georgia's mission for comprehensive universities. 
The story above demonstrates VSU's commitment to meeting the following goals: 
Goal 1: Recruit, retain, and graduate a quality, diverse student population and prepare students for roles as leaders in a global society.
Goal 3: Promote student, employee, alumni, retiree, and community engagement in our mission.
Goal 4: Foster an environment of creativity and scholarship.
Visit http://www.valdosta.edu/administration/planning/strategic-plan.php to learn more.
General VSU Information
Office of Communications
Campus Address
Office of Communications Powell Hall West, Suite 1120
Mailing Address
1500 N. Patterson St.
Valdosta, GA 31698