May 13, 2015
15-143
Whitney N. Yarber, Communications Specialist
VSU Hosted Annual Retired Faculty and Staff Luncheon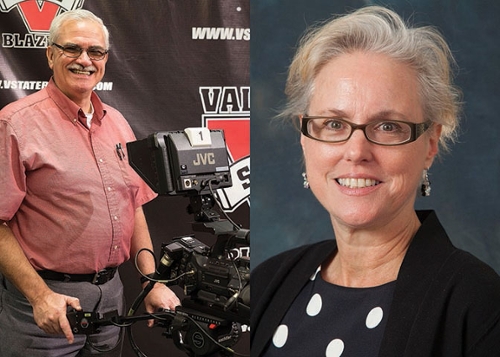 Pictured are Bill Muntz and Cheryl Hatcher, two of the 2014-2015 VSU Retirees recognized on April 30.
VALDOSTA – Valdosta State University's faculty and staff honored their colleagues who retired during the 2014-2015 academic year.
The annual Retired Faculty and Staff Luncheon was held April 30, in the University Center and was sponsored by the President's Office, VSU Retirees Association, Council on Staff Affairs, and Chartwells, and paid tribute to 34 faculty and staff members representing a combined 676 years of service to the university.
Cheryl Hatcher arrived at Valdosta State College in October 1984 and served as a coordinator of faculty development for Vice President Malcolm Rainey. Hatcher had the pleasure of teaching staff, students, and senior citizens how to use computers while working in the newly formed Microcomputer Support Center and the Harley Langdale, Jr. College of Business Administration, where she served as the facilities manager for eight years. Hatcher worked in Information Technology for one year before retiring in March 2015.
"Being a part of computers becoming plentiful on campus would have to be my most memorable moment working at Valdosta State University," shared Hatcher. "I had the opportunity to manage the first network, as well as train staff to use the first computers."
Hatcher has volunteered with The Humane Society of Valdosta and Lowndes County for over 20 years, where she served in various positions, including president and foster parent. She is currently a member of VSU's Campus Beautification and Stewardship and Recycling committees, and has served as president of the Music Scholarship Alliance for four years.
Bill Muntz arrived at Valdosta State College in October 1982 and served as a technical assistant and telecommunications laboratory coordinator in the Department of Communication Arts until 1998, when he became the production manager for Video Production Services.
"When I moved to what was originally the Uplink Studio —  then called Satellite Services — and is now Video Production Services, we started doing some things that no college was doing back then," shared Muntz. "We were implementing dynamic video production reaching all parts of the university, academic, administrative, athletics, you name it."
After 32 years at Valdosta State, Muntz, who is now the director of Video Production Services, does not plan on completely leaving the university. "I certainly plan on staying in Valdosta and being somehow involved with the university," said Muntz.
Hatcher, Muntz, and the other 32 retirees honored this year are automatically inducted into the VSU Retirees Association (VSURA) with their dues waived for the first year of membership. Bob Lee, chairman of the VSURA, shared that the main objective of the association is "to provide ongoing communication between the university and its retirees."
The Retirees Association meets monthly during the academic year to keep retirees involved with the ongoing life of the university and for the university to benefit from the accumulated wisdom of the retirees.
According to Lee, the Retirees Association will meet at 11:30 a.m. on Tuesday, May 26, in the University Center Executive Dining Room. The presentation is titled "All About You." The meeting will include updates from the recent statewide Georgia Higher Education Retirees Organization meeting.
All retired VSU faculty and staff are eligible for membership in the association, as well as spouses of deceased faculty and staff members. Dues are $10 annually or $100 for a one-time life membership. Visit http://www.valdosta.edu/administration/retirees/ for additional information about the Retirees Association or to join.
Current Retirees as of April 1, 2015
Raymond E. Andrews, 1982-2015
Perry A. Baskin, 2003-2015
Richard E. Bass, 1997-2015
Jocelyn Best, 2002-2014
Lynn A. Corbin, 1996-2015
Robert A. DeLong, 1995-2015
H. Scott Doner, 1995-2015
Sandra J. Fletcher, 1998-2015
Cheryl A. Hatcher, 1984-2015
James L. Hornsby, 1997-2015
Anita G. Hufft, 2004-2014
Michael E. Jones, 1985-2015
Mohammed F. Karim, 2001-2015
Wing K. Lee, 1990-2015
Henry S. Matchett, 1994-2014
Ava V. Matthews, 2004-2014
Shirley A. McClain, 1989-2015
Xavier V. McClung, 1994-2014
Mimi S. McGahee, 1996-2015
William R. Muntz, 1982-2015
Sheila B. Muse, 1995-2014
James W. Peterson, 1983-2015
David L. Plair, 1983-2014
Margaret B. Powers, 1987-2015
Marcella G. Prater, 2003-2014
Jackson P. Rainer, 2012-2014
Deborah M. Reagan, 2003-2015
Joan W. Reaves, 1996-2014
Tonja L. Root, 1985-2015
Lawrence L. Scully, 1987-2014
Marvin T. Smith, 1993-2015
Richard J. Vodde, 1994-2015
Jane Whitehead, 2001-2015
Brenda K. Wynne, 1987-2014
Visit https://www.flickr.com/photos/valdostastate/sets/72157649947267924/ to view photographs from the luncheon.
General VSU Information
Office of Communications
Campus Address
Office of Communications Powell Hall West, Suite 1120
Mailing Address
1500 N. Patterson St.
Valdosta, GA 31698