April 29, 2015
15-134
Whitney N. Yarber, Communications Specialist
VSU's Dr. Theresa Grove Joins International Research Team in Antarctica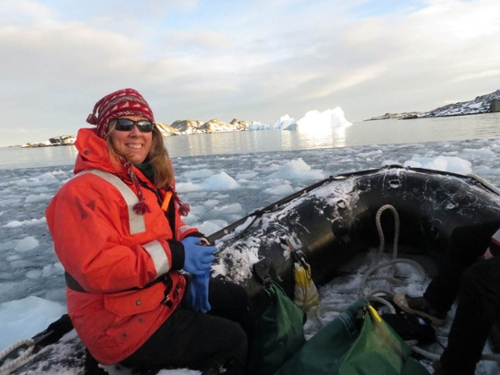 Dr. Theresa Grove
VALDOSTA –Valdosta State University's Dr. Theresa Grove, a comparative physiologist and biochemist, and associate professor in the Department of Biology, was invited to participate in a three-month research study at Palmer Station. This will be Grove's fifth trip to Antarctica to conduct research.
"The research, funded by the National Science Foundation, examines the physiological responses of Antarctic fishes to increases in environmental temperature," said Grove, who will be joining Dr. Kristin O'Brien from the University of Alaska, Fairbanks, and Dr. Lisa Crocket from Ohio University.
According to Grove, "Antarctic fishes are adapted to the chronically cold environment of the Southern Ocean surrounding Antarctica, and unfortunately, the Western Antarctic Peninsula is warming at a faster rate than any other area in the Southern hemisphere.
"Previous research has shown that one group of Antarctic fishes, known as icefish, are extremely vulnerable to increases in ocean temperature. Icefishes have clear blood due to the lack of hemoglobin, a protein found in red blood cells that gives blood its characteristic red color and is responsible for carrying oxygen throughout the body. Because icefishes do not have this protein, the blood carries only a fraction of the oxygen that closely related red-blooded Antarctic fish species transport. While it is known that icefishes are more sensitive to increases in temperature than other red-blooded Antarctic fishes, it is not known why icefishes are more sensitive, or if both red and white-blooded Antarctic fishes can adjust their physiology to increased ocean temperatures."
Results from this research will expand Grove and her team's understanding of the physiology of Antarctic fishes, and the potential these fishes have to respond to future environmental changes caused by global warming.
The research team departed the United States on Friday, April 3, and is scheduled to return at the beginning of July.
"I appreciate the invitation to join this international research team that is composed of leaders in the field of physiology from the United States, Canada, and the U.K.," shared Grove. "One interesting note about the research team is that Kristin, Lisa, and I earned our Ph.D.'s from the University of Maine under the guidance of Dr. Bruce D. Sidell, a leader in the field of fish physiology and cold adaptation. As academic siblings, we are looking forward to again working together in Antarctica.
"As a marine biologist, I am interested in how fishes have adapted to different environments, and conducting research in Antarctica is an opportunity that few scientists have," Grove said.
Grove expressed gratitude to Stanley Jones, registrar; Dr. Robert Gannon, professor and head of the Department of Biology; Dr. Connie Richards, dean of the College of Arts and Sciences; and Dr. Hudson Rogers, provost and vice president for Academic Affairs.
"Their support reflects highly on VSU's commitment to enhancing the research goals of faculty, and I hope that the administration will continue to support similar faculty endeavors," said Grove.
To view photos and read stories about Grove's experience at Palmer Station, visit her blog at theresagrove.blogspot.com.
Dr. Theresa Grove can be contacted at tjgrove@valdosta.edu or (229) 333-5346 for more information.
---
Valdosta State University's 2013-2019 Strategic Plan represents a renewal of energy and commitment to the foundational principles for comprehensive institutions.
Implementation of the plan's five goals, along with their accompanying objectives and strategies, supports VSU's institutional mission and the University System of Georgia's mission for comprehensive universities.
The story above demonstrates VSU's commitment to meeting the following goals:
Goal 1: Recruit, retain, and graduate a quality, diverse student population and prepare students for roles as leaders in a global society.
Goal 3: Promote student, employee, alumni, retiree, and community engagement in our mission.
Goal 4: Foster an environment of creativity and scholarship.
Goal 5: Develop and enhance Valdosta State's human and physical resources.
Visit http://www.valdosta.edu/administration/planning/strategic-plan.php to learn more.
General VSU Information
Office of Communications
Campus Address
Office of Communications Powell Hall West, Suite 1120
Mailing Address
1500 N. Patterson St.
Valdosta, GA 31698