April 18, 2016
16-120
Whitney N. Yarber, Communications Specialist
VSU Bass Fishing Team Qualifies for 2017 FLW College National Championship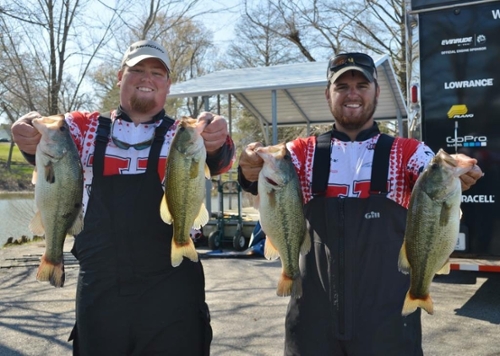 Pictured, from left to right, are Cody Cleary, a senior criminal justice major from Dalton and team secretary, and Max Gresham, a freshman marketing major from Griffin and team vice president.
VALDOSTA – The Valdosta State University Bass Fishing Team's Max Gresham and Cody Cleary have earned the right to compete in the 2017 Fishing League Worldwide (FLW) College National Championship.
Gresham and Cleary are the first team in the student organization's history to qualify for this particular national bass fishing competition.
Gresham and Cleary were among 202 teams that competed at the 2016 FLW College Open April 1-2 on Kentucky Lake in Gilbertsville, Ky. The duo finished the first day of the competition in 24th place, catching five bass weighing 13 pounds 14 ounces. They moved up to 11th place on the second day with five bass weighing 12 pounds 13 ounces and ended the tournament in 11th place with 10 total bass weighing 26 pounds 11 ounces.
"I was very excited and honored to qualify," said Cleary, a senior criminal justice major from Dalton and team secretary. "Going to the national championship is not something that everyone gets to do, so it is very special. Qualifying means a lot to the both of us because we have worked so hard for it."
"I was super excited when I realized we had enough weight," said Gresham, a freshman marketing major from Griffin and team vice president. "We both thought we didn't have enough total weight to make it. So, when they told us we had plenty of weight to spare, it was an unreal feeling of relief. We worked really hard for four days to get into that position, and it felt great to have it pay off."
The date and location of the 2017 FLW College National Championship will be announced later this year. The VSU Bass Fishing Team's next event is the 2016 FLW Southeastern College Fishing tournament May 21 at Lake Guntersville State Park in Guntersville, Ala.
"… we are going to go for the win and hold nothing back," said Gresham.
Contact Landon Tucker, VSU Bass Fishing Team president, at lotucker@valdosta.edu for more information.
On the Web:
https://valdosta.collegiatelink.net/organization/bass
https://www.facebook.com/VSUFishing
http://www.flwfishing.com/tournaments/college-fishing
---
Valdosta State University's 2013-2019 Strategic Plan represents a renewal of energy and commitment to the foundational principles for comprehensive institutions.
Implementation of the plan's five goals, along with their accompanying objectives and strategies, supports VSU's institutional mission and the University System of Georgia's mission for comprehensive universities. 
The above story supports the university's commitment to the following goals: 
Goal 1: Recruit, retain, and graduate a quality, diverse student population and prepare students for roles as leaders in a global society.
Goal 3: Promote student, employee, alumni, retiree, and community engagement in our mission.
Visit http://www.valdosta.edu/administration/planning/strategic-plan.php to learn more.
Newsroom
Office of Communications Powell Hall West, Suite 1120
Mailing Address
1500 N. Patterson St.
Valdosta, GA 31698
General VSU Information
Office of Communications