April 29, 2015
15-132
Jessica Pope
Communications and Media Relations Coordinator
VSO Performs Beethoven's Ninth Symphony May 2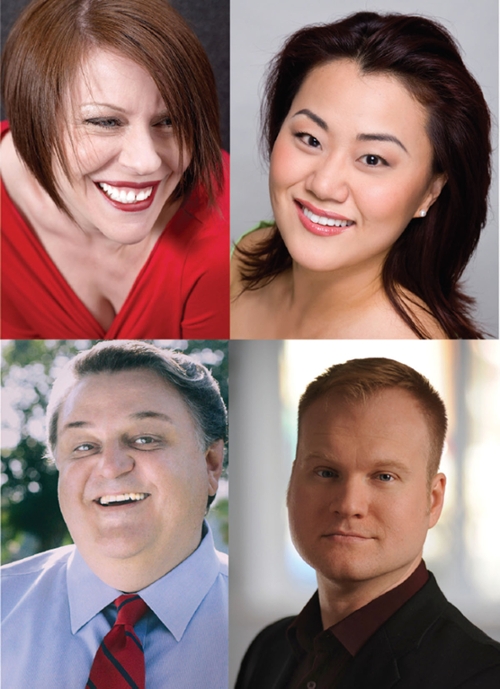 Tamara Hardesty, Soon Cho, Nathan Stark, Stanford Olsen
VALDOSTA — The American Prize-winning Valdosta Symphony Orchestra will conclude its 25th anniversary season with Ludwig van Beethoven's "towering" Ninth Symphony at 8 p.m. on Saturday, May 2, in Whitehead Auditorium.
Tickets are $27 for adults and $10 for students. Discounted tickets are available for senior citizens, military personnel, and Valdosta State University faculty and staff.
Reservations are required.
"Beethoven's Ninth Symphony has presented a daunting challenge for generations of conductors," shared Dr. Howard Hsu, conductor and VSO music director. "When I was a teen violinist, before choosing conducting, I read that the ninth was the 'Mt. Everest' of the classical repertoire and should not be attempted by conductors before they hit their 40s. This will be my first performance of the work, and I must admit that I am seeing and hearing things in the score that I didn't catch 10 to 20 years ago."
The Valdosta Symphony Orchestra's performance will feature acclaimed soloists Tamara Hardesty, Soon Cho, Stanford Olsen, and Nathan Stark, as well as a choir, and promises to "shake the rafters with the sounds of one of Beethoven's most glorious creations."
Whitehead Auditorium is located on the first floor of the VSU Fine Arts Building, at the intersection of Brookwood Drive and Oak Street. 
Visit www.valdostasymphony.org or contact Sarah Alexander with VSU's College of Arts Outreach Office at (229) 333-2150 or swalexander@valdosta.edu to reserve tickets or learn more. Tickets are also available at the Box Office before each event.
On the Web:
http://www.valdostasymphony.org
About the Valdosta Symphony Orchestra
Created in 1990, the Valdosta Symphony Orchestra serves both the cultural life of Valdosta and the regional academic mission of Valdosta State University. The high standard of performance of the orchestra enables it to attract guest soloists of national and international renown to the Valdosta community. The orchestra's membership is a unique blend of resident artist-faculty, students studying professional music disciplines, talented community performers, and carefully selected professionals from a five-state region. Supported by an Advisory Board of Directors, the Valdosta Symphony Guild, Valdosta State University, corporate sponsors, and hundreds of individual patrons, the orchestra has become an important part of the cultural life of the entire region.
About Tamara Hardesty
Tamara Hardesty, soprano, is de­scribed by noted New York Times music critic James R. Oestreich as "... a partic­ular joy, singing with a clear, agile sopra­no and spinning out the coloratura with ease." In addition, Andrew Porter wrote in the New Yorker magazine that Hard­esty "... gave pleasure in many gentle, fluent, well-shaped passages." Hardesty has sung lead operat­ic roles with such opera companies as Connecticut Grand Opera, San Fran­cisco Opera's Merola program and Western Opera Theater Tours, White­water Opera in Indiana, Sorg Opera in Ohio, Lake George Opera in New York, Sarasota Opera in Florida, and L'Opera Francais de New York, Dicapo Opera, and Bronx Opera in New York City. She made her Kennedy Center debut per­forming the soprano solo in the Mon­teverdi Vespers with the Washington Chorus. She has also been a featured soloist in oratorios and concerts with the Valdosta Symphony, Westches­ter Oratorio Society in New York, the St. Joseph Symphony in Missouri, the Oskaloosa Symphony Orchestra and the Ottumwa Symphony Orchestra in Iowa, and the Haddonfield Symphony Orchestra in New Jersey. Hardesty has given lieder recitals in New York City at Steinway Hall, Klavierhaus, St. Pe­ter's Church, St. Paul's Chapel, and in Boston at the Isabella Stewart Gardner Museum. Hardesty is active in singing at events benefiting and memorializing victims of the Sept. 11  tragedy and the 2011 tsunami in Japan.
About Soon Cho
Hailed by Opera News for her "po­tent presence" as Mrs. Clemm in Argen­to's Voyage of Edgar Allan Poe, lyric mezzo-soprano Soon Cho has gained recognition as a versatile performer. As a recitalist, chamber musician, ora­torio and concert soloist, and equally at home on the opera stage, Cho began her professional singing career under the batons of world-renowned conductors such as Alan Gilbert, Krist­jan Järvi, Paavo Järvi, Erich Kunzel, Ju­lius Rudel, Mischa Santora, and David Zinman. As Dido in Purcell's Dido and Aene­as, Cincinnati Post praised her perfor­mance as "regal in bearing, with vocal endowments to match. The tears were listener response to her heart-wrench­ing performance of 'When I Am Laid in Earth.'" Opera credits include Costanza in Haydn's L'isola disabitata with New York Philomusica, Komponist in Ariadne auf Naxos at the Seongnam Arts Center in Korea, Mao's Second Secretary in Nixon in China with Cincinnati Opera, a "delight­fully melodramatic" Dorabella in Cosi fan tutte with the CCO and at the Astoria Music Festival, Adalgisa in Norma with Opera in the Heights, Mercedes in Car­men with Dayton Opera, Zita in Gianni Schicchi at the Opera Festival of Lucca with a repeat perfor­mance at the 50th Puccini Festival in Torre del Lago in Italy. On the concert stage as a mezzo-soprano soloist, Cho has performed Verdi's Requiem with the Honolu­lu Symphony Chorus, Mahler's Kindertotenlieder with the Breckenridge Music Festival Orchestra, John Rutter's Feel the Spirit with the Valley Symphony Orchestra and Chorale, Beethoven's Choral Fantasy with the Cincinnati Sympho­ny and May Festival Chorus, A Salute to Opera with the Cincinnati Pops Orchestra at the Riverbend Music Center; Berlioz's Les Nuit D'Eté with Opera Philharmonic of Bour­gas in Bulgaria, Handel's Messiah with Pilgrim's Chorus and Orchestra in Canada, Bach's St. John Passion with Vocal Arts Ensemble and Cincinnati Chamber Orchestra, St. Mat­thew Passion, Magnificat; Falla's Three Cornered Hat and Mahler's Symphony No. 2 with CCM Philharmonia Orches­tra and Combined Choruses, Mozart's Requiem at St. Peter in Chains Cathedral, Rossini's Pettite Messe Solennel, Saint Saëns's Messe, and Vivaldi's Gloria.
About Stanford Olsen
Since his debut in 1986 opposite Joan Sutherland, Stanford Olsen has performed over 150 times with New York's Metropolitan Opera and has been heard in such major venues as La Scala, Australian Opera, Deut­sche Oper Berlin, San Francisco Opera, and most oth­er significant opera companies in the USA and Europe. One of this generation's most versatile concert per­formers, Olsen regularly performs with the world's top orchestras and conductors in repertory from Bach to Béla Bartók. A frequent collaborator with Kurt Masur and the New York Philharmonic Orchestra, he has performed with such notables as Pierre Boulez and the Ensemble Intercontemporain, Seiji Ozawa and the Saito Kinen Fes­tival Orchestra, James Levine and the Berlin Philharmon­ic, John Elliot Gardner and the English Baroque Soloists, and Helmuth Rilling and the International BachAkademie. He has performed at the festivals of Ravinia, Tanglewood, Salzburg, and the Baldwin-Wallace College Bach Festival (2007), and is a regular guest with the orchestras of Phil­adelphia, San Francisco Symphony Orchestra, Saint Lou­is Symphony Orchestra, Saint Louis Symphony Orchestra, Montreal, and Atlanta Symphony Orchestra. Winner of the 1989 Walter W. Naumburg Award for recitalists, he debuted in Alice Tully Hall in 1989 singing Schubert's Die Schöne Müllerin, a piece he repeated in 1997 in the 92nd St. Y's final "Schubertiade" recitals, stepping in for an ailing Hermann Prey with James Levine accompanying. He continues to be a sought after recitalist in the USA and Europe, and one of the world's leading light lyric tenors. Olsen's recordings of Bach, Mozart and Ros­sini have received critical praise, including a 1995 nomina­tion for a Grammy Award for Rossini's Tancredi with Alber­to Zedda on the Naxos label. His 1999 Telarc recording of Dvorak's Stabat Mater, with the Atlanta Symphony Orches­tra under the baton of Robert Shaw, also received a Gram­my nomination.
About Nathan Stark
Praised by the Washington Post as having a voice of "unearthly power," Nathan Stark from Hughson, Calif., has performed on operatic, concert and recital stages throughout the United States, Europe and China. His 2014- 15 season currently includes Mustafa in L'italiana in Algeri with Opera San José, Monterone in Rigoletto with Atlan­ta Opera, Sparafucile in Rigoletto in a return to Opera in the Heights, Sulpice in La Fille du Regiment with Mills City Summer Opera, bass soloist in Beethoven's Symphony No. 9 and Choral Fantasy with the Canton Symphony Orches­tra, special guest bass soloist for Elijah with the University of North Dakota, bass soloist for the Verdi Requiem with The Defiant Requiem Foundation and singing in recital at El Camino College in Torrance, Calif. His 2013-14 season engagements included his debut on the Metropolitan Opera stage as the One-Armed Man in Strauss' Die Frau ohne Schatten; First Nazarene in Rich­ard Strauss' "Salome" with the Boston Symphony Orches­tra; the world premieres of Myers' Buried Alive and Soluri's Embedded with Fargo-Moorhead Opera's Poe Project; his return to Madison Opera as Sulpice in La fille du regiment; bass soloist with Dayton Philharmonic Orchestra in Beetho­ven's Symphony No. 9; featured soloist with the Madison Symphony Orchestra in "A Madison Symphony Christmas"; Zuniga in Carmen and Sylvano in Cavalli's La Calisto, both with Cincinnati Opera; and bass soloists in Verdi's Requiem with the Defiant Requiem Foundation at Strathmore and at the University of New Mexico, under Murry Sidlin. Concert credits include Beethoven's 9th Symphony, Beethoven's Mass in C Major, Verdi's Requiem, Mozart's Re­quiem, Brahms' Ein Deutsches Requiem, Elijah, El retablo de Maese Pedro, and Handel's Messiah. Additionally, Stark has given recitals throughout the United States and Ger­many, a concert of American spirituals at the Great Wall of China, performances at the U.S. Colombian Embassy, U.S. French Embassy, the U.S. Austrian Embassy, and the Wash­ington National Cathedral. In 2005 he was the featured so­loist at the nationally televised opening ceremonies for the Air Force One Exhibit at the Ronald Reagan Library for for­mer First Ladies Laura Bush and Nancy Reagan, members of the United States Senate, Congress, and then-President George W. Bush.
---
Valdosta State University's 2013-2019 Strategic Plan represents a renewal of energy and commitment to the foundational principles for comprehensive institutions.
Implementation of the plan's five goals, along with their accompanying objectives and strategies, supports VSU's institutional mission and the University System of Georgia's mission for comprehensive universities. 
The story above demonstrates VSU's commitment to meeting the following goals: 
Goal 1: Recruit, retain, and graduate a quality, diverse student population and prepare students for roles as leaders in a global society.
Goal 3: Promote student, employee, alumni, retiree, and community engagement in our mission.
Goal 4: Foster an environment of creativity and scholarship.
Goal 5: Develop and enhance Valdosta State's human and physical resources.
Visit http://www.valdosta.edu/administration/planning/strategic-plan.php to learn more.
General VSU Information
Office of Communications
Campus Address
Office of Communications Powell Hall West, Suite 1120
Mailing Address
1500 N. Patterson St.
Valdosta, GA 31698