April 3, 2015
15-109
Jessica Pope
Communications and Media Relations Coordinator
Charles Sutlive, Vice Chancellor of Communications, University System of Georgia
President William J. McKinney Announces Resignation Effective July 1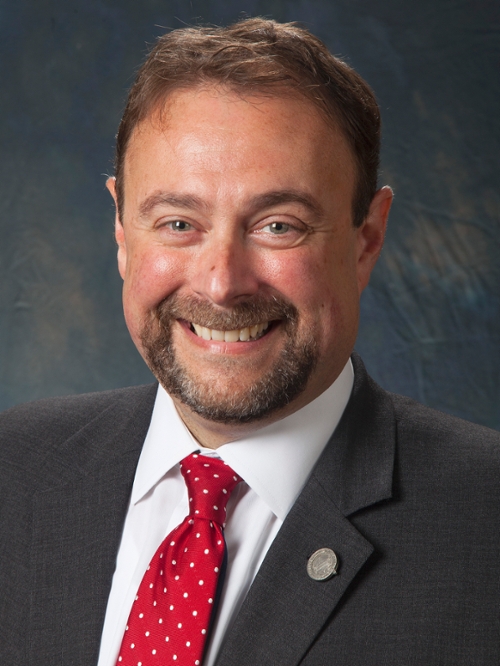 Dr. William J. McKinney, Valdosta State University's ninth president
VALDOSTA — Valdosta State University President William McKinney has announced he will step down as president effective July 1, 2015.
McKinney was named president of Valdosta State University in 2012.
Under McKinney's leadership, Valdosta State University:

• Established a new mission statement, vision, and strategic plan focused on better serving students.

• Launched the first comprehensive capital campaign that has already raised more than $30 million in the first eight months, including the largest gift in Valdosta State's history – an estate gift of $17 million.

• Invested in academics, business intelligence, and enrollment management to position Valdosta State as a national leader in the use of information technology in enrollment management

• Initiated the development of a Master Facilities Plan to assure the optimal living, learning, and working environments for students, faculty, and staff.
University System of Georgia Chancellor Hank Huckaby recognized McKinney's leadership of Valdosta State University, saying, "Dr. McKinney developed and launched the first comprehensive capital campaign for Valdosta State University that will have a lasting impact for generations of students. I thank Dr. McKinney for his contributions to Valdosta State University and the University System of Georgia and appreciate his commitment to higher education.
"We wish Dr. McKinney and his family the very best."
Information regarding the search for the next president of Valdosta State University will be announced in the coming months.
________________
President William J. McKinney issued the following letter to the Valdosta State University on the afternoon of Thursday, April 2:
Dear Valdosta State students, faculty, staff, retirees, alumni, and friends,
On March 16, I was fortunate to launch our university's first comprehensive capital campaign. As I reflected upon the best way to introduce our campaign, I found my thoughts returning to my home discipline of philosophy, and the works of Heraclitus and Parmenides. Heraclitus believed that change was the only way to view reality.  Parmenides believed that reality was permanent and unchanging. When I introduced our campaign, I noted that while the permanence and importance of higher education still remains, the realities of how we must now fund our institutions of higher education have changed significantly. 
These same tenets apply to a university president. That is, universities are, ideally, permanent. Presidents are not. Presidents' jobs are simply to leave our institutions better than when we arrived, and I believe that I have done just that.
Today, I tendered my resignation as VSU's president to Chancellor Huckaby, and that resignation will be effective July 1, 2015. It is time for a new leader to take Valdosta State into the future, upon the strong foundation that we have built.
Together, we have accomplished much.
Over the course of the last three years, we have accomplished a great many things. By every reasonable metric, Valdosta State is a university on the rise.  Together we have set a course for VSU that, in many ways, helps to secure its future.
We launched the ambitious Invest. Ignite. Inspire. campaign with a $53.25 million five-year fund raising target. In our first eight months, we have raised well over $30 million, including five gifts of at least $1 million and the largest gift in VSU history —an estate gift of $17 million. As you may know, much of this campaign is directed at securing the future for student scholarships and academic support. I appreciate the wisdom and support of our Foundation Trustees who believed in my initial vision for the campaign and the vote of confidence from all of our donors, including the nearly 4000 new donors, who have chosen to support VSU via this campaign.
We have always put our students, and academics, first. A $1 million gift in 2012 established the Jennett Scholars Program, the most highly selective and lucrative scholarship program in our university's history. In the last three years we have also seen annual increases in both our retention and degree productivity rates.
We opened the state-of-the-art Health Sciences and Business Administration Building (HSBA) in April 2014. Thanks to another generous gift of $1 million, we were able to name the Martin and Laura Lynn Miller Family Clinic within the HSBA. Through diligent work with our ever-supportive legislative delegation, we have received $3.8 million in capital improvement funds, allowing us to construct a state-of-the-art Student Success Center in the University Center and a state-of-the-art STEM Education Center in Martin Hall.
We framed a bold new Mission Statement, Vision, and Strategic Plan that will keep VSU strong for decades to come. Soon, we will unveil a new Master Facilities Plan so that we can be assured that we have the optimal living, learning, and working environments for our students, faculty, and staff. 
We faced difficult financial times and budget cuts. In spite of declining enrollments across the southern part of our state, we have maintained our A1 Bond rating. Most importantly, we were able to increase faculty and staff salaries for two consecutive years for the first time since 2007.
We have celebrated academic achievements and national championships. We have mourned loved ones we have lost.
Together.
While I will be moving on from VSU, the permanence of our actions, as well as the high esteem in which I regard them, and you, will not.
Thank you to Valdosta State University and the South Georgia community for welcoming Dacia and me and for selecting us to be a part of the Blazer Nation.
Sincerely,
William J. McKinney, Ph.D.
President
General VSU Information
Office of Communications
Campus Address
Office of Communications Powell Hall West, Suite 1120
Mailing Address
1500 N. Patterson St.
Valdosta, GA 31698