April 8, 2015
15-113
Jessica Pope
Communications and Media Relations Coordinator
Jennifer Dandron Recognized at Georgia Collegiate Honors Council Conference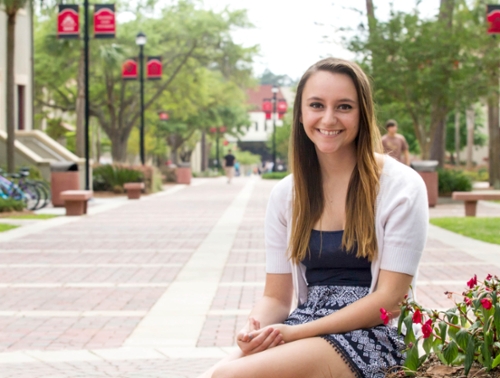 Jennifer R. Dandron
VALDOSTA — Jennifer R. Dandron's "How Senators Use Twitter" won second place for Best Paper or Poster in the Social Sciences at the 2015 Georgia Collegiate Honors Council Conference.
"The purpose of my study seeks to determine if the use of Twitter by senators is a randomized event or if outside variables contribute to how often a senator posts a tweet," shared the 22-year-old Valdosta State University senior from Lincolnton. "The question proposed in my study asks, 'What factors determine how frequently a senator uses Twitter?' The data support the conclusion that certain factors do indicate that they play a role in determining how frequently a senator uses Twitter. While not all independent variables tested were significant, age, education and region all act as good predictors for how frequently a senator will use Twitter. The three variables that returned statistically significant relationships are not strong enough on their own to determine the dependent variable. Instead, it is through a combination of factors that best determine how frequently a senator will tweet."
Dandron selected this research topic after interning with United States Senator Johnny Isakson in Washington, D.C., during the 2014 summer; she worked directly with his press secretary. She found that the subject matter allowed her to combine her academic interests — she expects to graduate with a Bachelor of Arts in political science in May, followed by a Bachelor of Fine Arts in mass media in December — with her internship experience. Dr. James LaPlant, interim dean of the university's Graduate School, supervised her research.
"… I was rather shocked when my paper won," she noted. "The president of the Georgia Collegiate Honors Council had just finished saying the caliber of research was beyond graduate level, approaching professional status. I had worked extremely hard on this paper, devoting an entire semester to the project; however, the Georgia Collegiate Honors Council Conference is full of students who did just the same thing.
"The Georgia Collegiate Honors Council Conference is … for the best of the best in the state of Georgia, so to hear my name called was rather remarkable but also very humbling."
Dandron is president of the Honors Student Association and Model United Nations, vice president of the Beta Tau chapter of Phi Kappa Phi, and a member of Alpha Lambda Delta Freshman Scholastic Honor Society at Valdosta State University. Since arriving on campus in 2011, she has earned the Watson-Brown Scholarship, the John and Gertrude Odum Scholarship, the William Bartram Award for Intellectual Exploration, the Hugh C. Bailey Scholarship, the Georgia Association of Broadcasters E. Lanier Finch Scholarship, and the Zell Miller Scholarship.  She has maintained a 4.0 grade point average and supports the community through such annual campus events as Relay for Life and Up 'Til Dawn.   
Each year, the Georgia Collegiate Honors Council invites students to submit proposals that represent excellent undergraduate work. This year's conference, which was hosted by Georgia Southwestern State University in Americus, was built around an "Honors as Windows to the World" theme, and students were asked to share academic or creative work that addressed "issues that connect us with the world and universe at this critical moment in our ever-shrinking world," according to conference organizers.
"Honors education frequently emphasizes the enrichment of the undergraduate experience through a focus on the ideals of a university education. These ideals include the study of our — human — place in the universe and how we might be the best stewards with our — human — knowledge. Whether we pursue disciplines in the sciences and mathematics or the liberal and performing arts, we seek to enhance our understanding and to foster the best that humanity is capable of effecting."
Valdosta State University had a total of nine Honors College students selected to present at the Georgia Collegiate Honors Council Conference. The remaining eight are Adrienne Fry of Marietta, who presented "Queering a Shakespearean Character's Minorness: How Antonio Creates Possibility in 'Twelfth Night'"; Morgan Blough of Cairo, who presented "Post-modern Assessment: Deindustrializing Grading"; Oyindamola Bamgbola of Douglasville, who presented "The Effects of Participants' Sex and Music Genre on Learning"; Hunter Pope of Remerton, who presented "Cannibalism in China: A Modest Proposal for a Modern Crisis"; Dan Nix of Nashville, who presented "The Importance of Metaphors and Autobiographies Within the Discipline and Practice of Philosophy"; Tamelone Thomas of Adel, who presented "A Comparison of the Quality of Health Care in Spain and the United States"; Ann Williams of Grayson, who presented "Preservation Methods for Woolen Tapestries"; and Rachel Thomason of Douglas, who presented "Analysis of Possible Causes, Effects, and Remedies for Metal Pollution in the Environment."
The Georgia Collegiate Honors Council is an organization formed for the promotion and advancement of honors education in institutions of higher learning in the state.
On the Web:
http://www.valdosta.edu/welcome.php
http://www.valdosta.edu/colleges/honors/
---
Valdosta State University's 2013-2019 Strategic Plan represents a renewal of energy and commitment to the foundational principles for comprehensive institutions.
Implementation of the plan's five goals, along with their accompanying objectives and strategies, supports VSU's institutional mission and the University System of Georgia's mission for comprehensive universities. 
The story above demonstrates VSU's commitment to meeting the following goals: 
Goal 1: Recruit, retain, and graduate a quality, diverse student population and prepare students for roles as leaders in a global society.
Goal 3: Promote student, employee, alumni, retiree, and community engagement in our mission.
Goal 4: Foster an environment of creativity and scholarship.
Visit http://www.valdosta.edu/administration/planning/strategic-plan.php to learn more.
General VSU Information
Office of Communications
Campus Address
Office of Communications Powell Hall West, Suite 1120
Mailing Address
1500 N. Patterson St.
Valdosta, GA 31698