Father of Eric Sheppard Issues Plea For Son To Turn Himself In To Authorities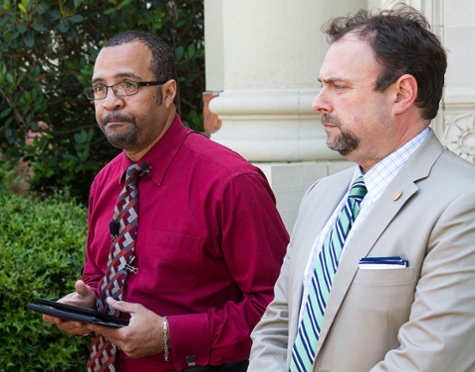 Pictured are Eric Sheppard Sr., father of Eric Sheppard, and Dr. Wiliam J. McKinney, president of Valdosta State University.
At 3:05 p.m. today, from the steps of Valdosta State University's West Hall, the father of Eric Sheppard issued the following the statement: 
"Son, you know we love you and have always taught you to do the right thing and make wise decisions. Please make the right decision and turn yourself in, either to the authorities or to me, and we will handle this together. We love you and are here for you, as you requested." — Eric Sheppard Sr., father of Eric Sheppard. 
On Tuesday, April 21, Valdosta State University issued the following: 
At Odum Library at approximately 2:45 p.m., Valdosta State University Police were performing extra patrols as part of extra security in light of recent protests at the university.
VSU police officers located a backpack on university property and inside the backpack a handgun was found. Unmistakable evidence has now been located by law enforcement linking the gun to Eric Sheppard. 
Based on that evidence, an independent judge has issued an arrest warrant for Eric Sheppard, who has recently been seen on television as a protester.
There was an extensive search for Sheppard by law enforcement, and he was not located. He is now wanted and considered armed and dangerous. 
There is no evidence at this time to reflect that Sheppard is on university property, and in fact, law enforcement now believes he is in hiding. We are asking for your help in locating him. 
Should you have information, please call University Police at 229-333-7816 or 911.    
Please check the VSU website for updates and additional information.
According to the warrant, Eric Sheppard faces the following charge: 
Carrying weapons within a school safety zone, at school functions, or on school property (felony). 
This comes from Official Code of Georgia Section 16-11-127.1 (b)(1)
General VSU Information
Office of Communications
Campus Address
Office of Communications Powell Hall West, Suite 1120
Mailing Address
1500 N. Patterson St.
Valdosta, GA 31698