February 23, 2015
15-70
Jessica Pope
Communications and Media Relations Coordinator
VSU Welcomes Ngugi Wa Thiong'o To Campus Feb. 26-27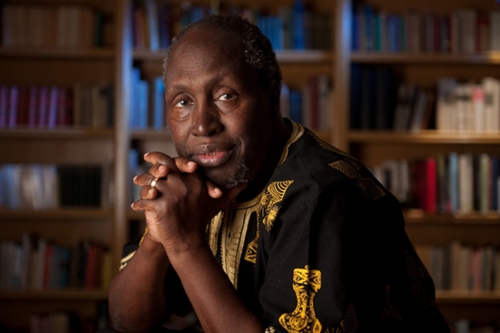 Source: University of California, Irvine
VALDOSTA — Ngugi Wa Thiong'o will conduct a reading and booking signing from 7 p.m. to 8 p.m. on Thursday, Feb. 26, at the Valdosta State University Jennett Lecture Hall. Faculty, staff, students, and the general public are invited to attend and learn more about this novelist, essayist, playwright, journalist, editor, academic, intellectual, and social activist.
A distinguished professor of English and comparative literature at the University of California, Irvine, Ngugi Wa Thiong'o was born in Kenya to a large peasant family in 1938. He was barely a teenager when the Mau Mau Uprising, a nearly decade-long revolt against colonial rule in his native land, began.  
Ngugi Wa Thiong'o studied at Makerere University in Kampala, Uganda, and the University of Leeds in the United Kingdom. He holds 10 honorary doctorates from institutions of higher education in the United States, Denmark, the United Kingdom, South Africa, New Zealand, Tanzania, and Germany and is an honorary foreign member of the American Academy of Arts and Letters and a member of the American Academy of Arts and Sciences. His first major play, "The Black Hermit," was performed in 1962 at the National Theatre in Kampala, Uganda, as part of the country's celebration of independence. Within the next five years he wrote eight short stories, two one-act plays, a regular column for the Sunday, and three novels, Weep Not, Child (1964), the first novel in English to be published by a writer from East Africa; The River Between (1965); and A Grain of Wheat (1967).
In 1967, Ngugi Wa Thiong'o joined the faculty at the University of Nairobi in Kenya, lecturing to students studying English literature. During his 10-year tenure there, he served as a creative writing fellow at Makerere University and as a visiting professor of English and African studies at Northwestern University in Evanston, Ill. He was reportedly at the center of a debate concerning the abolition of the English Department and the transition from English literature to simply literature. He asked, "If there is need for a study of the historic continuity of a single culture, why can't this be African? Why can't African literature be at the center so that we can view other cultures in relationship to it?" This inspired his first volume of literary essays, Homecoming: Essays on African and Caribbean Literature, Culture, and Politics (1969). Other volumes followed, Writers in Politics: Essays (1981 and 1997), Decolonising the Mind: The Politics of Language in African Literature (1986), Moving the Centre: The Struggles for Cultural Freedom  (1994), and Penpoints, Gunpoints, and Dreams: The Performance of Literature and Power in Post-Colonial Africa (1998).       
In July 1977, Ngugi Wa Thong'o published Petals of Blood, his first novel since A Grain of Wheat and his last novel written first in English. The Kenya Weekly Review described it as "this bomb shell." An Amazon symposis explains that the book "is on the surface a suspenseful investigation of a spectacular triple murder in upcountry Kenya. Yet, as the intertwined stories of the four suspects unfold, a devastating picture emerges of a modern third-world nation whose frustrated people feel their leaders have failed them time after time." That same year, his play, "Ngaahika Ndeenda (I Will Marry When I Want)" was performed at an open-air theatre in his home village of Kamiriithu, with the village workers and peasants serving as the actors. The political production, viewed as very critical of the Kenyan government, resulted in his arrest and imprisonment at Kamiti Maximum Security Prison on Dec. 31, 1977. It was during this time that he decided to stop writing his works in English and return to his native tongue, Gikuyu. Behind bars, using toilet paper in place of writing paper, he penned Caitani Mutharabaini, the "story of contemporary Kenya faced with the 'satan of capitalism,'" according to an Amazon synopsis. It was published in 1981 and translated into English as Devil on the Cross in 1982. That same year Detained: A Writer's Prison Diary, an account of his experiences while incarcerated, was published.
Ngugi Wa Thiong'o was released from prison in December 1978, following an international campaign and Amnesty International naming him a prisoner of conscience. He was reportedly banned by the local government from returning to work as an academic at colleges and universities in Kenya, but he continued writing and working in the theatre. The discovery of an alleged plot to kill him led to his exile in Great Britain from 1982 to 1989, followed by the United States from 1989 to 2002. His 1986 novel Matigari nearly led to him being arrested a second time when Kenyan leaders mistakenly believed the novel to be a work of nonfiction, not a satire. According to an Amazon synopsis, "Matigari is in search of his family, the rebuilding of his home, and the start of a new and peaceful future, but his search becomes a quest for truth and justice as he finds the people still dispossessed and the land he loves ruled by corruption, fear, and misery. Rumor springs up that a man with superhuman powers has risen to renew the freedom struggle. The novel races towards its climax as Matigari realizes that words alone cannot defeat the enemy. He vows to use force of arms to achieve his true liberation." The Kenyan government refused to allow the book to be sold at Kenyan bookstores or read in Kenyan schools, making the fictional character live in exile along with his creator.
Over the course of 22 years in exile, Ngugi Wa Thiong'o worked to secure the release of political prisoners in Kenya; taught students at Bayreuth University in Germany, Yale University in New Haven, Conn., Five Colleges Inc. in Amherst, Mass., and New York University; served as a writer in residence for the Borough of Islington, London; and studied film at the Dramatiska Institute in Stockholm, Sweden. He returned to Kenya in 2004 to promote one his books, Murogi wa Kagogo, the story of an imaginary free republic autocratically ruled by one man, and was reportedly attacked by hired gunmen.
In the last decade since that assassination attempt, Ngugi Wa Thiong'o has continued to write, teach, inspire, and share his story around the world. He continues to be a voice for the people of Kenya — of all of Africa really — and a firm believer in his native land's democratic chances.     
"Ngugi's visit to Valdosta is unbelievably significant," shared Dr. Theresa M. Thompson, a professor in VSU's Department of English. "His landmark theoretical work Decolonising the Mind directly addresses issues that affect diaspora Africans and their American descendants; his most recent theoretical work, Globalectics, speaks to the heart of VSU's commitment to meeting the needs of our students as they prepare for the global economy of the workplace; and his creative fictional works provide incredible insights into human character. That he has come here, willing to share his insights with us at no charge to students or the public, speaks volumes about his desire to facilitate global understanding."
In addition to his public reading and book signing, Ngugi Wa Thiong'o will visit with an African American studies class and conduct a Creative Writing and Contemporary Literature Craft Workshop with ENGL 3300: Special Studies in Literature students and an Incorporating African Oral Literature into the World Literature Courses Faculty Workshop. VSU's Department of English and African American Studies Program made his visit possible.
On the Web:
http://www.valdosta.edu/colleges/arts-sciences/english/
http://www.valdosta.edu/colleges/arts-sciences/african-american-studies/
---
Valdosta State University's 2013-2019 Strategic Plan represents a renewal of energy and commitment to the foundational principles for comprehensive institutions.
Implementation of the plan's five goals, along with their accompanying objectives and strategies, supports VSU's institutional mission and the University System of Georgia's mission for comprehensive universities. 
The story above demonstrates VSU's commitment to meeting the following goals: 
Goal 1: Recruit, retain, and graduate a quality, diverse student population and prepare students for roles as leaders in a global society.
Goal 3: Promote student, employee, alumni, retiree, and community engagement in our mission.
Goal 4: Foster an environment of creativity and scholarship.
Goal 5: Develop and enhance Valdosta State's human and physical resources.
Visit http://www.valdosta.edu/administration/planning/strategic-plan.php to learn more.
General VSU Information
Office of Communications
Campus Address
Office of Communications Powell Hall West, Suite 1120
Mailing Address
1500 N. Patterson St.
Valdosta, GA 31698