February 18, 2015
15-65
Jessica Pope
Communications and Media Relations Coordinator
VSU Signs Articulation Agreements with TCC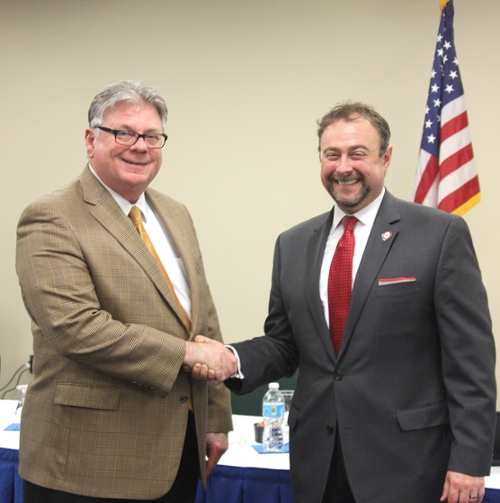 Pictured are Tallahassee Community College President Jim Murdaugh (left) and Valdosta State University President William J. McKinney (right).
VALDOSTA — Valdosta State University (VSU) signed articulation agreements with Tallahassee Community College (TCC) on Monday, simplifying student transition between the two institutions of higher education.   
The Pathways Program agreement will allow TCC students with an Associate in Science to maximize the transfer of credits in order to complete either a Bachelor of Science in organizational leadership or a Bachelor of Applied Science in human capital performance in two years or less at VSU, noted Andy Clark, vice president for Enrollment, Marketing, and Communications at VSU.
The Transfer Admission Guarantee agreement will provide assurance to TCC students with an Associate in Arts that they will be admitted to VSU, provided they meet the grade point average requirement, shared Dr. Joseph G. Weaver, director of Off-Campus Programs and acting director of Admissions at VSU. From that point, they will be able to begin the pursuit of one or more of VSU's 100-plus degrees, certificates, and/or endorsements.
"I am thrilled to enter into this partnership with Tallahassee Community College," said VSU President William J. McKinney. "This is a new pipeline that will support students towards the goal of attainment of a bachelor's degree."
"I appreciate Valdosta State University reaching out to us to establish this articulation agreement," said TCC President Jim Murdaugh. "Any opportunity we have to create new paths for our students to achieve their academic goals beyond graduation is an opportunity we want to take advantage of."
The articulation agreements with TCC are a continuation of VSU's efforts to attract and to educate more Florida students. During the fall of 2013, VSU expanded an existing policy to waive out-of-state tuition for residents of Leon, Jefferson, Columbia, Baker, Hamilton, Madison, and Nassau counties; a previous policy offered tuition waivers only to residents of the latter three.
"When the in-state tuition rate is coupled with our outstanding academic quality, VSU now becomes a legitimate choice for many more Florida students," Clark said.
The Pathways Program centers on the priorities of Complete College America, a national initiative developed to increase the number of people earning a college degree. Locally, it is a collaboration between VSU and partner institutions to allow students with approved associate degrees to complete a bachelor's degree in two years or less. Pathways students can expect 51 or more transferable credit hours to be applied to either of the two articulated programs — the Bachelor of Science in organizational leadership or the Bachelor of Applied Science in human capital performance. 
VSU has now signed Pathways Program articulation agreements with 14 institutions of higher education — Wiregrass Georgia Technical College in Valdosta, South Georgia Technical College in Americus, Southwest Georgia Technical College in Thomasville, Albany Technical College in Albany, Savannah Technical College in Savannah, Gwinnett Technical College in Lawrenceville, Central Georgia Technical College in Macon, Lanier Technical College in Oakwood, North Georgia Technical College in Clarkesville, Altamaha Technical College in Jesup, North Florida Community College in Madison, Fla., Central Texas College in Killeen, Texas, Georgia Military College, which has several campuses, including one in Valdosta, and Tallahassee Community College in Tallahassee, Fla. — and will sign another at Ogeechee Technical College in Statesboro on March 4.
Weaver said that the goal is to sign articulation agreements with every college in the Technical College System of Georgia and with every community college in the North Florida counties receiving out-of-state tuition waivers from VSU.   
McKinney noted that the biggest benefit of these articulation agreements to VSU "is to fulfill part of our mission — producing graduates ready for the workforce."
Monday's signing was held during TCC's Board of Trustees meeting at the Ghazvini Center for Healthcare Education.
On the Web:
https://www.tcc.fl.edu/Pages/default.aspx
http://www.valdosta.edu/admissions/undergraduate/student-information/Pathways.php
http://www.usg.edu/educational_access/complete_college_georgia
---
Valdosta State University's 2013-2019 Strategic Plan represents a renewal of energy and commitment to the foundational principles for comprehensive institutions.
Implementation of the plan's five goals, along with their accompanying objectives and strategies, supports VSU's institutional mission and the University System of Georgia's mission for comprehensive universities. 
The story above demonstrates VSU's commitment to meeting the following goals: 
Goal 1: Recruit, retain, and graduate a quality, diverse student population and prepare students for roles as leaders in a global society.
Visit http://www.valdosta.edu/administration/planning/strategic-plan.php to learn more.
General VSU Information
Office of Communications
Campus Address
Office of Communications Powell Hall West, Suite 1120
Mailing Address
1500 N. Patterson St.
Valdosta, GA 31698