February 17, 2015
15-63
Jessica Pope
Communications and Media Relations Coordinator
Tennessee Williams's "Summer and Smoke" Comes to VSU Stage Feb. 19-25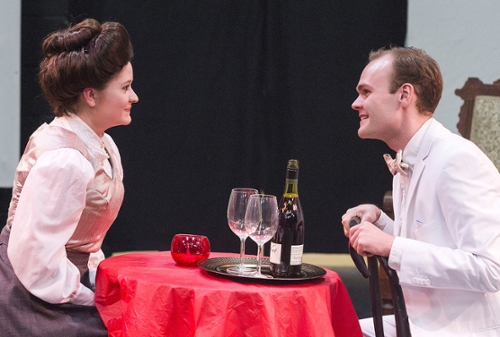 Valdosta State University Theatre and Dance will present Tennessee Williams's Summer and Smoke Feb. 19-25 on the Lab Theatre stage.
VALDOSTA — Valdosta State University Theatre and Dance will kick off a seven-performance run of Tennessee Williams's Summer and Smoke at 7:30 p.m. on Thursday, Feb. 19, in the Lab Theatre. Tickets are on sale now.  
"Summer and Smoke," according to a synopsis provided by VSU Theatre and Dance, "tells the story of Alma, a minister's daughter who cannot resist her attraction to the rakish and inspiring young doctor, John, who lives next door. Like moths to a flame, their relationship becomes an emotional battle of wills when her spiritual devotion is pitted against his sensuous need for physical desire.
"Stylistically, Summer and Smoke is Williams's realistic compromise between the poetic expressionism of The Glass Menagerie and the violent theatricality of A Streetcar Named Desire. Although Summer and Smoke is more conventionally realistic than the other two, it is also his most allegorical statement on the conflict between the soul and the body, between innocence and experience, and between eternity and life — themes taking various forms in all of Williams's plays."
VSU's production of Summer and Smoke contains adult language and themes and may not be appropriate for young audiences.
Additional performances are scheduled for 7:30 p.m. on Friday, Feb. 20, and Saturday, Feb. 21; 3 p.m. on Sunday, Feb. 22; and 7:30 p.m. on Monday, Feb. 23, Tuesday, Feb. 24, and Wednesday, Feb. 25.  
"Summer and Smoke holds a special place in the history of American Theatre as the play that began the Off-Broadway movement," shared H. Duke Guthrie, director and VSU Theatre and Dance Area professor. He said that approaching a play like Summer and Smoke "is an exciting prospect for a young group of theatre artists."
Individual tickets for Summer and Smoke are available and cost $15 for adults, $12 for senior citizens, and $10 for children and non-VSU students; they are free for all VSU students with a valid university identification card. Tickets for groups of 10 or more people at a single performance are $9 per person.
Patronages are welcome at a variety of levels, from a low of $150 to a high of $1,000 or more, and benefit student scholarships.
Tickets may be purchased at the VSU Theatre and Dance Box Office by visiting https://www.ticketreturn.com/prod2/team.asp?SponsorID=7166#.VOJmd0tDaie or by calling (229) 333-5973 between the hours of 2 p.m. and 5 p.m. Monday through Saturday.
The Lab Theatre is located on the second floor of the Fine Arts Building at the corner of Brookwood Drive and Oak Street.
Contact H. Duke Guthrie at (229) 333-5307 or dguthrie@valdosta.edu to learn more.
On the Web:
http://www.valdosta.edu/colleges/arts/communication-arts/theatre-and-dance/
Visit https://www.flickr.com/photos/valdostastate/sets/72157650866593451/ to view additional images and a list of the cast and production staff. 
---
Valdosta State University's 2013-2019 Strategic Plan represents a renewal of energy and commitment to the foundational principles for comprehensive institutions.
Implementation of the plan's five goals, along with their accompanying objectives and strategies, supports VSU's institutional mission and the University System of Georgia's mission for comprehensive universities. 
The story above demonstrates VSU's commitment to meeting the following goals: 
Goal 1: Recruit, retain, and graduate a quality, diverse student population and prepare students for roles as leaders in a global society.
Goal 3: Promote student, employee, alumni, retiree, and community engagement in our mission.
Goal 4: Foster an environment of creativity and scholarship.
Goal 5: Develop and enhance Valdosta State's human and physical resources.
Visit http://www.valdosta.edu/administration/planning/strategic-plan.php to learn more.
General VSU Information
Office of Communications
Campus Address
Office of Communications Powell Hall West, Suite 1120
Mailing Address
1500 N. Patterson St.
Valdosta, GA 31698