January 27, 2015
15-31
Jessica Pope
Communications and Media Relations Coordinator
VSU's FamilyWorks Offers Therapeutic Services to the Community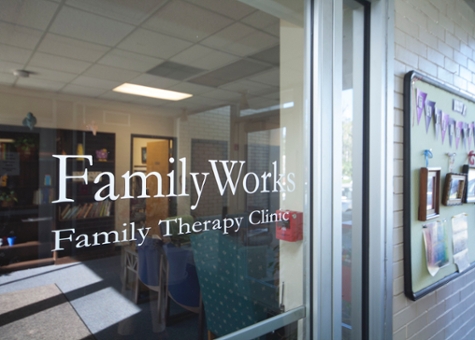 FamilyWorks is located at 903 N. Patterson St. in the one-story annex connected to the university's Regional Center for Continuing Education.
Family therapy, sometimes called systems therapy or relational therapy, is a particular way of thinking that helps people make the changes that they want to make. Even though the word "family" suggests that family therapists work only with whole families, this is not the case. Family therapists work with individuals; couples, both married and unmarried; groups and families of all varieties; lesbian, gay, bisexual, and transgender persons; roommates; and more.
Family therapy has been found to be helpful to people with many different kinds of problems, such as:
anger management
anxiety
individual depression
divorce and separation
sexual problems
parenting problems
difficulty with communication
relationship problems
domestic violence
grief and loss
pre-marital concerns
child behavior problems
NOTE: This story appeared in the January 2015 issue of Your Health Matters, a special publication published monthly by The Valdosta Daily Times. 
VALDOSTA — Regardless of their ability to pay, no one is denied therapy services at FamilyWorks, the Valdosta State University-based brief therapy clinic operated by the Department of Marriage and Family Therapy, under the umbrella of the James L. and Dorothy H. Dewar College of Education and Human Services. Seven days a week, clinic staff members help clients of all ages — from young children to senior citizens — find solutions to whatever problems they may be experiencing.
Services are offered "to all people who seek them, regardless of age, gender, race, political or religious affiliation, sexual orientation, marital status, education, economic status, disability, or ethnic background," according to a clinic brochure.
Although Department of Marriage and Family Therapy faculty members serve in a supervisory role and see a few clients, FamilyWorks is a student-run clinic, said Dr. Kate Warner, a licensed marriage and family therapist, professor, and department head. First-year graduate students handle the intake process, including scheduling the client's first appointment, gathering relevant background and contact information, documenting what prompted the client to seek therapy, and matching the client with a therapist. Advanced standing graduate students serve as the therapists.
Warner said that students graduate from the Department of Marriage and Family Therapy with the know-how to operate their own private practice — should they aspire to do so. She said this knowledge is vital to their future as owner-operators and clinicians.
FamilyWorks is basically a large group practice. Clients can be seen by individual therapists, a pair of therapists, or a faculty- or student-run consultation team.
FamilyWorks deals with many different kinds of problems, from anger management and anxiety to divorce and depression to sexual issues and substance abuse to domestic violence, grief and loss, child behavior issues, and more, noted Warner. The therapist's goal is to help the client make the changes he or she wants to make, taking into account every aspect of the client's life and focusing on the client's available resources.
Clients are referred by outside agencies, but most client referrals come from other clients, Warner said. To the FamilyWorks team, these referrals are proof that the client doing the referring has had a good experience and believes that their friend or loved one will have the same.
"We value those," she added.
"Those are the best," said Dr. Martha Laughlin, a licensed marriage and family therapist, professor, and director of clinical training for the department.
FamilyWorks is open seven days a week, year-round. The majority of services are provided between the hours of 9 a.m. and 10 p.m. However, if therapists wish to schedule sessions outside of those hours, based on the needs of their clients, they can do so.
Because FamilyWorks is a not-for-profit clinic seeking to provide low-cost therapy services to everyone and train advanced level graduate students, fees for sessions are based on a sliding scale and can be totally free of charge, depending on family size and income. However, no one will be denied services based on their inability to pay, said Laughlin.
Clients come from as far away as Nashville, Cairo, and Jennings, Fla., for therapy services. The student therapists also serve the community outside FamilyWorks in such organizations as Hospice of South Georgia, the Lowndes County Partnership for Health, the Migrant Farmworkers Clinic, the Georgia Department of Juvenile Justice, and others, said Dr. Jennifer Lambert-Shute, professor.
FamilyWorks is located at 903 N. Patterson St. in the one-story annex connected to the university's Center for Continuing Education building.
VSU's Department of Marriage and Family Therapy offers a Master of Science (M.S.) degree.
Call (229) 219-1281 to schedule an appointment with a therapist. Services are confidential to the fullest extent of the law, and all clinic staff members adhere to the highest ethical and professional standards in their relationship with clients.
Call (229) 219-1281 or visit http://www.valdosta.edu/colleges/education/marriage-family-therapy/ to learn more about VSU's Department of Marriage and Family Therapy.
Visit https://www.youtube.com/watch?v=dlXfqr34_mQ to view a video feature on the Department of Marriage and Family Therapy and FamilyWorks.   
---
Valdosta State University's 2013-2019 Strategic Plan represents a renewal of energy and commitment to the foundational principles for comprehensive institutions.
Implementation of the plan's five goals, along with their accompanying objectives and strategies, supports VSU's institutional mission and the University System of Georgia's mission for comprehensive universities. 
The Department of Marriage and Family Therapy's efforst to ensure the health and well-being of the community helps the university meet the following goals: 
Goal 1: Recruit, retain, and graduate a quality, diverse student population and prepare students for roles as leaders in a global society.
Goal 3: Promote student, employee, alumni, retiree, and community engagement in our mission.
Goal 4: Foster an environment of creativity and scholarship.
Visit http://www.valdosta.edu/administration/planning/strategic-plan.php to learn more.
General VSU Information
Office of Communications
Campus Address
Office of Communications Powell Hall West, Suite 1120
Mailing Address
1500 N. Patterson St.
Valdosta, GA 31698