January 22, 2015
15-24
Jessica Pope
Communications and Media Relations Coordinator
VSU Opera Presents Romantic Comedy Double Bill Jan. 24-25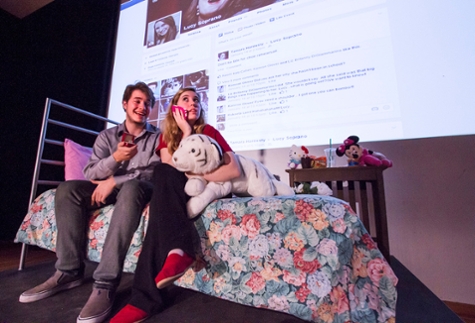 Scene from The Telephone. Photo by Paul Leavy / Valdosta State University.
VALDOSTA — Valdosta State University Opera will present The Telephone and The Old Maid and the Thief, a double bill of one-act romantic comedies by Italian-American composer Gian Carlo Menotti, at 7:30 p.m. on Saturday, Jan. 24, and 3 p.m. on Sunday, Jan. 25, in Whitehead Auditorium. Tickets are on sale now.
Written in 1945, The Telephone is a humorous commentary on how the technological advance — the telephone — has affected human relationships as it has found its way into nearly every home since its invention, shared Dr. Karl Paoletti, chairman of the Department of Music's Voice Area and assistant professor of voice. 
"Updated to today, we may be wireless, but we can hardly look up from our smartphones," he added. "Can Lucy, a VSU voice major, take a break from texting and social media and chatting long enough to notice that her nervous boyfriend, Ben, is trying to propose? Maybe he will have to upgrade his data plan to get her attention."
Dr. Tamara Hardesty, noted soprano and member of the VSU Voice Area faculty, is the stage director and vocal coach for The Telephone.
In The Old Maid and the Thief, Paoletti noted that a small-town gossiping spinster falls in love "with the handsome looks of Bob, a drifter who happens to wander into Valdosta in the 1940s.  Laetitia, Miss Todd's housemaid — also in love with Bob — persuades Miss Todd to let him stay with them by promising free food and accommodations. Hilarious antics ensue as Miss Todd begins to suspect that Bob may be an escaped convict, wanted by the police.  Put best in Menotti's own words, 'The devil couldn't do what a woman can, make a thief out of an honest man.'"
Paoletti is the stage director and vocal coach for The Old Maid and the Thief.
Both performances will be presented in English and feature VSU Voice students accompanied by a student orchestra conducted by Dr. Kenneth Kirk, a professor of music.
Tickets are $25 for adults, $20 for VSU faculty and staff, free for VSU students with valid identification, and $5 for non-VSU students.
Call the VSU College of the Arts Outreach Office at (229) 333-2150 to learn more.
---
Valdosta State University's 2013-2019 Strategic Plan represents a renewal of energy and commitment to the foundational principles for comprehensive institutions.
Implementation of the plan's five goals, along with their accompanying objectives and strategies, supports VSU's institutional mission and the University System of Georgia's mission for comprehensive universities. 
Music productions like that offered by VSU Opera help the university the following goals: 
Goal 1: Recruit, retain, and graduate a quality, diverse student population and prepare students for roles as leaders in a global society.
Goal 2: Increase financial support for the institution.
Goal 3: Promote student, employee, alumni, retiree, and community engagement in our mission.
Goal 4: Foster an environment of creativity and scholarship.
Goal 5: Develop and enhance Valdosta State's human and physical resources.
Visit http://www.valdosta.edu/administration/planning/strategic-plan.php to learn more.
General VSU Information
Office of Communications
Campus Address
Office of Communications Powell Hall West, Suite 1120
Mailing Address
1500 N. Patterson St.
Valdosta, GA 31698