January 21, 2015
15-22
Jessica Pope
Communications and Media Relations Coordinator
Theatre and Dance Headed to Kennedy Center American College Theater Festival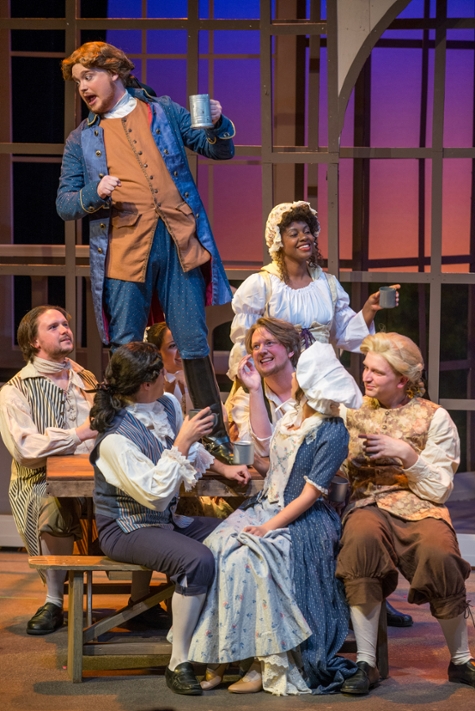 Scene from Valdosta State University Theatre and Dance's production of "She Stoops to Conquer. Photo by Bryan Garris.
~ 2014-2015 is the Year of the Arts at Valdosta State University ~
VALDOSTA — Valdosta State University Theatre and Dance's production of "She Stoops to Conquer" will travel to the Region IV Kennedy Center American College Theater Festival Feb. 3-7.
"She Stoops to Conquer" was originally one of 220 productions from 170 colleges and universities in nine states — Alabama, Georgia, Florida, Kentucky, Mississippi, North Carolina, South Carolina, Southern Virginia, and Tennessee — submitted to the Region IV Kennedy Center American College Theater Festival for consideration. Of those, 40 were in the final stages of earning an invitation to the festival during the latter part of the fall semester.
Only seven received invitations.
VSU's arrived a few days before Christmas.
"This is a recognition of which the VSU community and our loyal supporters from Valdosta, Lowndes County, and beyond can be proud," said H. Duke Guthrie, a professor in the Theatre and Dance Area, a division of the Department of Communication Arts in the College of Arts.
The process of being selected for the Region IV Kennedy Center American College Theater Festival began with VSU Theatre and Dance registering "She Stoops to Conquer" with the festival and requesting an outside assessment. Guthrie said two festival respondents viewed the production during its seven-performance run Nov. 6-12, 2014, on the Sawyer Theatre stage, one during the Sunday matinee performance and the other during the Wednesday night performance. The festival respondents then provided an oral response to the show's entire production company; this was followed by a written response to the director and a recommendation for the show to be part of the festival. The respondents also nominated students for Irene Ryan Acting and other scholarships. The Regional Selection Team made the final decision to invite VSU to the festival after reviewing photos, video clips from the show, programs, reviews, etc.
Guthrie said that the first few days of the New Year have been busy ones for VSU Theatre and Dance. One of the roles in "She Stoops to Conquer" had to be recast due to a December graduation; only currently enrolled students can appear on stage during the festival. Brush-up rehearsals had to be scheduled around other rehearsals already underway for the spring semester lineup, which includes a youth production and a full musical. The show's cast and crew had to set aside some time to conduct a load-in rehearsal, as the production has not been road tested yet.
"We are honored to be invited to participate, and we absolutely are delighted to be going and having this experience," said Jacque Wheeler, director, professor, and chairwoman of the university's Theatre and Dance Area. "Everyone has been very cooperative in getting everything ready to go, and while it has been a little frantic, we feel in the final analysis that it has totally been worth the effort." 
During the five-day regional event, VSU's production of "She Stoops to Conquer" will be evaluated by the Kennedy Center American Theater Festival National Selection Team for participation in the national festival, which will be held at the Kennedy Center in Washington, D.C., in mid-April. Students who have demonstrated excellence in acting, scenic, costume, lighting, sound design, dramaturgy, playwriting, directing, and stage management will compete for scholarships. The festival will also feature a variety of workshops, faculty and student parties, and more.
VSU Theatre and Dance will perform at 8:30 p.m. on Wednesday, Feb. 4, at the Albany Civic Center, the largest municipal destination south of Atlanta, seating 10,240 people; this year's regional festival is hosted by Darton State College. The performance will not be open to the public.
KENNEDY CENTER AMERICAN COLLEGE THEATER FESTIVAL
Started in 1969 by Roger L. Stevens, the Kennedy Center's founding chairman, the Kennedy Center American College Theater Festival has served as a catalyst in improving the quality of higher education theater in the United States for 46 years. It does this through a year-round program of state, regional, and national festivals that celebrate the creative process, honor excellence, and give the community of artists involved an opportunity to share experiences and insights
The goals of the Kennedy Center American College Theater Festival are to encourage, recognize, and celebrate the finest and most diverse work produced in university and college theater programs; to provide opportunities for participants to develop their theater skills and insight and achieve professionalism; to improve the quality of college and university theater in America; and to encourage colleges and universities to give distinguished productions of new plays, especially those written by students, the classics, revitalized or newly conceived, and experimental works.
Since its inception, the Kennedy Center American College Theater Festival has given more than 400,000 college theater students the opportunity to have their work critiqued, improve their dramatic skills, and receive national recognition for excellence. More than 16 million theatergoers have attended approximately 10,000 festival productions nationwide.
SHE STOOPS TO CONQUER
A comedy by Irish author Oliver Goldsmith, "She Stoops to Conquer," initially titled "Mistakes of a Night," as the action takes place over the course of a single night, is said to be one of a few plays from the 18th century to have an enduring appeal; it is reportedly a favorite for study by English literature and theatre classes in Great Britain and the United States. It was first performed in London in 1773 and has enjoyed a number of film and television adaptations over the years.
"Mr. Hastings has gone to the country with his best friend to meet Kate, his future wife, whom he has never met," according to a synopsis provided by VSU Theatre and Dance. "Because of a practical joke, the young men eventually arrive in the ancient Hardcastle house thinking it is a country inn. They treat the future father-in-law as if he were the innkeeper and demand much from the willing but bewildered hosts. Kate, the well-bred daughter of Mr. Hardcastle, discovering the delusion the two young men are under, stoops to conquer her dashing fiancé by pretending to be a kitchen maid and allowing him to court her without the pretensions of polite and artificial society. The play is filled with the exuberant hijinks of Tony Lumpkin, a boisterous but lovable prankster who causes much of the joyous mayhem in the play.  Mrs. Hardcastle's ridiculous aspirations to high society deliciously contrast with her husband's plain, dowdy ways.
"Against this wacky background of improbable characters, a pair of young lovers somehow meet and journey to happiness."
Wheeler noted that "She Stoops to Conquer" features elements of romantic comedy, in the tradition of "A Midsummer's Night Dream," where young people fall in love and do foolish things, as well as farce, in the tradition of the Commedia dell'Arte, where characters perform broad physical action and do foolish things. She said that it is also a comedy of manners, as a precursor to Oscar Wilde's "Importance of Being Ernest," where people try to imitate the manners of the upper class and do foolish things.
"Much of the action of the play hinges on the classical comic device of mistaken identity," she added. "The true identity of several characters is not revealed initially and prompts many of the 'mistakes of the night.'"
Contact Jacque Wheeler at (229) 333-5820 or jwheeler@valdosta.edu or H. Duke  Guthrie at (229) 333-5307 or dguthrie@valdosta.edu to learn more.
On the Web:
http://www.valdosta.edu/colleges/arts/communication-arts/theatre-and-dance/
http://web.kennedy-center.org/education/kcactf/Home#main_content
---
Valdosta State University's 2013-2019 Strategic Plan represents a renewal of energy and commitment to the foundational principles for comprehensive institutions.
Implementation of the plan's five goals, along with their accompanying objectives and strategies, supports VSU's institutional mission and the University System of Georgia's mission for comprehensive universities. 
The Theatre and Dance Area's recognition by the Kennedy Center American College Theater Festival helps the university meet the following goals: 
Goal 1: Recruit, retain, and graduate a quality, diverse student population and prepare students for roles as leaders in a global society.
Goal 3: Promote student, employee, alumni, retiree, and community engagement in our mission.
Goal 4: Foster an environment of creativity and scholarship.
Goal 5: Develop and enhance Valdosta State's human and physical resources.
Visit http://www.valdosta.edu/administration/planning/strategic-plan.php to learn more.
General VSU Information
Office of Communications
Campus Address
Office of Communications Powell Hall West, Suite 1120
Mailing Address
1500 N. Patterson St.
Valdosta, GA 31698