January 20, 2015
15-20
Jessica Pope
Communications and Media Relations Coordinator
Student Organizations Compete to See Who Develops Best Signature Drink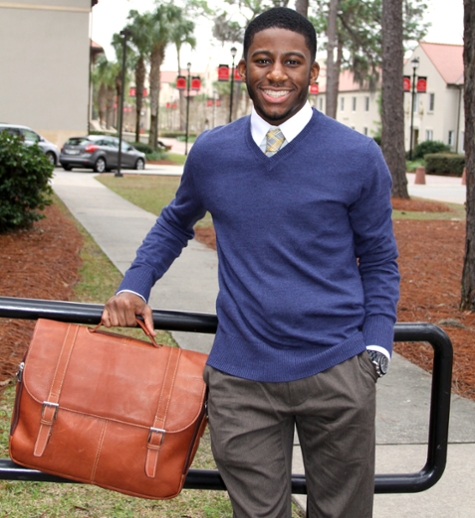 Taylor "Scott" Ratliff / Photo by Jessica R. Pope, Valdosta State University
VALDOSTA — The Valdosta State University Student Government Association and V-State Dining will host Buck the Menu from noon to 2 p.m. on Wednesday, Jan. 21, in the Student Union Rotunda.
Created by Taylor "Scott" Ratliff, a junior, Buck the Menu will feature five student organizations — Alpha Phi Alpha Fraternity Inc., Collegiate Men of Valdosta State University, XChange Ministries, KixArtsCircle, and Media Arts Geniuses — competing to see who has what it takes to develop a vote-worthy signature drink using ingredients typically found in a Starbucks establishment. Students, faculty, and staff will have an opportunity to taste each of the entries and vote on Campus Connect for their favorite.
The winner will be announced on Wednesday, Jan. 28. The winning drink will be featured on the VSU-based Starbucks chalkboard throughout the month of February.  
Ratliff developed the Buck the Menu concept a year ago after attempting to order a Starbucks drink recommended by a friend.
"I ordered a Passion Tea Lemonade," said the speech communication major from Powder Springs. "The barista asked me what I wanted in it. I told her, 'I don't know what that means.' She kept asking me questions … Did I want a shot of strawberry in it … I didn't know; I couldn't make a decision. I just wanted some lemonade."
Several seconds of bantering and a few recommendations from the barista later, Ratliff ordered a Passion Tea Lemonade with raspberry, peach, and strawberry shots and extra sweetener. He told the barista his name was The Cool Guy, as opposed to his usual Barack Obama. He enjoyed the drink so much that he began sharing the details with his friends, who began to order the same drink, which became known by the campus baristas and students as The Cool Guy.
"I felt like I had my own signature drink," said Ratliff, who pitched the idea for Buck the Menu to the SGA and V-State Dining during the fall.
Alpha Phi Alpha Fraternity Inc., Collegiate Men of Valdosta State University, XChange Ministries, KixArtsCircle, and Media Arts Geniuses have spent the past few weeks brainstorming, creating, and marketing their signature drink to their friends in the hope of generating some excitement and garnering some votes. The voting will begin at noon on the day of the competition and continue through 11:59 p.m. 
In coordination with Buck the Menu, the five participating student organizations will collect donations to be awarded to the winning group's favorite charity.
Contact Taylor "Scott" Ratliff at tsratliff@valdosta.edu to learn more.
---
Valdosta State University's 2013-2019 Strategic Plan represents a renewal of energy and commitment to the foundational principles for comprehensive institutions.
Implementation of the plan's five goals, along with their accompanying objectives and strategies, supports VSU's institutional mission and the University System of Georgia's mission for comprehensive universities. 
Student activities like Buck the Menu help the university meet the following goals: 
Goal 1: Recruit, retain, and graduate a quality, diverse student population and prepare students for roles as leaders in a global society.
Goal 4: Foster an environment of creativity and scholarship.
Visit http://www.valdosta.edu/administration/planning/strategic-plan.php to learn more.
General VSU Information
Office of Communications
Campus Address
Office of Communications Powell Hall West, Suite 1120
Mailing Address
1500 N. Patterson St.
Valdosta, GA 31698