January 12, 2015
15-8
Jessica Pope
Communications and Media Relations Coordinator
Blazer Corps of Cadets Hosts Blood Drive Jan. 27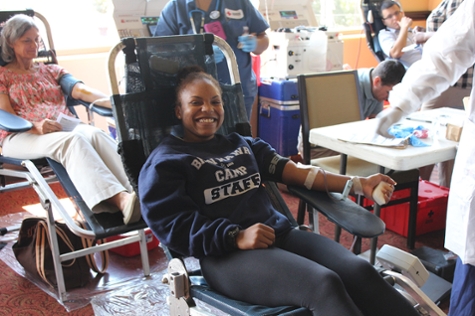 Scene from the Blazer Corps of Cadets's fall 2014 blood drive.
VALDOSTA — Valdosta State University's Blazer Corps of Cadets will sponsor its annual spring semester blood drive from 12:30 p.m. to 5:30 p.m. on Tuesday, Jan. 27, in the Student Union Ballrooms. The goal is to collect 150 pints of blood for the American Red Cross's Southern Blood Services Region.  
"We do this to do our part to contribute to our nation's disaster preparedness," said Matthew Dickinson, blood drive coordinator. The 20-year-old junior from Albany is pursuing a Bachelor of Arts degree in Spanish and is active in VSU's Air Force ROTC Detachment 172 as a cadet second lieutenant and Papa Flight commander.
"Just one pint of blood can save up to three people's lives," he added. 
Students, faculty, staff, alumni, and friends of the university are encouraged to give blood.
The Blazer Corps of Cadets works closely with VSU's Air Force ROTC Detachment 172 to provide an environment for the education and training of officer candidates seeking commission in the United States Air Force.
Contact Matthew Dickinson at mcdickinson@valdosta.edu to learn more and to schedule a time to donate blood. Walk-ins are also welcome.
Facts About Blood Needs
• Every two seconds someone in the U.S. needs blood.
• More than 41,000 blood donations are needed every day.
• A total of 30 million blood components are transfused each year in the U.S.
• The average red blood cell transfusion is approximately three pints.
• The blood type most requested by hospitals in Type O.
• The blood used in an emergency is already on the shelves before the event occurs.
• Sickle cell disease affects more than 70,000 people in the U.S. About 1,000 babies are born with the disease each year. Sickle cell patients can require frequent blood transfusions throughout their lives.
• More than 1.6 million people were diagnosed with cancer last year. Many of them will need blood, sometimes daily, during their chemotherapy treatment.
• A single car accident victim can require as many as 100 pints of blood.
Source: American Red Cross at www.redcross.org
---
Valdosta State University's 2013-2019 Strategic Plan represents a renewal of energy and commitment to the foundational principles for comprehensive institutions.
Implementation of the plan's five goals, along with their accompanying objectives and strategies, supports VSU's institutional mission and the University System of Georgia's mission for comprehensive universities. 
Student-organized community service initiatives such as the Blazer Corps of Cadets blood drive help the university meet the following goals: 
Goal 1: Recruit, retain, and graduate a quality, diverse student population and prepare students for roles as leaders in a global society.
Goal 3: Promote student, employee, alumni, retiree, and community engagement in our mission.
Goal 4: Foster an environment of creativity and scholarship.
Visit http://www.valdosta.edu/administration/planning/strategic-plan.php to learn more.
General VSU Information
Office of Communications
Campus Address
Office of Communications Powell Hall West, Suite 1120
Mailing Address
1500 N. Patterson St.
Valdosta, GA 31698