January 15, 2015
15-18
Jessica Pope
Communications and Media Relations Coordinator
Bass Fishing Club Team Qualifies for 2015 National Championship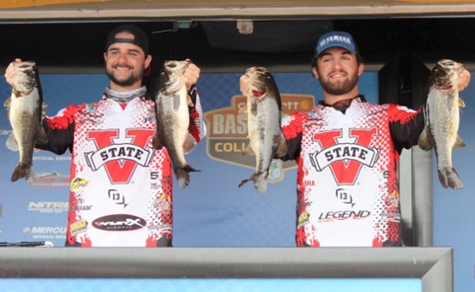 Pictured are Michael Harbach (left) and Taylor Minick (right) of the VSU Bass Fishing Club.
VALDOSTA — The Valdosta State University Bass Fishing Club's Taylor Minick and Michael Harbach have earned the right to compete in the 2015 Carhartt Bassmaster College Series National Championship, which will be held later this summer.
Minick and Harbach were among 18 teams that qualified for the national competition during the 2015 Carhartt College Southern Regional Jan. 3-5 on the St. Johns River at Bull Creek Fish Camp in Bunnell, Fla. After ringing in the New Year with a couple of practice days on the water, the duo finished the first day of competition in 63rd place with 4 pounds 14 ounces, moving up to 11th place on the second day with 17 pounds 9 ounces and ending the tournament in ninth place with 11 pounds 15 ounces.
"It's great knowing we are already qualified and headed to the … national championship later this summer," said Harbach, a senior exercise physiology major from Valdosta. "To go ahead and punch our ticket this early allows us to focus on the other tournaments we fish in. It wasn't easy by any means. Taylor and I had boat trouble on the final day of the tournament, and for a second, it felt as if all hope was lost. Somehow we dug in and found a way to not only advance to the national championship but to move up two spots into ninth place on the final day."
Landon Tucker and Grant Colson also competed in the 2015 Carhartt College Southern Regional, finishing the first day of competition in fifth place. However, they failed to catch a legal sized bass on the second day and ended the three-day tournament in a solid 49th place.
Tucker and Colson will have a second opportunity to qualify for the 2015 Carhartt Bassmaster College Series National Championship during the 2015 Carhartt College Wild Card June 4-6 on Lake Barkley in Paris, Tenn.
"It's not a great feeling knowing we had a chance to qualify once and we didn't," said Tucker, a freshman music education major from Moultrie. "The Wild Card will be on Lake Barkley, a lake that neither Grant nor myself have been on, so we'll be having to take a lot of time to practice and find fish for sure."
The VSU Bass Fishing Club's next event is a 2015 Fishing League Worldwide (FLW) College Fishing Payout qualifying tournament Feb. 14 at the Bainbridge Earle May Boat Basin on Lake Seminole. The top 15 teams will advance to the 2015 FLW Southeastern Conference Championship Sept. 26-27 at McFarland Park in Florence, Ala., on the Tennessee River.
VSU won the Lake Seminole tournament in 2013.    
"We are excited to be headed to Lake Seminole, our home lake, in February," said Colson, a senior accounting major from Valdosta. "Winning this tournament in 2013 was big for our program and really put VSU fishing on the map. However, the win in 2013 isn't even on our minds as we begin practice. This is the case for two reasons. One, the tournament we won in 2013 was held in April, unlike this tournament, which will be held in February. This means the lake will be fishing completely different than it was when we won the event two years ago. Two, no one cares about your history on the lake; it's all about what you can do on tournament day.
"Lake Seminole will be putting out some big bags in February. I would imagine most of the field will be targeting pre-spawn bass with lipless crank baits. Anglers will be covering a lot of water in search of quality bass staging up for the spawn. Last year it took close to 25 pounds to win this tournament. I would imagine the tournament results will be similar this year. Some team will find the fish and bring in a big limit. Hopefully it will be Valdosta State University." 
Harbach, who serves as president of the Bass Fishing Club at VSU, described his group as "young and decorated for this to only be our fifth full season as a collegiate fishing team." He said the club has qualified for the Carhartt Bassmaster College Series National Championship twice and the FLW Southeastern Conference Championship twice.
"It's an incredible feeling and privilege leading this group of talented guys, who I feel will produce great results long after I'm gone," he added.
Contact Michael Harbach at mdharbach@valdosta.edu for more information about the VSU Bass Fishing Club. 
---
Valdosta State University's 2013-2019 Strategic Plan represents a renewal of energy and commitment to the foundational principles for comprehensive institutions.
Implementation of the plan's five goals, along with their accompanying objectives and strategies, supports VSU's institutional mission and the University System of Georgia's mission for comprehensive universities. 
The above story supports the university's commitment to the following goals: 
Goal 1: Recruit, retain, and graduate a quality, diverse student population and prepare students for roles as leaders in a global society.
Goal 3: Promote student, employee, alumni, retiree, and community engagement in our mission.
Visit http://www.valdosta.edu/administration/planning/strategic-plan.php to learn more.
General VSU Information
Office of Communications
Campus Address
Office of Communications Powell Hall West, Suite 1120
Mailing Address
1500 N. Patterson St.
Valdosta, GA 31698