VSU's Yorkey, Culbreth, Hogan Receive Staff Excellence in Service Awards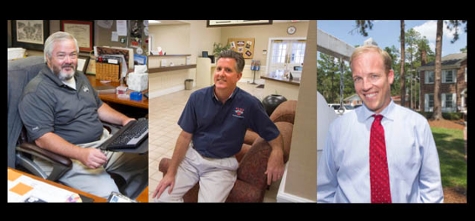 Pictured, from left to right, are Timothy Yorkey, Neal Culbreth, and Ryan Hogan.
VALDOSTA — Timothy Yorkey, Ryan Hogan, and Neal Culbreth are the recipients of Valdosta State University's 2014-2015 Staff Excellence in Service Award.
Timothy Yorkey, Employee and Organizational Development
"It is an honor to have received such an award for service to Valdosta State University. It is humbling to know that what I am doing is making a difference in the lives of many in this community. In reality, it is the members of this university community who are making a difference in my life, thus allowing me to thrive and want to provide the best service to others."
Yorkey joined Valdosta State in June 1980 as a patrol sergeant with University Police. He rose to the rank of lieutenant and then patrol commander and chief investigator.
"In 1999, I joined Employee and Organizational Development as a law enforcement and human resources training specialist," he said.
As a training specialist, Yorkey specializes in law enforcement training and provides various topics of instruction to area law enforcement officers. He also instructs at the institutional level on a variety of topics, including first aid and CPR, defensive driving, new staff employee orientation, customer service, management and leadership skills, communication skills, time management, and conflict management skills.
Yorkey also provides training for the University System of Georgia's Professional Development Consortium, which serves the state colleges and universities in the southern parts of the state. These trainings have included the transiting and merging of colleges as well as conversions of performance management processes at the institutional level.
Yorkey holds an Associate of Arts and a Bachelor of Science in criminal justice from Valdosta State. Since joining the university, he as obtained multiple professional certifications in managerial and supervisory fields.
Neal Culbreth, Student Financial Services
"I am very honored to receive this award. I am not the type of person that is going to go out and seek the spotlight. The statement made by Mr. Stanley Jones, VSU registrar, in his letter to the nomination committee, 'what you see is what you get,' could not be more accurate."
Culbreth has served the university as a refund and scholarship accountant for more than 17 years.
"My job duties have changed over the years," he said. "When I first started I was working primarily with the processing of outside scholarships and the Return to Title IV worksheet calculations of students who withdrew from all of their classes and were receiving financial aid. Since then added job responsibilities have included overseeing the excess/refund disbursement process, and during registration I, along with the bursar, manage the fee payment process to make sure that students' account balances are paid in full by the published fee payment deadlines."
Providing quick solutions for students and parents is what Culbreth has come to value most about his job.
"When a student or parent contacts me and additional information is required from another office in order to answer the question at hand, I am able to access these working relationships, without hesitation, to gather the needed information so that I can provide an answer to the question," he said.
Culbreth has been married to Angela Culbreth, who is employed with VSU Auxiliary Services, for 23 years. They have two daughters, Miranda and Shelby.
"Miranda is currently in her sophomore year at VSU pursuing a degree in early childhood education, and Shelby is a freshman at Lowndes High School," he said. "I am also an avid supporter of VSU Athletics. Once a Blazer, always a Blazer."
Ryan Hogan, Office of Admissions
"It is an honor to be surrounded by faculty and staff that put students first in all that they do. I go to work every day with excitement to showcase VSU and thankful to be recognized for it. I share this award with the rest of the Admissions team who have just as much passion, dedication, and enthusiasm for VSU as I do."
Hogan has served Valdosta State for 13 years.
"As a student, I became an orientation leader in 2001," he said. "Once graduated, I accepted a position as an admissions counselor in 2004. In 2011, I was promoted to my current position as associate director."
Hogan said that the most rewarding part of his work is to see the "transformational power of education."
"The student that walks through our door in Admissions and the one that walks across the stage at graduation are vastly different," he explained. "Being a catalyst in that process is fulfilling."
Hogan holds a bachelor's degree in business management and a master's degree in educational leadership. He is married to Micha Hogan, 2004 graduate of VSU's Langdale College of Business Administration and marketing manager and Wild Adventures. They share a 3-year-old son, Abram, and have another child due in March.
"We enjoy all things VSU," he said. "We are at many athletic games as well as Fine Arts performances."
Newsroom
Office of Communications Powell Hall West, Suite 1120
Mailing Address
1500 N. Patterson St.
Valdosta, GA 31698
General VSU Information
Office of Communications