VSU Students Researching Green Technology in Artificial Reefs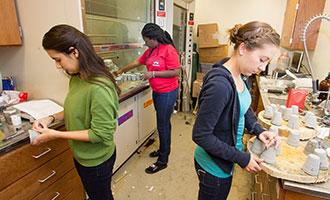 Valdosta State University students (left to right)  Marissa Reyes, Alesia Nelmons, and Jamie Wilson in the lab working on application of cellulose and cement to construct artificial mediums that encourage the growth of marine life.
VALDOSTA – Biology and chemistry students from Valdosta State University are one step closer to commercializing a green technology artificial reef used to stimulate marine growth. 
Earlier this year, students –under the direction of Dr. Tom Manning, professor of chemistry – filed for patents that support their marine project. The project includes the application of cellulose and cement to construct artificial mediums that encourage the growth of marine life. The project involves more than a dozen students at VSU. 
The artificial reefs are prepared by drying different sources of cellulose, such as bamboo or pine-- in an oven and then soaking it in nutrients before allowing it to dry at room temperature. Bioactive concrete, a mixture optimized by the students to promote marine life growth, is then used to hold the reefs in place in bodies of water. The entire system is biodegradable designed to leave behind a functioning marine ecosystem after it decomposes. 
Students realized the value in their creation after deploying reefs in the Florida Keys and monitoring the marine ecosystem for several months in 2013. The students found that the reefs contributed to growth of a host of marine organism and also found that many things were feeding on it, including baby octopuses, crabs, Spanish lobsters, marine worms, and shrimp. Along the Florida panhandle hey demonstrated their material could be used to colonize oysters. Oysters have been singled out largely for their ability to control shoreline erosion and help with water quality issues, as one oyster can filter up to fifty gallons of water per day. Large projects, such as oyster beds in the Chesapeake Bay and along the shoreline of Louisiana have drawn national attention, and may be a target for this new technology.   
"Since the project began, we have gotten a permit to do work in the state of Florida – testing the reefs in many different locations," said Manning. "Permits usually take 18 months to obtain; however, the project has proven to be so promising that it only took the students three days to obtain it." 
Over the summer, Manning and three students visited Washington, D.C. as part of the National Science Foundation's merit review process, which allowed a range of professionals to evaluate their project and provide feedback on the commercialization of their research. This process included recommendations on applying for the Small Business Innovation Research (SBIR) grant – a national grant that provides seed funding for projects to enter the market. 
Recent biology graduate Brittany Butler presented the advantages of deploying green tech reefs compared to current practices, which include the use of steel and concrete reefs deployed by ships. 
"The process was extremely competitive," said Butler. 
She added that many of the teams showcased cutting edge software and digital projects. 
"Our project was by far the most blue collar," Butler said. "Coming into this, we were the underdogs. Nonetheless, our preliminary data, as well as the permit that we received to work in Florida, were very beneficial. Of the 24 teams that presented from across the nation, our team was one of six that was given a recommendation to pursue commercialization." 
While Butler worked with Manning to gain approval for the SBIR grant application, Sydney Plummer, biology major, and Tess Baker, biology and chemistry major, met with legislatives aids and members of the U.S. Environmental Protection Agency to lobby for safer practices for deploying reefs such as those used in the marine project. 
"Our conversations were very successful," said Plummer. "The congressional aid from Louisiana practically chased us down in the hallway after the meeting to get more information about our project and its environmental benefits and economic impact." 
Now one step closer to commercialization, the team is exploring the many ways the green tech reef can be used. 
"We have found the reef to be like Miragrow for the ocean," said Butler. "We have explored how the reefs provide food for oysters and how more oyster beds help control water pollution. However, we are approaching the process of deploying these reefs to apply to anything that one wants to grow in the ocean – not just oysters." 
Since the start of the project the team has developed partnerships with local companies including The Langdale Company and Scruggs Concrete. 
"Langdale has donated wood and Scruggs has helped us secure cement," said Manning. "They have also provided insight on quality control. Our ultimate goal is to continue these partnerships and license this project to a point where it produces jobs for our community." 
The marine project is supported by a grant from the National Science Foundation I-Corps program, which fosters entrepreneurship that leads to commercialization of technology. The group has filed three United States non-provisional utility patent applications on the different processes. The students that co-authored different patent applications include Brittany Butler, Tess CC Baker, Sydney Plummer, Mehulkumar Patel, Alesia Neloms, Jamie Wilson, Marisa Reyes, Aaron Calvin, Morgan Manning, and Morgan Herrington. 
The students have presented their research at Valdosta State's 2014 Undergraduate Research Symposium as well as the University System of Georgia Board of Regents October 2014 meeting. The project has also been featured in
Clean Technology Business Review
and
Sport Diver
magazine.   
Newsroom
Office of Communications Powell Hall West, Suite 1120
Mailing Address
1500 N. Patterson St.
Valdosta, GA 31698
General VSU Information
Office of Communications