December 8, 2014
14-384
Jessica Pope
Communications and Media Relations Coordinator
Marie Elliott Shares Highlights of Television Academy Foundation Fellowship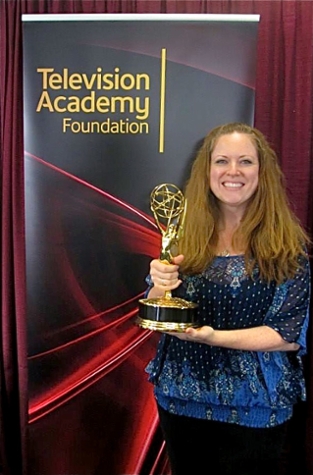 Valdosta State University's Marie M. Elliott was among 20 educators from colleges and universities across the United States selected by the Television Academy Foundation to attend its 27th annual Faculty Seminar Fellowship Nov. 10-14 in Los Angeles, Calif. Getting to hold an Emmy was one of the many highlights of her week on the West Coast.
VALDOSTA — Valdosta State University's Marie M. Elliott was among 20 educators from colleges and universities across the United States selected by the Television Academy Foundation to attend its 27th annual Faculty Seminar Fellowship Nov. 10-14 in Los Angeles, Calif. She spent the week immersed in the entertainment industry, learning the very latest about such topics as how producers and writers function, developing ideas and sources, the similarities and differences of directing different genres, program selection, digital entertainment, and more from the industry's top professionals.
"This was probably one of the best things I've done for my professional development," noted Elliott, an assistant professor of mass media in the Department of Communication Arts. She said that her week at the seminar "consisted of panels, hands-on demonstrations in renowned studios, evening mixers with entertainment professionals — and some famous stars like Geena Davis — and meetings with studio executives."
Highlights of Elliott's Television Academy Foundation Faculty Seminar Fellowship include the following: 
• Watching a live airing of Dancing With The Stars. Elliott said, "The movable sets, production techniques, and camera choreography is something I can't wait to share with my classes. The equipment they ran and the sets they changed out were so simple and streamlined. It made watching the three-minute and 20-second commercial breaks so interesting, and I can't wait to show my MDIA 2050: Introduction to Electronic Media Production classes diagrams and examples of how professional reality shows are staged today. It was probably one of the most valuable experiences I've had behind the scenes of a televised studio production."
• Attending a number of panels led by such industry experts as Jeff Melvoin, a producer and writer known for his work on such shows as Northern Exposure, Army Wives, and Alias; Gabrielle G. Stanton, a producer and writer known for her work on Grey's Anatomy; Denny Dugally, a production designer known for his work on Brothers and Sisters; and Jeff Jur, a cinematographer known for his work on Dirty Dancing, My Big Fat Greek Wedding, and Joy Ride. Elliott said, "All the panels were exceptional, but I most enjoyed TV Business and the Development Process, Series Showrunners, Physical Production 101, Below the Line, Directing For Television Workshop, Securing Rights, Elements of Reality Television, and Programming the Network Channels. I got insight into how writing for television is done, what techniques directors use to work with actors, how reality shows are pitched and picked up, how internships and below-the-line jobs affect future career goals, how labor laws impact industry jobs, specific experiences from working on shows like Wipeout, Fear Factor, Orange is the New Black, Black-ish, The Real World, Big Brother, Northern Exposure, Grey's Anatomy, Ugly Betty, Bones, Drop Dead Diva, Dawson's Creek, The O.C., Sleepy Hollow, Dexter, The Mentalist, How To Get Away With Murder, Mad Men, and my personal favorite, Twin Peaks. Speaking to these cinematographers, editors, production designers, writers, showrunners, and lawyers gave me an opportunity to ask very direct questions that my students want to know about equipment and software, getting jobs, crew job duties, and freelancing. I have such a better understanding of areas I touch upon in all my classes like media law, media economics, ethics, and all the production aspects I cover."
• Participating in directing activities with Michael Lange, who is known for his work on a number of television shows, including such  1980's classics as The Fall Guy, T.J. Hooker, and Dynasty; the 1990's Knots Landing, Northern Exposure, The X-Files, Beverly Hills 90210, and Buffy the Vampire Slayer; and the 21st century's Dawson's Creek, The O.C., One Tree Hill, Drop Dead Diva, Greek, The Mysteries of Laura, and Switched at Birth. Elliott said, "I will use these exercises when I teach MDIA 4240: Directing and Acting for Film, and my students will benefit from these techniques, which really excites me as an instructor."
• Visiting several professional studios, including Dreamworks, CBS, and Warner Brothers Studios, and seeing motion capture labs, live sets, and the personal workstations of cast and crew. Elliott said, "It was very impressive to see the work that goes into doing a production — and it made me realize that everything I already tell my students is true. I worked in the industry in Atlanta for five years, and it was great knowing that I'm still up to date with the information I provide them in my classrooms. One of the coolest things I saw was at Dreamworks. They actually let us see the diorama markup of the new theme park they are building called Dreamland. It will be a fully enclosed theme park with a retractable roof surrounded by outside roller coasters. While we were looking at it, we actually got to see Jeffrey Katzenberg [a producer known for such movies as Shrek, Shrek 2, Chicken Run, and Shark Tale] present it to another group visiting that day. Dreamworks is a unique place because the compound is surrounded by koi ponds, streams, and lush greenery. Workers can take breaks and attend yoga classes or invite their friends and family to dine in the commissary with them free of charge. I spoke with an engineer in the motion capture lab, and he told me lots of stuff to share with my students. It was an invaluable experience."
• Being on the set of The Big Bang Theory and Two and a Half Men. Elliott said, "Now when I watch those shows I see exactly how the cameras and other equipment work with the staging on set. For example, The Big Bang Theory uses only dolly tracks for camera movement while Two and a Half Men uses pedestal mounts for mobile filming. It was awesome seeing all the lights and equipment and staging during rehearsals, and I can't wait to relay what I saw to my students."
• Meeting Geena Davis, who founded the Geena Davis Institute on Gender in Media, at a See Jane exclusive parlor event. Elliott said, "We had a very substantive conversation about women in media. I asked her about her new role on Grey's Anatomy, and then a panel of industry professionals discussed current trends and issues with diversity and equality in media. Afterward, I also chatted with the executive producer of Orange Is The New Black about writing the characters on the show. It was a really cool event."
• Hearing from executives in charge of scheduling and programming from NBC, ABC, FOX, CBS and the CW. Elliott said, "It was very informative and will enhance my future lectures about network structure and prepping seasons of multiple productions."
• Earning a certificate of completion and celebrating at an exclusive mixer at Eva Longoria's restaurant, Beso. Elliott said, "This was quite possibly the best part of the fellowship as I was able to more casually chat with the professionals and executives I met. I mingled and networked as much as possible in order to set up Skype meetings, internships, and other opportunities for my students. By being a part of this fellowship I now have the contacts for my creative ideas and work opportunities for my students. For example, right now Frank Barnas [a professor of mass media at VSU] and I have a screenplay titled The Chosen Few under review with Lionsgate — based on real life events surrounding the 2008 Battle of Wanat — and I was able to ask very direct questions about copyrights and clearances with lawyers from Pierce Law Group, a major entertainment industry law firm. I also was offered free software for Movie Magic, the industry standard for budgeting and scheduling, with free installation and instructions from Michael Sable of Entertainment Partners. I have already spoken to [VSU College of the Arts] Dean [A. Blake] Pearce about the possibilities of working with them to incorporate more of that training in our curriculum."
The Television Academy Foundation's mission is to chronicle and celebrate the history of television and to inspire and educate the next generation of television leaders.
Contact Marie M. Elliott at (229) 249-4876 or mmelliott@valdosta.edu to learn more.
On the Web:
http://www.valdosta.edu/colleges/arts/communication-arts/mass-media/
http://www.emmys.com/foundation
---
Valdosta State University's 2013-2019 Strategic Plan represents a renewal of energy and commitment to the foundational principles for comprehensive institutions.
Implementation of the plan's five goals, along with their accompanying objectives and strategies, supports VSU's institutional mission and the University System of Georgia's mission for comprehensive universities. 
Faculty participation in national fellowship opportunities helps the university meet the following goals: 
Goal 1: Recruit, retain, and graduate a quality, diverse student population and prepare students for roles as leaders in a global society.
Goal 3: Promote student, employee, alumni, retiree, and community engagement in our mission.
Goal 4: Foster an environment of creativity and scholarship.
Goal 5: Develop and enhance Valdosta State's human and physical resources.
Visit http://www.valdosta.edu/administration/planning/strategic-plan.php to learn more.
Newsroom
Office of Communications Powell Hall West, Suite 1120
Mailing Address
1500 N. Patterson St.
Valdosta, GA 31698
General VSU Information
Office of Communications