December 12, 2014
14-388
Rebecca J. James, Graduate Assistant
Journalism Students Visit Jacksonville Jaquars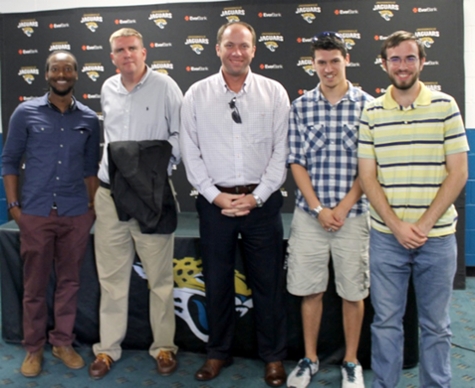 Pictured, from left to right, are John Preer, VSU journalism student; John Oehser, Jacksonville Jaguars senior writer; J.P. Shadrick, Jaguars writer/reporter; Alex Tostado and Neil Frawley, VSU journalism students.
VALDOSTA — Valdosta State University journalism students were recently invited to tour EverBank Field, home of the Jacksonville Jaguars, and learn how the professional football program's public relations staff uses reporters, broadcasters, and photographers to keep sports fans informed of all the latest team news.
The tour was hosted by the Jaguars Public Relations Department and included an insider-look at the stadium, press box, field, weight room, press conference room, and newly-constructed cabanas, shared Dr. Ted Geltner, an associate professor in the Department of English at VSU and editorial advisor for The Spectator, the university's independent student newspaper. The students also had the opportunity to interview two public relations staff members about reporting and broadcasting for the Jacksonvillve Jaguars.
Alex Tostado, sports editor for The Spectator, said, "I learned a lot about how to maintain relationships for a team you are covering …. It was a fun trip and I am happy that Dr. Geltner gave us the opportunity to be part of it."
Contact Dr. Ted Geltner at (229) 333-7343 or tagelterner@valdosta.edu to learn more.
On the Web:
http://www.jaguars.com/index.html
Newsroom
Office of Communications Powell Hall West, Suite 1120
Mailing Address
1500 N. Patterson St.
Valdosta, GA 31698
General VSU Information
Office of Communications