Employee and Organizational Development Holds Fall Certificate Recognition Ceremony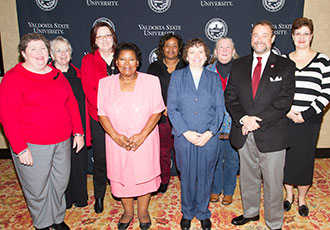 Recipients of the Administrative Assistant Certificate Program, professional track are pictured: Front row (left to right) Terrie Adrian, Patricia Rozier, Kim Haithcock, and VSU President William J. McKinney. Back row (left to right) Anna Landers, Lori Rastegar, Shirley Davis, Beverly Porter, and Susan Jones.  View all fall 2014 recipients
VALDOSTA – Valdosta State University staff members recently completed one or more of the certificate programs offered by Employee and Organizational Development. 
On Nov. 22, a ceremony was held to present employees with certificates in Administrative Assistant Certification Program, Management Certificate Program, and Master Advisor Series. 
According to Becky Murphy, director of Employee and Organizational Development, the certificate programs are awarded based on the employee meeting the minimum qualifications set by Continuing Education standards that includes a minimum of 24 hours of instructions and assessment of learning outcomes. 
"They [programs] are designed to enhance the competencies of supervisors and administrative assistants working in higher education," said Murphy. "These competencies were identified through a combination of literature reviews, assessment of successful incumbents working in these positions and job description data." 
The Master Advisor series is sponsored through Centralized Advising and seeks to empower and enable faculty, staff, and graduate assistants to academically advise undergraduate students using appreciative advising techniques taught through a progression of classes. 
Management Certificate recipients
: Terrie Adrian, Kyle Culpepper, Anna Landers, Benjamin Li, Luther Smith, Greg Henderson, Michael Smith, Reagan Robinson, Jamie Flint, and Simon Fonji. 
Administrative Assistant Certificate Professional Track recipients
: Shirley Davis, Cecilia Furey, Kim Haithcock, Susan Jones, Anna Landers, Beverly Phelps, Beverly Porter, Lori Rastegar, Patricia Rozier, Courtney Wilkes, and Brenda Wynne. 
Administrative Assistant Certificate Specialist Track recipients
: Terri Adrian, Kim Haithcock, Anna Landers, Lori Rastegar, and CourtneyWilkes.  
Master Advisor Series recipients:
Meredith Bass, Janice Inman, Julienne Jackson,
Michelle Lewis, Crystal Marshall, Shirley McClain, Matthew McIntyre, Benjamin Mullis, Beverly Richardson-Blake, Ariel Shaw, Cheryl Tillman, Sarah Wright and Ashley Cooper. 
For more information on the certificate recognition ceremony, visit the Employee and Organizational Development website at
http://www.valdosta.edu/administration/finance-admin/employee-development/fall-2014-certificate-recognition-ceremony.php
Newsroom
Office of Communications Powell Hall West, Suite 1120
Mailing Address
1500 N. Patterson St.
Valdosta, GA 31698
General VSU Information
Office of Communications