November 21, 2014
14-368
Jessica Pope
Communications and Media Relations Coordinator
Michele Blankenship Receives Nursing Health Literacy Hero Award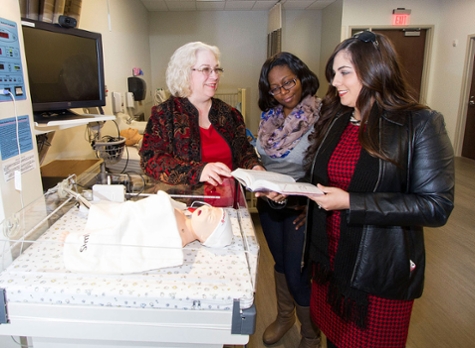 S. Michele Blankenship, a full-time instructor in the School of Nursing at Valdosta State University's College of Nursing and Health Sciences, is the recipient of the Georgia Nurses Association's Nursing Health Literacy Hero Award. She is pictured with two of her students, Melissa Castillo and Rikki Hightower. (Photo by Paul E. Leavy, university photographer)
VALDOSTA — Recognizing her ability to both identify the problem of health literacy and to help create solutions, the Georgia Nurses Association recently honored S. Michele Blankenship with its Nursing Health Literacy Hero Award.
Blankenship is a full-time instructor in the School of Nursing at Valdosta State University's College of Nursing and Health Sciences. She joined the faculty in 2012 after working in the health care profession as a registered nurse for more than two decades.
"I am honored to be considered as a health literacy hero," she shared. "As a nurse at South Georgia Medical Center … I devoted 22 years to patient care. Over those 22 years, I was proud of my efforts as a patient advocate. I believe that patients should have the opportunity to make informed decisions about their care. Once the patients … (were) given and … (understood) the information concerning their illness, I supported their right to make the decision as to how to proceed. I always strived to make sure that they could make informed decisions. Once my patients made informed decisions, I supported their decisions."
To be considered for the Georgia Nurses Association's Nursing Health Literacy Hero Award, Blankenship had to show how she improves the way nurses communicate health information, demonstrates leadership, makes health care information available to vulnerable populations, supports best practices in health literacy, honors patient decision-making with respect, exhibits quality clinical experience, displays integrity, uses a teach-back method with patients, shows compassion and empathy, and understands the patient's perspective.
Blankenship is a Valdosta State University alumna, having earned both a Bachelor of Science in Nursing (B.S.N.) and Master of Science in Nursing (M.S.N.) in 2012 through an innovative preference pathway program for registered nurses; she earned an Associate of Science in Nursing (A.S.N.) from Abraham Baldwin Agricultural College in 1991, which allowed her to work as a staff registered nurse from 1991 to 2009 and a wound, ostomy, and continence nurse from 2009 to 2013 at South Georgia Medical Center. She expects to earn a Doctor of Education (Ed.D.) from the University of West Georgia in 2017.  
As an instructor at VSU, Blankenship primarily teaches such courses as Pharmacology in Nursing Practice, Health Assessment Across the Lifespan, Nursing Care I: Health Promotion and Competencies, Nursing Care II: Acute Health Alterations, and Statistical Applications in Nursing Research and Practice. She enjoys teaching her students how to communicate with their patients.
"I tell the students that they have to learn two languages," she explained. "First, they have to learn how to speak and understand medical terminology. Then, they have to learn how to translate that into language that the patient will understand. If the patient does not understand their illness, medications, and lifestyle changes, then they will not follow the medical plan that we have set up for them.
"Also, I have to use this method with my students. I teach second semester nursing students, so they do not always understand everything in medical terms. I try to explain concepts in a way that they will understand and be able to apply the concept that I am teaching."
As a member of the College of Nursing and Health Sciences faculty, Blankenship works with the Partnership Health Clinic, a free primary health care facility maintained by the Lowndes County Partnership for Health and staffed by physicians, physician assistants, nurse practitioners, and nurses who offer their time — and talents — without compensation to serve the needs of the working uninsured. She considers the opportunity a privilege.
"… I am personally involved with patient education," she noted. "The primary goal of patient education at the clinic is geared toward health promotion; however, we engage frequently in education on disease processes and lifestyle modification. The teaching episodes can occur during routine visits, during nurse visits specifically designed for educational purposes, and during blood pressure checks."
Blankenship is often involved in diabetic education at the Partnership Health Clinic. When working with her diabetic patients, she explains the pathophysiology behind diabetes to them and then asks them to explain it back to her or to a family member present for the teaching. If they are unable to do so, she explains it again, this time in simpler terms. She continues this process until the patient is able to explain it to others. She also provides educational materials for them to take home.
"The educational material is rich with pictures and diagrams that illustrate the education that was provided," she noted.
Blankenship makes it a priority to treat all of her patients with dignity and respect, regardless of their literacy abilities.
"… I always sit level with the patient, and I take my time to make sure … (they) and their family members understand the disease process so that they can be active participants in their own care."
Blankenship is fast becoming an expert on health disparities among the working uninsured. She is certified by the American Nurses Credentialing Center in medical/surgical nursing and licensed by the Georgia Board of Nursing. She is an active member of Delta Epsilon Iota, an academic honor society, the American Nurses Association, and the Georgia Nurses Association. She received an Excellence in Nursing Award from South Georgia Medical Center in 2008. 
"I am particularly proud of my accomplishments over the last 24 years," she said. "I am especially proud of the contributions I have made in patient education. I truly am a patient advocate and educator at heart."
Contact S. Michele Blankenship at (229) 333-7189 or smblankenship@valdosta.edu to learn more.
---
Valdosta State University's 2013-2019 Strategic Plan represents a renewal of energy and commitment to the foundational principles for comprehensive institutions.
Implementation of the plan's five goals, along with their accompanying objectives and strategies, supports VSU's institutional mission and the University System of Georgia's mission for comprehensive universities. 
S. Michele Blankenship's commitment to health literacy meets the following goals: 
Goal 1: Recruit, retain, and graduate a quality, diverse student population and prepare students for roles as leaders in a global society.
Goal 3: Promote student, employee, alumni, retiree, and community engagement in our mission.
Goal 4: Foster an environment of creativity and scholarship.
Goal 5: Develop and enhance Valdosta State's human and physical resources.
Visit http://www.valdosta.edu/administration/planning/strategic-plan.php to learn more.
Newsroom
Office of Communications Powell Hall West, Suite 1120
Mailing Address
1500 N. Patterson St.
Valdosta, GA 31698
General VSU Information
Office of Communications