Guardian Bank Contributes to VSU's Capital Campaign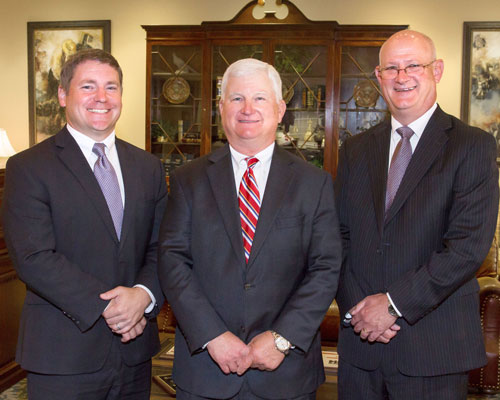 Guardian Bank recently donated money toward scholarships at Valdosta State University. Pictured, left to right, Guardian Bank executives Vice President A. Parrish Clark, Jr., CEO Ansel Clark, and President Ray Chitty.
VALDOSTA—Guardian Bank of Valdosta recently contributed $25,000 toward Valdosta State University's Invest.Ignite.Inspire. comprehensive capital campaign. 
According to John Crawford, vice president for Advancement and CEO of the VSU Foundation Inc., the Guardian Bank gift will go toward scholarship opportunities to help the university recruit, retain, and graduate high academically achieving students. 
With a working goal of $43,250,000 to be raised within five years, VSU's comprehensive campaign is focused on raising the necessary funds to support student enrichment, faculty enhancement, program opportunities, athletic excellence, and facility upgrades. 
"
Financial support from generous community partners like Guardian Bank enables Valdosta State University to serve students from Georgia, the nation, and internationally," said VSU President William J. McKinney. "Our capital campaign,
Invest. Ignite. Inspire.
truly represents the spirit and dedication of VSU's  internal and external stakeholders coming together in support of our mission to support our students through their academic journey." 
Founded in 1997, Guardian Bank is a community bank dedicated to serving the growing economic needs of the citizens and businesses of South Georgia. 
Guardian Bank CEO Ansel Clark has deep roots in South Georgia and believes the financial support to Valdosta State University is important to the economic development of this community and region. 
"VSU has a positive influence on this community…and not just for Guardian Bank but all businesses," said Clark. "VSU is a major economic engine in this region. We want to help the students graduate, and hopefully after a four-year period of time, they will love Valdosta and want to stay. It is the community's goal to create enough jobs that those who graduate and want to stay here can stay." 
With three locations throughout Valdosta, Guardian Bank's mission is to promote trade and economic growth within the region. 
Clark appreciates the importance of having a comprehensive university within the community and its benefit to businesses through graduating a highly educated workforce. 
Numerous Guardian Bank employees are VSU alumni, including Guardian Bank President Ray Chitty and Vice President A. Parrish Clark, Jr. 
Clark, who graduated in 1970 from Valdosta State, said his relationship with the college goes back much further than his time as a college student. As a young boy, he vividly remembers visiting his aunt, Caroline Parrish Thomas, who served as Valdosta State College registrar for more than 30 years. 
"When I was a kid and [would] go see Aunt Caroline, I called her 'Aunt C,' it was fun to go to the old main building in West Hall where her office was located," said Clark, whose wife, Betsy, also graduated from Valdosta State College. "That was long before air conditioning…I have a long attachment with the university and many of my friends have graduated from there." 
Clark's mother, Winona Parrish Clark, a graduate of Georgia State Womans College, served as secretary to former Valdosta State College President S. Walter Martin. 
Guardian Bank and its employees are dedicated to supporting the advancement of education and improving the quality of life throughout Lowndes County.  Many of Guardian Bank's employees serve on local non-profit boards, including The Haven, Greater Valdosta United Way, Children's Advocacy Center, and Georgia Sheriff's Boys Ranch. 
For more information on VSU's comprehensive campaign, contact John Crawford at 229-333-5939.
Newsroom
Office of Communications Powell Hall West, Suite 1120
Mailing Address
1500 N. Patterson St.
Valdosta, GA 31698
General VSU Information
Office of Communications