November 17, 2014
14-361
Jessica Pope
Communications and Media Relations Coordinator
Anita Ondrusek: Teaching Excellence Award for Online Teaching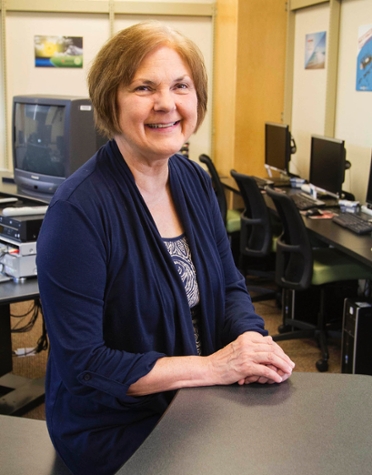 Dr. Anita L. Ondrusek of the Department of Library and Information Studies is the recipient of Valdosta State University's inaugural Teaching Excellence Award for Online Teaching. (Photo by Paul E. Leavy / Valdosta State University)
VALDOSTA — Dr. Anita L. Ondrusek is the recipient of Valdosta State University's inaugural Teaching Excellence Award for Online Teaching.
The Department of Library and Information Studies professor said that she might never have earned this award if not for the leadership of other online educators and support personnel throughout her career.
"I remember my first year at VSU," she shared. "I took every workshop I could on the courseware and found guidance from one of my colleagues in the Master of Library and Information Science Program; faculty from the Department of Curriculum, Leadership, and Technology whom she introduced me to; and from the many professionals who have assisted faculty through training and consultations in the VSU Center for eLearning.
"I have found most online teachers to be very committed to resolving both the pedagogical issues and the technological demands of online teaching. I'm not sure that's any different than what many classroom teachers also face. Maybe my uniqueness is my staying power; 40-plus years is a long time, and today I feel equally comfortable doing a preschool puppet show as I do teaching research methods to graduate students. I'm pretty proud of that."
Ondrusek discovered a penchant for teaching when she began working as a school librarian in Pennsylvania's Wyalusing Area School District after graduating with a Bachelor of Science (B.S.) in library education/educational media from Millersville State College, now Millersville University, located in Millersville, Pa., in 1972. She worked her way through college as a food service worker in a hospital and as a waitress.
"When I began service in school libraries, I discovered I had to teach, and I was treated as a teacher with recess duties and all," she explained.
"I liked it."
She said that she loves "watching how learning enriches and, in many cases, changes lives."
Ondrusek continued her education, earning a Master of Science (M.S.) at New York's Elmira College in 1977; a Master of Library Science (M.L.S.), with distinction, from the Brooklyn, N.Y.-based Pratt Institute in 1990; and a Doctor of Philosophy (Ph.D.) in instructional systems, with a secondary focus in educational psychology, from The Pennsylvania State University, located in University Park, Pa., in 1999.  She furthered her professional experience as a school library media specialist in Pennsylvania's The School District of Lancaster; children's librarian at the Brooklyn Public Library in Brooklyn, N.Y.; site supervisor of an adult literacy center at the Williamsburgh Library, a branch of the Brooklyn Public Library; assistant audiovisual librarian, head of the Learning Resource Center, and associate library director for educational services at the Medical Research Library of Brooklyn, which serves the State University of New York's Downstate Medical Center community; assistant professor then associate professor at Hunter College Libraries, located at the City University of New York's Hunter College in New York, N.Y.; and part-time instructor in the School of Information and Library Science at the Pratt Institute.  
Ondrusek joined the VSU faculty in 2004 as an assistant professor. She was promoted to the rank of associate professor in 2008 and granted tenure the following year. In 2014, she became a full professor. Among her primary responsibilities is teaching and advising graduate students in the Master of Library and Information Science (MLIS) program, a Web-based, distance learning environment. She also participates in curriculum development, program assessment, and accreditation planning within the program.
"… because I had, and continue to have, Dr. Ondrusek's guidance as my professor, I feel more prepared and that I have gained more knowledge than I possibly could have otherwise," shared Emily Jackson, formerly Emily Grillo, who graduated in May 2014 with an MLIS from VSU. "She is not only extremely knowledgeable about the subjects she teaches, but she is also very generous with her time and is more than willing to help any student in need."
The mission of VSU's MLIS program is "to provide a quality publicly supported education for generalists and specialists in the library and information science fields with a primary focus to educate librarians for academic, public, and special libraries in Georgia." The seven-member faculty, which includes Ondrusek, teaches a curriculum that "reflects the role of library and information services in a rapidly changing technological and global society." The first nine students were admitted in 2001, and today the program admits an estimated 80 to 90 students a year. Most of the students are older, working, married, and raising families. They come to the program from as close as the local community and as far away as Korea, Uganda, and China. The typical student takes two courses a semester and graduates in about seven semesters.
Ondrusek has taught a variety of courses since joining the MLIS program faculty. She developed a reference track and health sciences librarian track and co-developed a dual MLIS and school library media certification program for students pursuing an MLIS at VSU.
Having the freedom to develop instructional materials is what Ondrusek enjoys most about teaching online students.
"It calls upon a mix of keeping up to date in your subject and using your creativity," she added.
Of course, online teaching is not without its own unique set of challenges.
"The amount of time involved, if you want to give the students your best, is unimaginable to educators who have not ever taught online," she noted. "It requires far more time than in-person teaching."
Dr. Linda R. Most, interim head of the Department of Library and Information Studies at VSU, shared, "Dr. Ondrusek develops rapport with her students by providing rich feedback and offers them opportunities to revise and resubmit their work to demonstrate their mastery of the required concepts. She takes the time to develop scaffolded learning experiences students can use to build the skills they will need to be successful in achieving course learning outcomes. Her students respond to her attentions by doing well in her classes, and they thank her via their evaluations.  Students recognize Dr. Ondrusek's commitment to their success by asking her for recommendation letters when they enter the job market; many of Dr. Ondrusek's students secure professional positions because of her recommendations and what they've learned in her courses."
Another of Ondrusek's primary responsibilities as a professor in the MLIS program is conducting research and writing for publication. Her work has appeared in a number of professional journals, the most recent being Collection Building. She has an article about an innovative approach to teaching the elements of research design in the November 2014 issue of College and Research Libraries. She is a sought after reviewer, conference presenter, mentor, project collaborator, and paid consultant. She has received more than $39,000 in grant funding for various special initiatives and projects and believes in staying up to date in her subject area through continuing education opportunities.  
An article Ondrusek co-authored, "How Twenty-Eight Users Helped Redesign an Academic Library Website: A Usability Study," published in Reference Users Services Quarterly (RUSQ), was selected as second runner-up for the 2006 RUSQ Reference Press Award. Another article, "The Attributes of Research on End-user Online Searching Behavior: A Retrospective Review and Analysis," published in 2004 in Library and Information Science Research (LISR), was cited on LISR's Top 10 Most Downloaded Articles of 2005.      
Ondrusek is an active member of the American Association of University Women; American Library Association (ALA); Association for College and Research Libraries, a division of ALA; Association for Library and Information Science Education; Georgia Health Sciences Library Association; and Georgia Library Association. She was inducted into Phi Kappa Phi, the nation's oldest and most selective collegiate honor society for all academic disciplines, in 2009 and the Theta Chapter of Beta Phi Mu International Library and Information Studies Honor Society in 1990.
Her commitment to VSU, the Department of Library and Information Studies, Odum Library, and the community involves countless hours of volunteer service on a number of committees and boards, as well as for special events.
"Dr. Anita Ondrusek is an asset to Valdosta State University and a pioneer in online learning at VSU," said Most. "She fully represents the ideals … of the Teaching Excellence Award for Online Teaching …."
Contact Dr. Anita L. Ondrusek at (229) 245-3742 or alondrus@valdosta.edu to learn more.
On the Web:
Implementation of the plan's five goals, along with their accompanying objectives and strategies, supports VSU's institutional mission and the University System of Georgia's mission for comprehensive universities. 
Dr. Anita L. Ondrusek's commitment to online education, as well as to serving her students, her profession, and her community, meets the following goals: 
Goal 1: Recruit, retain, and graduate a quality, diverse student population and prepare students for roles as leaders in a global society.
Goal 3: Promote student, employee, alumni, retiree, and community engagement in our mission.
Goal 4: Foster an environment of creativity and scholarship.
Goal 5: Develop and enhance Valdosta State's human and physical resources.
Visit http://www.valdosta.edu/administration/planning/strategic-plan.php to learn more.
Newsroom
Office of Communications Powell Hall West, Suite 1120
Mailing Address
1500 N. Patterson St.
Valdosta, GA 31698
General VSU Information
Office of Communications