VSU Welcomed High School Counselors from Atlanta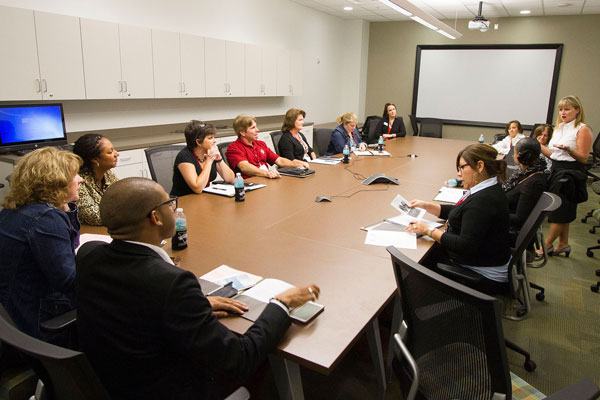 Dr. Sheri R. Noviello, interim dean of the College of Nursing and Health Sciences, gave an overview of the university's health profession programs to high school counselors from the Atlanta area during their visit Oct. 21-22.
VALDOSTA – Valdosta State University hosted high school counselors from Atlanta on campus Oct. 21-22 for an insider's view of the university.  
The high school counselors toured the campus and had the opportunity to speak directly to academic representatives within each of the university's colleges, as well as learn more about scholarships opportunities. 
"The two-day event showed high school counselors what VSU has to offer their students and let them see for themselves what a great institution we are," said Ryan Hogan, associate director of Admissions. "It was our goal for them to leave with a better understanding of how VSU's dedicated faculty members are creating a personalized, hands-on work environment for our students through research opportunities and other scholarly activities." 
The high school counselors, representing Cobb, Paulding, Fulton, Henry, and Gwinnett counties, also had the opportunity to learn more about VSU's admissions process, advising, and student life activities. 
"As a proud VSU alum, I am impressed by the growth of the beautiful campus, upgraded facilities, and support for all students in and outside the classroom," said Kristen Schloemer, school counselor from Wheeler High School, in Marietta, Ga. "It is evident that VSU is preparing their students for a global workforce in various types of disciplines." 
Schloemer, who graduated from VSU in 2000 with a degree in Spanish education, said, "This experience has allowed me to build upon my personal knowledge and experiences of when I went to VSU to what VSU can do for my current students and their families." 
Schloemer was not alone in her enthusiasm for the campus visit, Peggy Hurst, school counselor from Hillgrove High School in Powder Springs, said, "Being here brought the campus 'to life' for me. It has a warm feeling—friendly and inviting. I really know what type of student would fit here now! I love what the College of Educations is doing with their Early College Program." 
This was the first on-campus tour organized specifically for high school counselors and Hogan believes it will help reinforce the university's recruitment efforts in the metro Atlanta area.
Newsroom
Office of Communications Powell Hall West, Suite 1120
Mailing Address
1500 N. Patterson St.
Valdosta, GA 31698
General VSU Information
Office of Communications