VSU Names 2014 Graduates of the Last Decade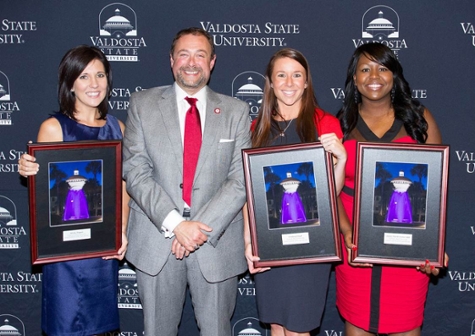 The Valdosta State University Alumni Association honored the 2014 Graduates of the Last Decade during the annual Alumni Recognition Dinner. Pictured, from left to right, are Micha Hogan, VSU President William J. McKinney, Lindsey Lloyd, and Jamie Hill. (Photo by Paul E. Leavy, university photographer)
VALDOSTA - The Valdosta State University Alumni Association presented Micha Hogan, Jamie Hill, and Lindsey Lloyd with the Graduate of the Last Decade (GOLD), an honor bestowed upon graduates who excel within 10 years of graduation, during this year's Homecoming festivities.
Micha Hogan, '04
Marketing Manager at Wild Adventures
Since earning her Bachelor of Business Administration in marketing from VSU in 2004, Hogan's career has taken her many places.
After graduating, she served as a volunteer with the Peace Corps in the Republic of Moldova for two years. She served as a teacher of English as a foreign language in the village of Pirlita. She also started an English Club, led after school aerobics activities for girls, and helped write a grant to finance sports equipment for the school she served.
Hogan returned to the United States in 2007 to begin her career in public relations. Her professional background includes time as a school and public affairs coordinator for the Houston County Board of Education and a coordinator of Equal Opportunity Programs and Multicultural Affairs at VSU.
In 2008, Hogan became the public relations manager at Wild Adventures Theme Park. She was named marketing manager of the park in August 2013.
Hogan's accomplishments include being named one of Metro Valdosta's 4 Under 40, nominated for the Valdosta-Lowndes County Chamber of Commerce Young Professional of the Year Award, and selected for Wild Adventures Theme Park's Development Candidate Program and Herschend Family Entertainment's Intensive Development Candidate Program. She also serves on several community committees and is co-coordinator of St. John's Theology on Tap program.
Jamie Hill, '05, '06
Special Education Teacher at Pine Grove Middle School
Hill is a two-time graduate of Valdosta State. She earned a Bachelor of Science in Education in business education in 2005 and a Master of Education in business education in 2006. She also holds an Education Specialist in teaching and learning and is a dissertation student for her doctorate in teaching and learning.
Hill began her teaching career as a special education teacher for Echols County Schools in 2006. She served Echols County for three years as a special education and business education teacher before joining Lowndes County Schools as a special education teacher. She also worked as part-time instructor with Valdosta State University's James L. and Dorothy H. Dewar College of Education and Human Services.
Hill is a 2013 Georgia Academy for Economic Development graduate, a 2012 Leadership Lowndes graduate, Leadership Lowndes board member, Tess Price Cox Spirit of Enthusiasm recipient, active member of the National Council of Negro Women, and Juneteenth organizer and presenter. She is also a 2014 nominee for Metro Valdosta's 4 Under 40 and a 2014 recipient of the National Council of Negro Women Bethune Leadership Award.
Lindsey Lloyd '08, '09
Motorsports Production Coordinator
Lloyd received a Bachelor of Fine Arts in mass media in 2008 and earned a Master of Education in educational leadership from VSU the following year.
While at Valdosta State, Lloyd served as an intern for ticketing and game operations, where she assisted with regular season and NCAA Championship game-day operations. During graduate school, she also served as a graduate assistant in Athletics Development, where she mentored student athletes and served as a webcast color commentator as well as co-director and host of the "Spotlight on VSU Athletics" segment on Talk 92.1
Lloyd accepted the position as director of ticketing and game operations with Valdosta State in 2009. During her time as director, she surpassed the office's football gate and season revenue goal by more than $27,000. Under her leadership, the office also saw the third largest basketball attendance in the university's history.
In 2011, Lloyd was offered a position with ESPN. She currently serves as the organization's motorsports production coordinator in Bristol, Conn. As production coordinator, she manages ESPN's well-known pre-game sports shows, "College Football" and "College GameDay."
Newsroom
Office of Communications Powell Hall West, Suite 1120
Mailing Address
1500 N. Patterson St.
Valdosta, GA 31698
General VSU Information
Office of Communications