VSU Names 2014 Distinguished Alumni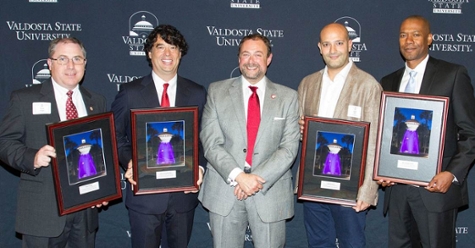 The Valdosta State University Alumni Association recognized the 2014 Distinguished Alumni during the annual Alumni Recognition Dinner. Pictured, from left to right, are Paul Higgs of the College of Nursing and Health Sciences, Downing Barber of the Harley Langdae College of Business Administration, VSU President William J. McKinney, Labib Nasir of the College of Arts and Sciences, and Dr. James Ford III of the College of the Arts. Not pictured is Kip Moore of the James L. and Dorothy H. Dewar College of Education. (Photo by Paul E. Leavy, university photographer)
VALDOSTA - The Valdosta State University Alumni Association announced five 2014 Distinguished Alumni of the Year recipients during homecoming activities on Friday, Oct. 24.
The College of Arts and Sciences honored Labib Nasir as its distinguished alumnus. Nasir has served as a producer with Reuters TV for more than 10 years. He regularly leads multimedia teams throughout the world, with special focus on the Middle East and North Africa. He graduated from VSU with a bachelor's degree in political science in 2001 and is a candidate for a Master of Public Administration from the John F. Kennedy School of Government at Harvard University.
Downing Barber was honored by the Langdale College of Business Administration. He graduated from VSU in 1995 with a bachelor's degree in marketing and is the founder and chief executive officer of Barberitos and Barberitos Franchising Inc. He opened his first restaurant in 2000 in Athens and established a franchise two years later. Since 2002, the company has grown to more than 50 locations in six states. He also holds a Master of Business Administration from Mercer University.
The College of Arts honored Dr. James Ford III as its distinguished alumnus. He is a professor of music, theatre, and dance at California State University in Los Angeles. Since moving to California in 2003, the Perry native has established a reputation as an accomplished trumpet player, performing in diverse musical settings that include big bands, small groups, orchestras, chambers, pop groups, and early music ensembles. He is also a member of the Clayton-Hamilton Jazz Orchestra and Benjamin Wright Orchestra. He received his bachelor's degree in music from Valdosta State in 1994. He also holds a Master of Music, Master of Music Education, and Doctor of Musical Arts.
Kip Moore, class of 2003, was honored by the Dewar College of Education and Human Services. He is a country music singer signed to MCA Nashville Records. While a student at Valdosta State, he made his first public appearance at Mellow Mushroom. In 2012, his debut album was released and the lead single, "Mary Was The Marrying Kind," peaked at No. 45 on Billboard's list of country singles. His second single, "Something 'Bout a Truck," hit No.1 on the Billboard country charts. He released the lead single to his sophomore album earlier this year.
Paul Higgs, class of 1989, was honored by the College of Nursing and Health Sciences. He is in his 17th year as head athletic trainer at Georgia College and is responsible for coordinating the medical care of student athletes. An Albany native, he has made many contributions to the field of athletic training. He has been involved with the U.S. Olympic committee's volunteer medical program and was appointed to the medical staff of the 1995 Olympic Festival, the 1998 Goodwill Games, and the 1999 Pan-American Games. He also taught athletic training courses for more than a decade and co-authored a textbook titled Perspectives in Athletic Training.
Newsroom
Office of Communications Powell Hall West, Suite 1120
Mailing Address
1500 N. Patterson St.
Valdosta, GA 31698
General VSU Information
Office of Communications