October 7, 2014
14-300
Jessica Pope
Communications and Media Relations Coordinator
Repertory Dancers Explore A World Of Dance With No Boundaries Oct. 9-12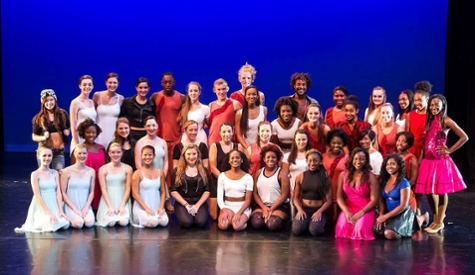 The Valdosta State University Repertory Dancers will present "No Boundaries" Oct. 9-12 on the Saywer Theatre stage. Tickets are on sale now and may be reserved by calling the Theatre and Dance Box Office at (229) 333-5973 between the hours of 2 p.m. and 5 p.m. Monday through Saturday. (Photo by Paul E. Leavy / Valdosta State University)
~2014-2015 is the Year of the Arts at Valdosta State University~
VALDOSTA — The Valdosta State University Repertory Dancers will explore a world of dance without any barriers during a four-performance run of "No Boundaries" on the Sawyer Theatre stage Oct. 9-12. The much-anticipated annual dance concert will feature both original choreography and "restagings" of the Theatre and Dance Area's extensive repertoire — which has grown to include more than 200 pieces — by Eric Brandt Nielsen, Catherine Schaeffer, and Sarah Wildes Arnett.
"It is hard to believe that this is our 29th annual dance concert," Eric Brandt Nielsen, founding director, VSU Dance Program coordinator, and professor of dance, noted.
Nielsen went on to describe the cast as being the "strongest group of underclassmen and upperclassmen I have had" since arriving at VSU in 1986. He said that he is both anxious and excited for audience members of all ages to see the students perform the six pieces on the "No Boundaries" program.
Performances are scheduled for 7:30 p.m. Thursday, Friday, and Saturday and 3 p.m. Sunday and will feature one 15-minute intermission.
Individual tickets for "No Boundaries" are available and cost $15 for adults, $12 for senior citizens, and $10 for children and non-VSU students; they are free for all VSU students with a valid university identification card. Tickets for groups of 10 or more people at a single performance are $9 per person.
Season memberships, which include eight admissions to be used as desired by the member throughout the 2014-2015 VSU Theatre and Dance season, are $72 for the general public and $64 for university faculty and staff; they will be available through Thursday, Nov. 13. Patronages are welcome at a variety of levels, from a low of $150 to a high of $1,000 or more, and benefit student scholarships.
Tickets may be reserved by calling the VSU Theatre and Dance Box Office at (229) 333-5973 between the hours of 2 p.m. and 5 p.m. Monday through Saturday. Cash and check payments only will be accepted this season; there will be no online sales or credit card transactions until further notice.
Sawyer Theatre is located on the first floor of the Fine Arts Building at the corner of Brookwood Drive and Oak Street.
Contact Eric Brandt Nielsen at (229) 333-5840 or enielsen@valdosta.edu to learn more.
Visit https://www.facebook.com/vstatenews?ref=hl to view additional photos.
On the Web:
http://www.valdosta.edu/colleges/arts/communication-arts/theatre-and-dance/
---
Valdosta State University's 2013-2019 Strategic Plan represents a renewal of energy and commitment to the foundational principles for comprehensive institutions.
Implementation of the plan's five goals, along with their accompanying objectives and strategies, supports VSU's institutional mission and the University System of Georgia's mission for comprehensive universities. 
The university's commitment to the arts and associated academic programs meets the following goals: 
Goal 1: Recruit, retain, and graduate a quality, diverse student population and prepare students for roles as leaders in a global society.
Goal 3: Promote student, employee, alumni, retiree, and community engagement in our mission.
Goal 4: Foster an environment of creativity and scholarship.
Goal 5: Develop and enhance Valdosta State's human and physical resources.
Visit http://www.valdosta.edu/administration/planning/strategic-plan.php to learn more.
Newsroom
Office of Communications Powell Hall West, Suite 1120
Mailing Address
1500 N. Patterson St.
Valdosta, GA 31698
General VSU Information
Office of Communications