October 14, 2014
14-315
Jessica Pope
Communications and Media Relations Coordinator
Gina M. Doepker: Faculty Excellence in Service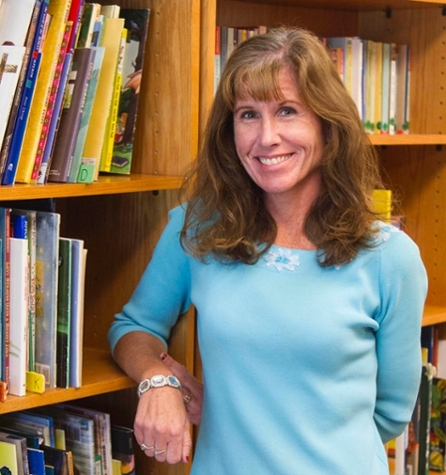 Dr. Gina M. Doepker of the Department of Early Childhood and Special Education is Valdosta State University's 2014 Faculty Excellence in Service Award.
VALDOSTA  — Dr. Gina M. Doepker is the brains behind Valdosta State University's Ruby R. Sullivan Literacy Center. She believes that with the right instruction and the right dose of encouragement every child can learn to read and write; she makes the seemingly impossible possible every day, inspired by the knowledge that reading is critical to success in the modern society, that reading opens doors to learning about math, history, science, literature, geography, art, and more.
Doepker's unwavering commitment to helping young children across South Georgia build literacy skills, gain confidence, and be more motivated to want to read for both pleasure and study resulted in her receiving VSU's 2014-2015 Faculty Excellence in Service Award.
"The power of service," explained the Ruby R. Sullivan Literacy Center director and Department of Early Childhood and Special Education associate professor, "is in the reciprocity between the community and the VSU students across the university."
VSU has had some sort of literacy outreach initiative since 1989. However, in 2011, Doepker announced to the university and surrounding community that she had big plans for the campus-based tutoring program, formerly known as the Literacy Place Reading Clinic. She wanted to take a holistic approach to fighting illiteracy. She did not just want to help children learn to read and to write. She wanted to ensure that they were healthy mentally and physically and that their parents had the tools they needed to raise successful children and be successful in their own pursuits, and she wanted to use the university's human resources — faculty, staff, and students — to do it. 
With the development of the present-day Ruby R. Sullivan Literacy Center, which is located on the first floor of the James L. and Dorothy H. Dewar College of Education and Human Services and serves an average of 100-plus students in prekindergarten through fifth grade each semester, Doepker helped the university realize a more-than-two-decades-old dream — a dream that began years before she joined the VSU family in 2007. 
Holly Ann Farren, who first met Doepker as an undergraduate student in one of her classes during the fall of 2011 and was a graduate assistant assigned to the Ruby R. Sullivan Literacy Center, shared, "Dr. Doepker is always thinking of her next idea to promote and keep the excitement in literacy. She spends countless hours thinking and implementing ideas to help her own students, children in the literacy program, the community, and anyone else needing help."
Farren, who graduated during the summer, uses what Doepker taught her about literacy assessment and literacy instruction with the first graders she now teaches at Sallas Mahone Elementary School. 
The Ruby R. Sullivan Literacy Center's mission is to be an integrated system of care for the children and families of Valdosta and neighboring areas. With Doepker at the helm, the center has flourished and now offers a variety of programs, all focused on bringing the university's resources together for the betterment of all who call South Georgia home.
"She is a visionary in that she thinks outside the box," shared Dr. Festus E. Obiakor, professor and head of the Department of Early Childhood and Special Education. "She takes initiative by filling a need when the need is apparent. She definitely has passion for literacy education, passion for the Sullivan Literacy Center, passion for her students, and passion for serving the children and families of Valdosta and the surrounding areas. She should be commended and rewarded for her efforts in service. She is clearly a model of excellence in service and definitely puts a lot of love into her service to the department, college, university, and community."
Doepker's accomplishments include:
• Literacy Education Assessment Program (LEAP): This is a literacy tutoring program that involves VSU pre-service teachers assessing the community children's current literacy skills, developing specific literacy goals, providing one-on-one research-based literacy instruction and intervention, and monitoring the children's literacy development progress. Students in LITR 4120: Literacy Assessment and Applications work with the children, gaining experience in assessing and planning appropriate literacy remediation. 
• Blazing Through Books Program: This feeder program for LEAP pairs VSU athletes and students with community children in one-on-one and small group literacy skill-building activities, such as reading, writing, listening, and speaking.
• Reading is RAD! (Radiant, Aromatic, Delicious): Pairs of students from LITR 3110: Emergent Literacy work with all of the children in the Blazing Through Books program during the fall semesters. They specifically promote reading through small group interactive read-alouds, comprehension-building strategies, and extension activities, such as writing, drama, art, music, and so on. The purpose of this program is to get the children excited about reading, work on basic literacy skills, and expose the children to different genres.  
• Multidisciplinary Child Advocacy Team (M-CAT): Through this program, any and all departments at VSU, as well as interested community organizations, provide identified services for the community children and families, such as comprehensive assessments, health screenings, family support and therapy, content area tutoring, shadowing opportunities, adult literacy, and much more.
• Dear Blazer Buddy: This is a pen pal program that pairs community children with VSU athletes and students. It is designed to get the children involved in a reading and writing activity that is fun and motivating.
• Blazer Books Television Series: This is a developing program that gives all VSU faculty, staff, and students, as well as area public schools, organizations, and others the opportunity to read their favorite childhood book on camera.
• Reading Enrichment Club (REC) Center: This group was formed for those children who exceed their grade-level reading proficiencies but still want to participate in the program. It focuses on helping them extend their literacy competencies by providing more challenging reading and writing experiences. Participants have worked their way through the Blazing Through Books Program and the Literacy Education Assessment Program (LEAP).
• Blazing LitES: Pairs of students from LITR 3120: Early Literacy lead the children in this focus-guided reading program designed to improve their literacy skills in a way that is meaningful, relevant, and purposeful. Participants receive reading instruction with pre-service teachers in small groups based on their instructional reading level and fluency, word attack, comprehension, vocabulary, and writing strategies.
"Being a teacher," Doepker said. "I know the power of service learning, and I wanted to develop meaningful, relevant, and purposeful programs for our VSU students to apply what they are learning as it relates to their particular major course of study. As a result, this service not only benefits the community children and families, but [it] also [benefits] our VSU students. The VSU students have an opportunity to get actively involved with the different programs that the [Ruby R.] Sullivan Literacy Center offers."   
Since the 2011-2012 academic year, Doepker has primarily taught both LITR 3120: Early Literacy and LITR 4120: Literacy Assessment and Application.
Through her position as director of VSU's Ruby R. Sullivan Literacy Center, Doepker has partnered with departments across campus to develop an education series for parents. This initiative is designed to provide information about topics of interest to parents and is presented simultaneously during literacy tutoring times to make the waiting period more meaningful and purposeful. She also coordinates various health screenings through the School of Nursing, Department of Communication Sciences and Disorders, Department of Psychology and Counseling, and others for the center children. 
"She is an example of great energy and enthusiasm in serving the local community and the university," said Dr. Deb L. Marciano, associate professor in the Department of Early Childhood and Special Education.
"Dr. Doepker has done an excellent job at connecting the community and university through literacy," she added. "She is a wonderfully supportive colleague and an example of service beyond self."
Doepker also organizes the annual Southern Regional Helen Ruffin Reading Bowl, welcoming an estimated 300 to 400 or more elementary, middle, and high school students to campus each spring semester. This requires her to coordinate with the state organizing committee; recruit and train faculty, staff, students, and retirees to serve as moderators, console judges, scorekeepers, and hosts; collect snacks and drinks for the competitors; and figure out where to park 30-plus busses and how many supporters will be allowed in competition rooms. 
"The Helen Ruffin Reading Bowl requires a year-long commitment to service the region's public school students," Dr. Mary Ellen Dallman, director of the University System of Georgia's Adult Learning Consortium and an associate professor in the Department of Early Childhood and Special Education at VSU, said.
"These students excel at reading and writing, and each and every one of these young people is a prospective VSU student. By giving students, parents, grandparents, and teachers a glimpse of VSU as a place that values academic achievement, the Helen Ruffin Reading Bowl supports and enhances the university's reputation in the region.
"Through her service-leadership, Dr. Gina Doepker models for students and faculty what it means to serve …."
Doepker holds a Doctor of Philosophy (Ph.D.) in literacy education from The Ohio State University in Columbus, Ohio, as well as a Master of Science (M.S.) in reading education and a Bachelor of Science (B.S.) in elementary education, both from the University of Dayton in Dayton, Ohio. She joined the VSU faculty at the beginning of the 2007-2008 academic year. She previously worked as a graduate assistant and adjunct professor at the University of Dayton and as a graduate teaching associate and lecturer at The Ohio State University. She spent six years teaching sixth graders before entering the field of higher education.
Doepker has written or co-written six refereed publications, two chapters in edited books, and four additional scholarly publications; she has three works in progress. She has presented original research nearly a dozen times at various international, national, regional, state, and local events, and she has secured more than $9,000 in faculty development grants since 2008.
Doepker has served the university, the Dewar College of Education and Human Services, the Department of Early Childhood and Special Education, and the local community in numerous capacities over the past seven years. She has also served her profession as an editor for such publications as Literacy Research, Evaluation, and Practice Book Series Vol. 1, Sage Open, and Excelsior: Leadership in Teaching and Learning Vol. 5 No. 1. The Georgia Reading Association named her the 2008-2009 Outstanding College Reading Teacher of the Year.  
Doepker is a loyal member of The Association of Teacher Educators, the American Educational Research Association, the Children's Literature Assembly, the Literacy Research Association, the International Reading Association, the National Council of Teachers of English, the Georgia Reading Association, and the Georgia Association of Teacher Educators. She is a member of the board of the Literacy Volunteer Program of Valdosta. She is steadfast in her desire to share her knowledge of and enthusiasm for literacy with her students, her profession, and her community.    
VSU's Faculty Excellence Awards program began in 2004 and represents the highest honor given to a faculty member.
Contact Dr. Gina M. Doepker at (229) 333-5625 or gmdoepker@valdosta.edu for more information.
On the Web:
http://www.valdosta.edu/colleges/education/
http://www.valdosta.edu/colleges/education/early-childhood-and-special-education/sullivan-literacy-center/
---
Valdosta State University's 2013-2019 Strategic Plan represents a renewal of energy and commitment to the foundational principles for comprehensive institutions.
Implementation of the plan's five goals, along with their accompanying objectives and strategies, supports VSU's institutional mission and the University System of Georgia's mission for comprehensive universities. 
Dr. Gina M. Doepker's commitment to serving her students, her profession, and her community meets the following goals: 
Goal 1: Recruit, retain, and graduate a quality, diverse student population and prepare students for roles as leaders in a global society.
Goal 3: Promote student, employee, alumni, retiree, and community engagement in our mission.
Goal 4: Foster an environment of creativity and scholarship.
Goal 5: Develop and enhance Valdosta State's human and physical resources.
Visit http://www.valdosta.edu/administration/planning/strategic-plan.php to learn more. 
Newsroom
Office of Communications Powell Hall West, Suite 1120
Mailing Address
1500 N. Patterson St.
Valdosta, GA 31698
General VSU Information
Office of Communications