October 28, 2014
14-337
Jessica Pope
Communications and Media Relations Coordinator
Dr. Maura C. Schlairet: Scholarship of Teaching and Learning Award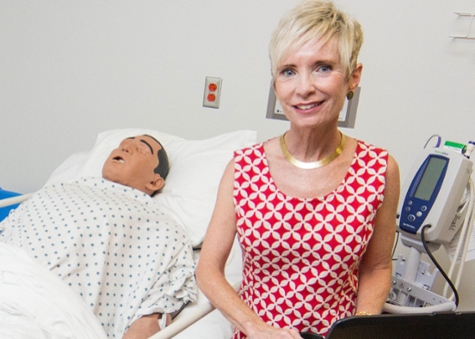 Dr. Maura C. Schlairet of the School of Nursing in the College of Nursing and Health Sciences is the recipient of Valdosta State University's 2014-2015 Scholarship of Teaching and Learning Award. 
VALDOSTA — Dr. Maura C. Schlairet is the recipient of Valdosta State University's 2014-2015 Scholarship of Teaching and Learning Award. 
"My views of who I am as a teacher flow from my values and beliefs about education. The very fabric of my teaching and learning philosophy supports my worldview for individual success," said the associate professor in the College of Nursing and Health Sciences, School of Nursing.
"Higher education in nursing is a privilege and [an] opportunity, and the prospect of providing nursing care is not to be taken lightly. I work to help students understand that this privilege comes with a duty to do the hard work of learning." She routinely strives "to provide clear expectations of student performance" from the beginning of "the learning encounter and detailed feedback throughout so … students understand how their performance aligns with expectations." She firmly believes that "sending an unambiguous, consistent message that contains sufficient information promotes students' ability to be responsible for their own learning."
What Schlairet does as a teacher transpires from her continual process of studying professional literature, honing the questions that arise as she teaches, engaging in scholarly inquiry, adjusting her teaching practices to improve the method, assessing student outcomes, and reflecting on new questions that emerge along the way.
"Teaching and research are connected parts of my job," she explained, "and each one continuously informs the other and energizes my professional career.
"In this ebb and flow, I have found significant success.  
"I talk with my students about my own research and empiric findings from the literature to allow them to see how best practices they read about in their textbooks are developed and to help them learn to become critical consumers of information on which to base their future practice. In addition to talking about my research, I find the classroom, lab, and clinical spaces I share with students serve as impetus for my own line of inquiry. Many research questions have emerged in response to student learning needs and my desire to improve process and product in the classroom, simulation laboratory, on the clinical unit, in projects partnering with clinical agencies, and in program evaluation of teaching and learning outcomes at the college level."
Schlairet said that she tries to learn as much as she can from her students about the process of teaching and learning in their shared spaces and that she engages in the scholarship of teaching and learning for the following reasons:
• Because nursing is a practice profession and as such nurses are charged to conduct their practice from an evidentiary base. She said, "… although it sometimes astonishes those outside of the medical field, a significant number of medical interventions, even to this day, lack empiric evidence of efficacy. Nonetheless, nursing's history describes Florence Nightingale and others who contributed to use of research in nursing practice. More recently the profession has made significant contributions in application of research findings to practice for improved outcomes."  
• Because students need visible examples of nurse scholars in their undergraduate learning environments while their professional role formation is in progress. She said, "A growing body of research shows quality care hinges on having well-educated nurses. No amount of lecture about problem-solving or critical thinking leading to clinical decision-making can connect the dots for students about deep learning as well as experiences with nurses who are prepared as deep thinkers."  
• Because practicing nurses need mechanisms by which they can advocate for their patients and profession. She said, "When bedside nurses are empowered through teaching and learning on best practices, nurse staffing will no longer be viewed as a burgeoning component of the hospital's operating expenses and can finally become understood as the key variable in improved post-operative mortality."  
• Because nurse administrators and other clinicians are interested and responsive to discussions of the literature addressing complex issues embedded in the delivery of health care. She said, "… they appreciate expert consultation and actively consume educational offerings, in most cases applying lessons learned at the institutional level to improve the care they deliver and the outcomes to their patients."
• Because when she arrived at the College of Nursing and Health Sciences eight years ago, seasoned faculty were generous in mentoring her in the ways of scholarship of teaching. She said, "… my colleagues welcomed my positivist perspectives and worked to make a place for me at the table." Her goal is to continue to do the same for those who have joined the team in recent years.
"She has selflessly provided her time, talent, and data in order to mentor me in my research as a novice, tenure-seeking faculty," said Dr. Rebecca Green, who joined the College of Nursing and Health Sciences family during the 2012-2013 academic year and collaborated with Schlairet on research into the flipped-classroom model.
"In the world of academia," Green explained, "there is often a culture of incivility and negative self-promoting. Dr. Schlairet is the antithesis of that kind of culture, instead encouraging and supporting the success of those around her."
Schlairet entered the field of higher education in 2006 when she accepted a position as assistant professor in the VSU College of Nursing and Health Sciences; she was promoted to associate professor three years later. She has more than three decades of experience working as a registered nurse for Valdosta Anesthesia Associates, United Hospice, Plastic Surgery Center, and various medical centers and hospitals in Florida, Texas, North Carolina, and Ohio. She is licensed as a registered nurse in Georgia and Florida and an American Association of Colleges of Nursing (AACN)-certified Clinical Nurse Leader; she is also a fellow in the AACN Leadership for Academic Nursing Program, an active member of 18 professional organizations, and a formally trained bioethicist.
Schlairet holds a Doctor of Education (Ed.D.) in curriculum and instruction from VSU; a Master of Arts (M.A.) in bioethics and health care policy from Loyola University in Chicago, Ill.; a Master of Science in Nursing (M.S.N.) with an emphasis in adult health nursing and a major in nursing education and a Bachelor of Science in Nursing (B.S.N.), both from VSU; and a diploma in nursing from Mount Carmel School of Nursing in Columbus, Ohio. Her research addresses such topics as human patient simulation, the flipped-classroom model, end-of-life care, cancer survivorship, and bioethics; she has published more than 40 articles in professional publications, most recently Nurse Educator, Encyclopedia of Nursing Education, Healthcare Ethics Committee Forum, and Journal of Aging and Physical Activity, and has presented her findings throughout the United States.
"Dr. Schlairet has a strong, multi-focused, consistent record of publication within tier one journals in the field of nursing and nursing education," wrote Dr. Anita G. Hufft, who, as dean of the VSU College of Nursing and Health Sciences from 2004 to 2014, hired Schlairet. "Her published work in the area of human patient simulation in nursing education has been both rigorous and systematic. Her article in the Journal of Nursing Education on comprehensive evaluation of simulation in the undergraduate nursing curriculum was described by the journal editor as a significant contribution and 'first of its kind.'"
Since arriving at VSU, Schlairet has received nearly $175,000 in grant funding, worked to better the community as a volunteer and member of various boards, and been recognized multiple times by her peers for nursing faculty excellence.
As Hufft noted in a letter to VSU's Committee on Faculty Awards, "Dr. Schlairet's work represents a significant achievement …."
Contact Dr. Maura C. Schlairet at (229) 333-7192 or mcschlai@valdosta.edu to learn more.
On the Web:
http://www.valdosta.edu/colleges/nursing-and-health-sciences/
---
Valdosta State University's 2013-2019 Strategic Plan represents a renewal of energy and commitment to the foundational principles for comprehensive institutions.
Implementation of the plan's five goals, along with their accompanying objectives and strategies, supports VSU's institutional mission and the University System of Georgia's mission for comprehensive universities. 
Dr. Maura C. Schlairet's commitment to teaching and learning, as well as to serving her students, her profession, and her community, meets the following goals: 
Goal 1: Recruit, retain, and graduate a quality, diverse student population and prepare students for roles as leaders in a global society.
Goal 3: Promote student, employee, alumni, retiree, and community engagement in our mission.
Goal 4: Foster an environment of creativity and scholarship.
Goal 5: Develop and enhance Valdosta State's human and physical resources.
Visit http://www.valdosta.edu/administration/planning/strategic-plan.php to learn more. 
Newsroom
Office of Communications Powell Hall West, Suite 1120
Mailing Address
1500 N. Patterson St.
Valdosta, GA 31698
General VSU Information
Office of Communications