October 13, 2014
14-309
Jessica Pope
Communications and Media Relations Coordinator
Center for Economic Education at VSU Supports K-12 Teachers Across South Georgia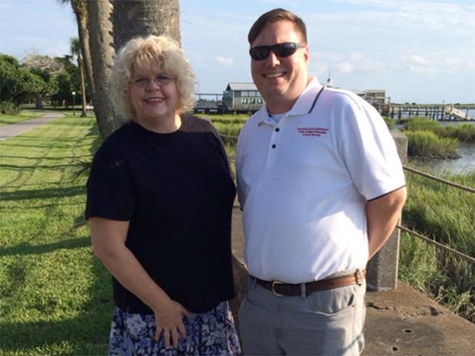 Pictured are Dr. Deborah G. Paine and Dr. Robert W. Spires, co-directors of the Center for Economic Education at Valdosta State University.
VALDOSTA — Dr. Deborah G. Paine and Dr. Robert W. Spires were recently named co-directors of the Center for Economic Education at Valdosta State University.
A joint initiative with the Georgia Council on Economic Education (GCEE), the Center for Economic Education at VSU is dedicated to helping elementary, middle, and high school teachers across South Georgia take on the highly challenging task of teaching economics in creative and inspiring ways. It does this by hosting face-to-face teacher workshops, supporting special programs like the Stock Market Game, and serving as a resource for teachers who need advice or innovative instructional materials. These services and materials are typically provided at no cost to the individual teacher or his or her school.     
"Understanding economics is an essential skill for our prekindergarten through 12th grade students as they grow to understand their role in an increasingly globalized world," shared Spires, an assistant professor in VSU's Department of Middle Grades, Secondary, Reading, and Deaf Education, which is part of the James L. and Dorothy H. Dewar College of Education and Human Services.
"The students of today will become the productive members of society tomorrow, and their understanding of the rapid changes in the economies of the world will help them to make informed decisions about their lives and their livelihoods. GCEE is a phenomenal organization. I am privileged to be a part of it as a center co-director, along with Dr. Paine."
GCEE was founded in 1972. Since that time, it has formed cooperative partnerships with and established a Center for Economic Education at a total of 12 universities across Georgia.  
"VSU was one of the first GCEE centers in the state," noted Paine, who also serves as an assistant professor in VSU's Department of Middle Grades, Secondary, Reading, and Deaf Education. "The administration at VSU has supported the mission of GCEE and its directors since the early 1970s, and we hope to continue this strong working relationship for the teachers in our region for many years."
The Center for Economic Education at VSU will host GCEE's "Biographies of Great Americans" workshop on Tuesday, Nov. 18. The program is free and open to South Georgia teachers from kindergarten through sixth grade who teach the complexities of economics to students. 
The GCEE has conducted an average of 110 workshops for 2,325 teachers per year for the last decade statewide. Workshops address the principles of economics, the history of economics, international economics, personal finance, and more.
Teacher participation in GCEE workshops, such as the November event at the VSU Center for Economic Education, has resulted in hundreds of thousands of Georgia's students becoming better educated in economics. The GCEE has seen passing rates on the state-mandated End-Of-Course Test for economics increase by 35 percent.      
"I participated in GCEE workshops as a middle school teacher," Spires said, "and I know firsthand the great work they do. GCEE's meaningful, relevant, and useful workshops and trainings for teachers are second to none — and our center has a renewed commitment to provide a variety of GCEE workshops tailored to the changing needs of teachers throughout the region."
"I believe in the power of quality professional learning. When teachers collaborate, they typically have meaningful conversations about how to best optimize student achievement in the classroom," Paine added. "… GCEE believes it is important to empower teachers with the economic knowledge necessary to help students from all grade levels, kindergarten through 12, learn to make better decisions that will impact their life, our community, state, nation, and world.
"I am proud to be associated with this organization and work with my co-director, Dr. Spires, as we work to support K-12 educators in this important subject." 
Contact Dr. Deborah G. Paine at (229) 259-2539 or dgpaine@valdosta.edu or Dr. Robert W. Spires at (229) 249-2782 or rwspires@valdosta.edu to learn more.
Teachers interested in attending the "Biographies of Great Americans" workshop should register at www.gcee.org.
On the Web:
http://www.valdosta.edu/colleges/education/
---
Valdosta State University's 2013-2019 Strategic Plan represents a renewal of energy and commitment to the foundational principles for comprehensive institutions.
Implementation of the plan's five goals, along with their accompanying objectives and strategies, supports VSU's institutional mission and the University System of Georgia's mission for comprehensive universities. 
The Center for Economic Education meets the following goals: 
Goal 1: Recruit, retain, and graduate a quality, diverse student population and prepare students for roles as leaders in a global society.
Goal 3: Promote student, employee, alumni, retiree, and community engagement in our mission.
Goal 4: Foster an environment of creativity and scholarship.
Goal 5: Develop and enhance Valdosta State's human and physical resources.
Visit http://www.valdosta.edu/administration/planning/strategic-plan.php to learn more.
Newsroom
Office of Communications Powell Hall West, Suite 1120
Mailing Address
1500 N. Patterson St.
Valdosta, GA 31698
General VSU Information
Office of Communications