September 19, 2014
14-280
Jessica Pope
Communications and Media Relations Coordinator
VSU to Simulate the Dangers of Texting and Driving Sept. 23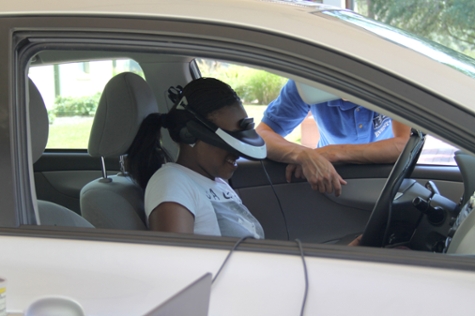 Valdosta State University's Office of Health Promotions will simulate the dangers of texting and driving between 10 a.m. and 4 p.m. on Tuesday, Sept. 23, on the Pedestrian Mall in front of Odum Library. (Photo by Jessica R. Pope / Valdosta State University)
VALDOSTA — Valdosta State University's Office of Health Promotions will simulate the dangers of texting and driving between 10 a.m. and 4 p.m. on Tuesday, Sept. 23, on the Pedestrian Mall in front of Odum Library.
Texting is the most alarming form of distracted driving, shared Holly Wright, a staff counselor and outreach coordinator with the university Counseling Center, because it requires visual, manual, as well as cognitive attention from the driver. Sending or receiving even the briefest of text messages takes a driver's eyes off the road for an average of 4.6 seconds, the equivalent of driving the entire length of a football field at 55 miles per hour blind, she added.
Driving while distracted creates a crash risk 23 times greater than driving while not distracted, and while texting is the most alarming distraction, it is not alone, Wright noted. Using a cell phone, eating and drinking, talking to passengers, reading, using a navigation system, checking a map, grooming, watching a video, and adjusting a CD player, radio, or MP3 player all divert a person's attention from the primary task of driving, putting the driver, his or her passengers, and any nearby bystanders at risk of serious injury and even death.
"Our students have embraced the texting simulator over the last few years," Wright explained. "Most students are quite efficient at texting; however, with help from the texting simulator, they realize that they are not so efficient at texting while driving, which comes as a surprise to most students."
Contact Holly Wright at (229) 245-3896 or hhwright@valdosta.edu to learn more.
---
Valdosta State University's 2013-2019 Strategic Plan represents a renewal of energy and commitment to the foundational principles for comprehensive institutions.
Implementation of the plan's five goals, along with their accompanying objectives and strategies, supports VSU's institutional mission and the University System of Georgia's mission for comprehensive universities. 
Programs such as the texting and driving simulator offered by the Office of Health Promotions meet the following goals: 
Goal 1: Recruit, retain, and graduate a quality, diverse student population and prepare students for roles as leaders in a global society.
Visit http://www.valdosta.edu/administration/planning/strategic-plan.php to learn more.
Newsroom
Office of Communications Powell Hall West, Suite 1120
Mailing Address
1500 N. Patterson St.
Valdosta, GA 31698
General VSU Information
Office of Communications