September 22, 2014
14-282
VSO Celebrates Silver Anniversary with Performance by Violinist Rachel Barton Pine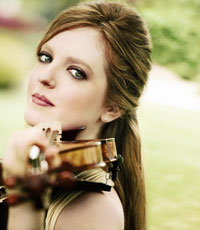 Rachel Barton Pine
~ 2014-2015 is the Year of the Arts at Valdosta State University ~
 
VALDOSTA--The Valdosta Symphony Orchestra will open its 25th season with a gala concert featuring celebrated violinist Rachel Barton Pine performing Mendelssohn's Violin Concerto and Mussorgsky's rousing "Pictures at an Exhibition." The concert begins at 8 p.m. on Saturday, Sept. 27, on the stage of Whitehead Auditorium located at Valdosta State University.
 
"The opening concert should start the season off with a 'bang' as well as let us give a taste of what's in store for the other concerts," said Dr. Howard Hsu, Valdosta Symphony Orchestra music director. "Since it's the VSO's 25th anniversary, I chose several blockbusters that are perfect for such a big celebration."
 
Pine has appeared as soloist with many of the world's most prestigious orchestras, including the Chicago, Atlanta, St. Louis, Dallas, Baltimore, Montreal, Vienna, New Zealand and Iceland Symphonies, the Philadelphia Orchestra, and the Israel and Scottish Chamber Orchestras. In addition, she has been featured on CBS Sunday Morning and NBC's Today. 
 
"The audience will love Rachel Barton Pine," Hsu said. "She's a world-renowned virtuoso who will dazzle everyone who hears her."
 
The orchestra will also perform Mussorgsky's "Pictures at an Exhibition," which Hsu referred to as a "masterpiece that contains some of the most electrifying music ever written."  
 
Tickets for Saturday's performance, which is sponsored by First Federal Savings and Loan, are $27 for adults and $10 for students. Senior and military discounts are available.
 
A special youth concert will be held at 10 a.m. on Friday, Sept. 26, also in Whitehead Auditorium. Teachers may reserve free seats for any program by contacting Sarah Alexander at (229) 333-2150 or swalexander@valdosta.edu.
 
Whitehead Auditorium is located on the first floor of the VSU Fine Arts building at the intersection of Oak Street and Brookwood Drive. 
 
Visit http://www.valdostasymphony.org/ or contact Sarah Alexander with VSU's College of Arts Outreach Office at (229) 333-2150 or swalexander@valdosta.edu to reserve tickets or learn more. Tickets are also available at the Box Office before each event.
---
Valdosta State University's 2013-2019 Strategic Plan represents a renewal of energy and commitment to the foundational principles for comprehensive institutions.
Implementation of the plan's five goals, along with their accompanying objectives and strategies, supports VSU's institutional mission and the University System of Georgia's mission for comprehensive universities. 
The performances of the Valdosta Symphony Orchestra help meet the academic mission of the university, as well as serving the cultural needs of the community. The VSO performances meet following strategic goals: 
Goal 1: Recruit, retain, and graduate a quality, diverse student population and prepare students for roles as leaders in a global society.
Goal 2: Increase financial support for the university.
Goal 3: Promote student, employee, alumni, retiree, and community engagement in our mission.
Goal 4: Foster an environment of creativity and scholarship.
Goal 5: Develop and enhance Valdosta State's human and physical resources.
Visit http://www.valdosta.edu/administration/planning/strategic-plan.php to learn more. 
Newsroom
Office of Communications Powell Hall West, Suite 1120
Mailing Address
1500 N. Patterson St.
Valdosta, GA 31698
General VSU Information
Office of Communications