September 24, 2014
14-287
Jessica Pope
Communications and Media Relations Coordinator
Sonya Sanderson: Faculty Excellence in Advising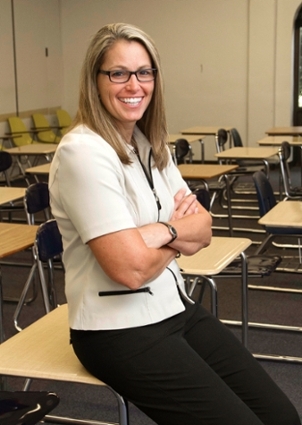 Dr. Sonya L. Sanderson of the Department of Kinesiology and Physical Education is Valdosta State University's 2014 Faculty Excellence in Advising Award winner.
VALDOSTA — Since joining the Valdosta State University family in 2005, Dr. Sonya L. Sanderson has served as the sole advisor of undergraduate students admitted into the Department of Kinesiology and Physical Education, as well as coordinator of the Bachelor of Science in Education (B.S.Ed.) in health and physical education program.
"My advising philosophy begins with equality and ends with love," shared the 2014 recipient of VSU's Faculty Excellence in Advising Award. "I feel that each and every student deserves the best from me …."
Sanderson said that her advising process begins a couple of weeks before midterm each semester. Prior to scheduling any appointments with her advisees, she takes a few days to ensure that advising sheets are filled out correctly, course substitutions have been completed, graduation check sheets are up to date, and so on.
"Since health and physical education courses are only taught once a year, advising becomes more critical ...," she noted, further explaining her award-winning advising strategies. "Students are involved in practical experiences each semester, so if they have not taken all other core requirements, they have to be advised to take those courses in the evenings or during the summer to avoid conflicts with their practical experiences. All courses have to be completed before students can student teach, so it is extremely important that students are advised correctly to keep them on track."
Sanderson fully utilizes the Banner, Degree Works, and Digital Warehouse programs offered at VSU to ensure that each student's folder is correct and matches with what the Office of the Registrar has on record and that any and all courses taken meet the requirements of the student's chosen degree. If students fall below the grade point average (GPA) required for the program, she encourages them to spend more time studying or to seek out tutoring assistance, and she makes time to show them how to use the GPA calculator to keep a check on their academic progress between their advising sessions. If students appear to be at risk of failing courses or dropping out of school, she makes sure to stay in contact with them throughout the semester. She is not afraid to wait for students outside their classrooms or call them or send them an email or text message just to say hello and ask them how they are doing.
"I make every attempt to go above and beyond what one may consider 'advising.' I want students to take responsibility for their learning," she shared, "but at the same time, I want them to know that they are fully supported by me as a faculty member, advisor, and friend, when needed, to help them reach their educational and career goals."
"Every student is different in what they may need from their advisor …," she added.
Sanderson tells her students that they are welcome to stop by her office any time; she advocates an open-door policy. She wants them to feel comfortable talking to her about not only their academic and career goals but also their lives in general. She defines success as watching her students walk across the graduation stage and receive their degrees, and she works hard to help them find happiness in whatever career they choose — even if they ultimately choose to pursue a future outside the realm of health and physical education.
Jonathan C. Wiley, a Department of Kinesiology and Physical Education alumnus, said, "… because of her, I walked with confidence across the stage in December [of 2013]."
"She is simply a talent you would be hard-pressed to find anywhere short of a storybook," he continued. "She deserves this award and so much more."
"… she takes excellent care of each and every one of her undergraduate students," said J. Briana Kilgore, current student.
"Her door is always open to us …," she added.
"There are many factors that contribute to effective advising," noted Dr. Michael R. Griffin, head of VSU's Department of Kinesiology and Physical Education. "Certainly, Dr. Sanderson's organizational prowess contributes to her success as an advisor. … she challenges students to take ownership of their program of study by laying out the program, and [she] discusses the various nuisances associated with success in a university setting upon entrance into the program. She clearly defines the pathway toward graduation, but the students realize the personal accountability connected to the attainment of this pursuit.
"This sets her apart from many university advisors."
Crystal L. Goode, a career counselor with VSU's Office of Career Opportunities, has known and worked with Sanderson since 2005. She described her "as a professor who is direct yet fair in her interactions with students. 
"Advising," she explained, "is much more than helping students select courses for the upcoming academic terms. Effective advisors take the time to get to know their advisees as individuals … and guide those students towards attaining their goals."
"Dr. Sanderson," she continued, "has … impressed me with her ability to provide practical and accurate advice to students about employer expectations during the hiring process. She clearly understands that every student is a reflection of not only the Department of Kinesiology and Physical Education [and] the Dewar College of Education and Human Services but also the entire university."
Sanderson holds a Doctor of Arts (D.A.), with a major in physical education, from Middle Tennessee State University, Murfreesboro, Tenn., as well as a Master of Arts (M.A.), with a major in curriculum and instruction, and a Bachelor of Science (B.S.), with certification to teach students in kindergarten through 12th grade and a major in physical education, from Austin Peay State University, Clarksville, Tenn. She is an active member of such professional groups as Kappa Delta Pi, an international honor society for those in the field of education; the American College of Sports Medicine; Southeast Chapter of the American College of Sports Medicine; Society of Health and Physical Educators; and Georgia Psychological Society.
As of 2013, Sanderson holds the professional rank of tenured associate professor at VSU, and in addition to coordinating and advising undergraduate students admitted into the Department of Kinesiology and Physical Education's Bachelor of Science in Education (B.S.Ed.) in health and physical education program, she teaches a number of courses, including a few at the graduate level for those students in the Master of Education (M.Ed.) in health and physical education and Education Specialist (Ed.S.) in coaching pedagogy online programs.
Sanderson has been published more than a dozen times in scholarly journals, with another half dozen or so either under review or in the process of being published; she has collaborated with her students in their research as a supporting author. She is a seasoned presenter at professional conferences at all levels, local, state, regional, national, and international. She currently serves as a part-time member of the VSU Campus Wellness Committee, a position she has enjoyed since 2008, and as advisor for the Health and Physical Education Majors Club. She has served the community as a volunteer with Relay for Life, Special Olympics, and county-wide wellness days, as well as a friend and mentor to teachers in area school systems since she arrived in Valdosta more than nine years ago.
Contact Dr. Sonya L. Sanderson at (229) 333-7170 or slsanderson@valdosta.edu to learn more.
On the Web:
http://www.valdosta.edu/colleges/education/kinesiology-and-physical-education/welcome.php
---
Valdosta State University's 2013-2019 Strategic Plan represents a renewal of energy and commitment to the foundational principles for comprehensive institutions.
Implementation of the plan's five goals, along with their accompanying objectives and strategies, supports VSU's institutional mission and the University System of Georgia's mission for comprehensive universities. 
Dr. Sonya L. Sanderson's commitment to teaching and advising students and serving the community meets the following goals: 
Goal 1: Recruit, retain, and graduate a quality, diverse student population and prepare students for roles as leaders in a global society.
Goal 3: Promote student, employee, alumni, retiree, and community engagement in our mission.
Goal 4: Foster an environment of creativity and scholarship.
Goal 5: Develop and enhance Valdosta State's human and physical resources.
Visit http://www.valdosta.edu/administration/planning/strategic-plan.php to learn more.
Newsroom
Office of Communications Powell Hall West, Suite 1120
Mailing Address
1500 N. Patterson St.
Valdosta, GA 31698
General VSU Information
Office of Communications