September 26, 2014
14-288
Rebecca J. James, Graduate Assistant
Mustang Roundup and Car Show to Benefit VSU Scholarships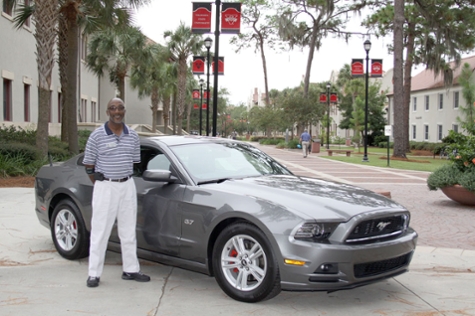 Ronald Butler, who has worked at Valdosta State University for 13 years, has organized the Azalea City Mustang Roundup and Car Show to benefit scholarships for students. The event will be held from 9 .m. to 2 p.m. on Saturday, Oct. 4, in the University Center parking lot. (Photo by Jessica R. Pope / Valdosta State University)
VALDOSTA — Valdosta State University will host the Azalea City Mustang Roundup and Car Show from 9 a.m. to 2 p.m. on Saturday, Oct. 4, in the University Center parking lot. Registration is $10 and will be accepted through the morning of the show.
All proceeds will benefit the VSU Scholarship Fund, which attracts top students from across the state to the university.
Ronald Butler, show organizer and current department manager of Campus Mail, commented, "I have been working at VSU for 13 years, and for 11 of those years students have worked for me. I have realized how much $500 or $1,000 can mean to a student and how that $500 or $1,000 can make or break a student's opportunity to come here."
Butler said that he has a passion for cars and helping students. Over the summer he went to a mustang car show in Pennsylvania that benefited Special Olympics. By the end of the show the organization had raised over $35,000.
"My goal is to raise enough money to sponsor at least one student for their freshman year and after that to continue to sponsor at least one student during their freshman year," he said.
There is no admission fee for spectators. Hot dogs, chips, and drinks will be available for purchase. Prizes will be awarded throughout the day and include car washing kits and tool kits donated by O'Reilly's Auto Parts, Advance Auto Parts, and AutoZone.
The University Center is located at 1215 N. Patterson St.
Contact Ronald Butler at (229) 561-1556 or rcbutler@valdosta.edu for more information.
On the Web:
Newsroom
Office of Communications Powell Hall West, Suite 1120
Mailing Address
1500 N. Patterson St.
Valdosta, GA 31698
General VSU Information
Office of Communications