September 16, 2014
14-276
Lake Louise Boardwalk Project Wins Outstanding Civil Engineering Award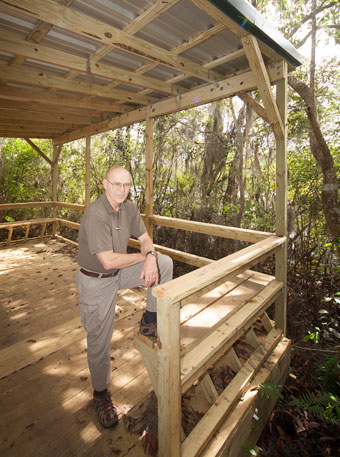 Dr. David Bechler stands at the Lake Louise boardwalk pavilion.
VALDOSTA – The Georgia Chapter of American Society of Civil Engineers (ASCE) has recognized Valdosta State University and design engineers for improvements to the Lake Louise Environmental Research Station. ASCE will present Innovate Engineering Solutions, Crews Engineering and VSU with the Outstanding Civil Engineering Award for Natural Environment during its annual meeting and awards ceremony in Atlanta Saturday, Sept. 20.
"The award for the design and construction of the Lake Louise station boardwalk and teaching pavilions is well deserved," said Dr. David Bechler, VSU professor of biology and overseer of the research station. "Innovate developed a half-mile long board walk and two well-planned pavilions through a complex and difficult wetlands that have served to enhanced science classes, research projects and outreach programs at the Lake Louise station. Activities at the field station that could not be carried out in the past are now taking place and faculty and graduate students are now better able to work and interact with students teaching them about the value of such wetlands and carrying out research that in the past would have been very difficult or impossible to do."
Prior to the improvements to the boardwalk, it had not been replaced since the mid-1990s, according to Bechler. The new boardwalk, which is built with treated lumber, is expected to last for at least 20 years.
"The all-wood boardwalk is one of the longest in the South Georgia and North Florida region and also includes more than a mile in access roads and a new wood vehicle bridge for emergency access," said Robert Tindall, associate director of the facilities planning. "The entire walk meets ADA accessibility guidelines and features two covered shelters for class instruction, teaching or simply sitting to enjoy the natural beauty."
The expansion was a $244,240 investment.
"To be recognized by peers and fellow engineers for a project that you designed – especially one that deals with protection of the environment – is very satisfying," said Bill Kent, president and principal engineer of Innovated Engineering Solutions. "Members of the VSU community should be proud to know they are doing things that are recognized for protection and conservation. This project was particularly meaningful to me because I know the importance of an education and good facilities. I am a big supporter of VSU and to be selected to be a part of something that is geared toward research and education is great."
The home of research dating back to the late 1960s as well as published studies dating back to the 1970s, Lake Louise is a blackwater lake located nine miles south of Valdosta. Scientists and scholars have studied sediments found throughout the lake to make important discoveries that range from change in vegetation types, to water quality and climatic events such as hurricanes. Improvements made to the station now allow classes and researchers to walk completely around the lake using the boardwalk, the road and the new bridge.
---
Valdosta State University's 2013-2019 Strategic Plan represents a renewal of energy and commitment to the foundational principles for comprehensive institutions.
Implementation of the plan's five goals, along with their accompanying objectives and strategies, supports VSU's institutional mission and the University System of Georgia's mission for comprehensive universities. 
The Lake Louise Research Station fosters an environment for learning and meets the following goals: 
Goal 1: Recruit, retain, and graduate a quality, diverse student population and prepare students for roles as leaders in a global society.
Goal 3: Promote student, employee, alumni, retiree, and community engagement in our mission.
Goal 4: Foster an environment of creativity and scholarship.
Goal 5: Develop and enhance Valdosta State's human and physical resources.
Visit http://www.valdosta.edu/administration/planning/strategic-plan.php to learn more.
Newsroom
Office of Communications Powell Hall West, Suite 1120
Mailing Address
1500 N. Patterson St.
Valdosta, GA 31698
General VSU Information
Office of Communications