September 23, 2014
14-283
Dr. Stephanie Hinnershitz Featured on NPR's The Academic Minute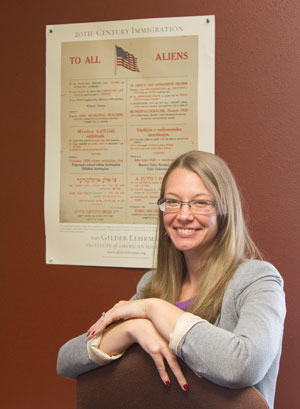 Dr. Stephanie Hinnershitz
VALDOSTA –Dr. Stephanie Hinnershitz, assistant professor of history at Valdosta State University, has explored the civil rights of Asian-American immigrants for several years. Her work recently earned her a segment on NPR's nationally syndicated radio show, The Academic Minute.
The segment explored the plight of Asians and Asian-Americans in detail – highlighting battles for legal and social justice throughout the 20th century.
"Traditionally, historians have used a black and white framework to construct a narrative of the struggle for equality in the southern region of the United States," said Hinnershitz. "However, Asian-Americans and Asian immigrants have also experienced racist and xenophobic reactions as a result of their racial and legal status. By using the local, state, and federal courts as well as community activism, Asian-Americans fought a separate fight for racial equality and their legal rights in southern states."
A 1926 amendment to the Florida state constitution was highlighted during the segment. The amendment provided legal justification for Florida officials to bar aliens who were ineligible for citizenship from owning property. This, Hinnershitz explained, was Florida's way of protecting itself from the "perceived threat of an Asian invasion by the Japanese."
"I think that my research not only shows how the civil rights issues surpass just black and white," said Hinnershitz. "It expands our definition of the term civil rights. You also see some of the same issues today with immigration rights."
The assistant professor gained an interest in Asian-American civil rights while working on her master's thesis at Temple University in 2008.
"I originally was interested in the history of American imperialism overseas," she explained. "However, while working on my thesis, I studied Filipinos who came over to the United States in the 1920s and it got me interested in Asian immigrants. From there, I learned more about how discriminatory laws affect many minorities and not just African-Americans."
Some of Hinnershitz's findings also reveal moments when Asians disassociated themselves with African-Americans and other times when the two minority groups joined to address racial matters.
"In Mississippi during the 1930s, the state Supreme Court heard a case of a Chinese student who attempted to enroll in a white school," said Hinnershitz. "Around this time, the Chinese tried to set themselves apart from black southerners so they could advance their social positions. In a separate Supreme Court case from Virginia, the NAACP eventually supported an Asian man who fought for recognition of his marriage to a white woman under the state's anti-miscegenation laws."
Articles on Hinnershitz's research have been published in The Journal of Social History and Immigrant Entrepreneurship. Her work has also been cited in the Encyclopedia of Latino Folklore; Encyclopedia of American Business, Labor, and Economic History; and Encyclopedia of Asian American Studies. Her first book, Race, Religion, and Civil Rights: Asian Students on the West Coast, 1900-1968, will be published in the fall of 2015.
Hinnershitz holds a Bachelor of Arts in history, a Master of Arts in American and international history, and a Doctor of Philosophy in American social history. She joined Valdosta State in 2013 and has taught courses in United States history, immigration history, and politics during the Reagan era.
---
Valdosta State University's 2013-2019 Strategic Plan represents a renewal of energy and commitment to the foundational principles for comprehensive institutions.

Implementation of the plan's five goals, along with their accompanying objectives and strategies, supports VSU's institutional mission and the University System of Georgia's mission for comprehensive universities. 

Dr. Stephanie Hinnershitz's area of research and course instruction meet the following strategic goals:
Goal 1: Recruit, retain, and graduate a quality, diverse student population and prepare students for roles as leaders in a global society.
Goal 3: Promote student, employee, alumni, retiree, and community engagement in our mission.
Goal 4: Foster an environment of creativity and scholarship.
Goal 5: Develop and enhance Valdosta State's human and physical resources.
Visit http://www.valdosta.edu/administration/planning/strategic-plan.php to learn more.
Newsroom
Office of Communications Powell Hall West, Suite 1120
Mailing Address
1500 N. Patterson St.
Valdosta, GA 31698
General VSU Information
Office of Communications