Dr. Maren Clegg-Hyer: Faculty Excellence in Teaching Award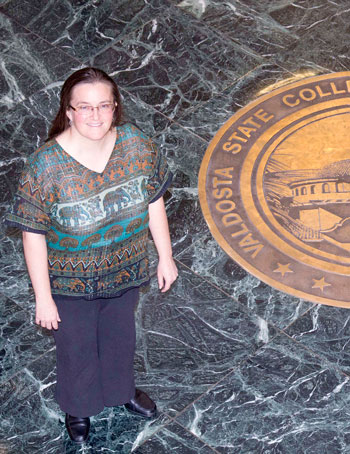 Dr. Maren Clegg-Hyer
VALDOSTA – Valdosta State University presented Dr. Maren Clegg-Hyer, associate professor of English, with the 2014 Faculty Excellence in Teaching Award during the university's fall convocation.
Clegg-Hyer teaches introduction to the English major, world literature, early British literature, medieval literature, senior seminar and graduate research courses. With a specialty in medieval English literature, Clegg-Hyer encourages her students to connect with literature through projects and activities that bring it to life.
"I want to teach students that literature is exciting and alive," said Clegg-Hyer. "It is the product of our fellow human beings and it is worth the best critical and creative thought we can bring to it."
Through both her medieval studies and ancient literature courses, Clegg-Hyer places her students into groups to work on different kinds of creative projects.
For medieval studies, for example, "I will often have students make a manuscript on parchment paper and write it out with ink," said Clegg-Hyer. "They appreciate the literature more, and they learn more. In my literature courses, students take away the sense of the real human beings associated with the literature that remains. That is very valuable because it allows them to see where things have changed and we are different, but also to identify ways that we are still similar."
"I [also] allow them to choose, translate and stage a play," she explained. "They can do this with puppets, through performance, or through film. When they are done, they submit a playbill and document their research."
Clegg-Hyer's desire is that students learn by "walking in the shoes of the people who wrote the texts."
Clegg-Hyer's research courses focus exclusively on helping students understand how to effectively conduct research and how to write it up so it will be considered of value professionally.
"One of the things that I do is to research right along with them, so as I learn things, I can provide a model for them. I am a really visual person and that is how I learn, so I like to teach in a way that makes it is easy for the students to see it and understand. I feel like my research classes are very much mentoring classes. I tell my students if and when I run into research problems and if I am stuck on those problems, so when it happens to them they realize that it is a normal part of what we do and it makes the research less alienating and more personal."
Clegg-Hyer was honored to learn that she had received the Faculty Excellence in Teaching Award.
"My first reaction when I heard I was going to receive the award? I felt humble because I know the caliber of teachers that I work with at Valdosta State, and to be recognized among that body as a successful teacher is a honor. This process has been very validating for me as a teacher. When my department asked me to be a representative, some of my students were asked to write me recommendations. To see how they poured in and to read the things that my former students said made me very proud and grateful. I am appreciative to my colleagues and my students for this honor."
Clegg-Hyer is a member of the International Society of Anglo-Saxonists, the Medieval Academy of America and the Modern Language Association. She is a member of the English Department's World Literature Committee and e-Learning Committee and has served on several other committees, as well as Faculty Senate.
Clegg-Hyer holds a Bachelor of Arts in English and Spanish from Brigham Young University, a Master of Arts in English from Brigham Young University, and a Doctor of Philosophy in English from the University of Toronto. Her professional background includes 3 years as an instructor at California State University, 10 years as a lecturer at Woodbury University and 6 years as an Assistant and Associate Professor at Valdosta State University.
Clegg-Hyer joined Valdosta State after relocating from California in 2008. She loves to read, cook and spend time with her husband, David, and sons, Joel, Chad, and Ethan.
Valdosta State University's 2013-2019 Strategic Plan represents a renewal of energy and commitment to the foundational principles for comprehensive institutions.
Implementation of the plan's five goals, along with their accompanying objectives and strategies, supports VSU's institutional mission and the University System of Georgia's mission for comprehensive universities. 
Dr. Maren Clegg-Hyer's excellence in teaching and scholarship meets the following strategic goals:
Goal 1: Recruit, retain, and graduate a quality, diverse student population and prepare students for roles as leaders in a global society.
Goal 3: Promote student, employee, alumni, retiree, and community engagement in our mission.
Goal 4: Foster an environment of creativity and scholarship.
Goal 5: Develop and enhance Valdosta State's human and physical resources.
Visit http://www.valdosta.edu/administration/planning/strategic-plan.php to learn more.
Newsroom
Office of Communications Powell Hall West, Suite 1120
Mailing Address
1500 N. Patterson St.
Valdosta, GA 31698
General VSU Information
Office of Communications