VSU's New Orientation Helps Online Students Navigate the Enrollment Process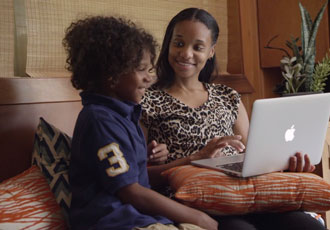 Tamika Norton, pictured with her son, recently completed her bachelor's degree online.
VALDOSTA--Valdosta State University's Office of Extended Learning and Center for eLearning has launched a new online orientation, which helps online students navigate the enrollment process, as well as obtain information and resources specifically designed to move the students toward degree completion.
The eLearning team developed the orientation, through partnerships with several campus departments, to provide undergraduate and graduate online students with a centralized location to complete steps for the admissions and enrollment processes. 

Online students access the orientation from the MyVSU portal located on the VSU website (www.valdosta.edu) and receive advising and instructions for registration, applying for financial aid, paying tuition and fees, and purchasing textbooks.

The portal is intuitive and provides a customized experience for undergraduate and graduate students. This format, which requires a valid VSU email, allows access to a variety of interactive functions, including videos and embedded quizzes that require successful completion before moving to the next section. 

"The platform recognizes the status of the students and filters the content, so an undergraduate student will only see the modules that relate to them," said Meg Giddings, director of Extended Learning and Center for eLearning and CEO of eMajor. "We have the capacity, thanks to the Information Technology and Web Services staff, to break down student profiles by gender, age, and veteran status so that we can customize the information as we move forward in developing the content."
Because of the difference in traditional versus online students, Giddings said that the need for the online orientation was imperative for student retention and success. 
"It is much easier to lose an online learner than a face-to-face student. If they are here physically, they are typically going to stay. Unless their experience is really problematic, they are going to work their way through," said Giddings. "For online learners, the next institution is just one Google search away, so increasingly nationwide we are seeing a greater emphasis for online student services."

Providing a positive experience for online students is a high priority for Giddings and the eLearning team. 
"Online students often require a different level of services than their face-to-face counterparts," said Giddings. "A lot of online students are non-traditional students, and the worries and anxieties that have kept them from coming back to school are often very personal and not something they want to discuss or disclose with people they do not know."

Giddings said a major objective of the orientation is to help students succeed and understand that the online education experience is different from traditional classroom instruction.
"The information provided [through the orientation] helps dispel some of the myths that online learning is easier and less work," said Giddings. "We are trying to help them receive a very realistic understanding. The student success piece focuses on what a student should expect in an online course, and we based this information on feedback received from past online students and student satisfaction surveys."

Giddings is especially pleased with the videos featured within the orientation portal and is confident students will become informed as well as motivated about the online education process.

"When the students finish watching the videos, I want them to feel excited about VSU and know that they have made the right decision," said Giddings. "If we can instill that in students who have just been admitted or are going through the application process, then we have accomplished our goal."
For more information on VSU's online programs visit the Center for eLearning website at http://www.valdosta.edu/academics/online-programs/
Newsroom
Office of Communications Powell Hall West, Suite 1120
Mailing Address
1500 N. Patterson St.
Valdosta, GA 31698
General VSU Information
Office of Communications