VSU Welcomes New Faculty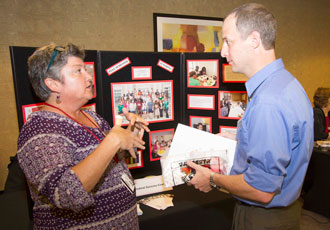 Dr. Chere Peguesse, left, talks with new faculty member Corey Nawolski from the Department of Adult and Career Education, about the programs and initiatives within the Student Success Center.
VALDOSTA—Valdosta State University welcomes 31 new faculty members to campus. The faculty are participating in various orientation sessions before the start of classes on Aug. 18. The orientation sessions introduce faculty members to people, systems, and processes they will need to know as they prepare to teach for the fall semester. New faculty members have the opportunity to participate in ongoing training and professional development throughout the academic year.
Below is a list of VSU's new faculty members: 
College of the Arts

Communication Arts

Dr. Mark Borzi, Department Head/Professor

Mr. Bob Dowd, Assistant Professor

Mr. Michael Hegarty, Assistant Professor

Mr. Jason Richardson, Instructor



Music 

Dr. Tamara Hardesty, Assistant Professor

Dr. Hue Jeong Jang, Assistant Professor

Dr. Kristin Yu, Lecturer
College of the Arts & Sciences
History

Dr. Larry Rivers, Professor



Math and Computer Science

Mr. Radu Paul Mihail, Assistant Professor

Political Science

Dr. Bernard Tamas, Assistant Professor

Sociology, Anthropology & Criminal Justice

Dr. Todd Bricker, Assistant Professor

Dr. Nicholas Guittar, Assistant Professor

Dr. Stephanie Gonzalez Guittar, Assistant Professor

Ms. Bobbie Ticknor, Assistant Professor 
Langdale College of Business Administration

Accounting 

Dr. Yun Cheng, Assistant Professor

Dr. Kelly Gamble, Assistant Professor

Dr. Lynn Jones, Department Head/Associate Professor 
Dewar College of Education & Human Services

Adult & Career Education

Mr. Corey Nawolski, Instructor

Dr. Karen Pickles, Assistant Professor
Curriculum Leadership & Technology

Dr. William Truby, Assistant Professor
Library & Information Studies
Ms. Jewel Suddeth, Instructor
Psychology

Dr. Joshua Rodefer, Assistant Professor
Social Work

Ms. Carrie Dorminey, Director of Field Instruction/Instructor

Mr. Rhett Watson, Instructor
College of Nursing & Health Sciences

Ms. Vanessa Jones, Assistant Professor

Dr. Sheri Noviello, Associate Dean/Professor

Ms. Deborah Sauls, Lecturer

Ms. Denise Sauls, Lecturer

Ms. Vicki Wetter, Assistant Professor

Mr. Daniel Wright, Assistant Professor
Odum Library 
Mr. Scott Piepenburg, Head of Catalog/Librarian/Associate Professor
Newsroom
Office of Communications Powell Hall West, Suite 1120
Mailing Address
1500 N. Patterson St.
Valdosta, GA 31698
General VSU Information
Office of Communications