August 22, 2014
14-256
Jessica Pope
Communications and Media Relations Coordinator
Sheri Noviello Named Interim Dean of College of Nursing and Health Sciences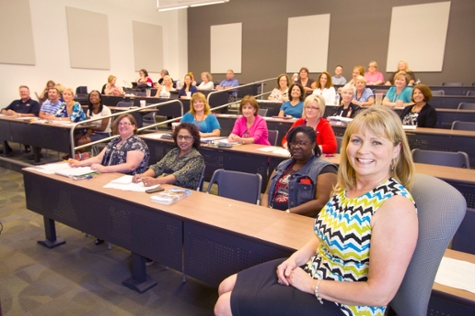 Dr. Sheri R. Noviello, interim dean of Valdosta State University's College of Nursing and Health Sciences, is pictured with faculty members from the School of Nursing and School of Health Sciences. 

 
VALDOSTA — Dr. Sheri R. Noviello has been named interim dean of Valdosta State University's College of Nursing and Health Sciences. She succeeds Dr. Anita G. Hufft, who, after a decade of service to the university, returned to her alma mater as dean of the College of Nursing at Texas Woman's University.  
Noviello comes to VSU from Columbus State University, where, from 1991 to 2014, she worked her way through the academic ranks within the institution's School of Nursing, from instructor to assistant professor to associate professor to assistant director then director of the nursing program to tenured professor.
"I have actually known about VSU for many years," she shared, when asked what led to her joining the Valdosta State family.
"I have had colleagues that graduated from nursing school here, and I have a niece who is a junior and is on volleyball scholarship at VSU. I also worked with … Hufft at the state level for the past three years."
Noviello said that she accepted Valdosta State's offer "because of its reputation as an innovative institution, mentoring opportunities with Dr. Hufft, and the inclusion of health science programs outside of nursing."
Initially hired as associate dean of the College of Nursing and Health Sciences, with a start date of May 15, Noviello was asked to come on board several weeks earlier, on April 1, to allow for a smoother transition, following Hufft's announcement.
Noviello assumed the role of professor of nursing and interim dean of VSU's College of Nursing and Health Sciences on July 1.
"I am definitely enjoying my time at VSU," she explained. "The faculty and staff have welcomed me initially and in my newest role."
"I believe that the greatest strength of the College of Nursing and Health Sciences is the faculty and staff," she added. "You will not find a group of faculty [members] that is more dedicated to student success."
Noviello's first few weeks on campus have been spent reading — and reading some more — and attending lots of meetings, including meetings she would not normally be required to attend. It is all part of an effort to get to know VSU better and identify those areas that need her time and attention. She said that she feels very supported by the administration and is excited about the future, beginning with the opening of the 2014-2015 academic year. Fall semester classes began Aug. 18.
"The start of the academic year is always an exciting time for me," she said. "I love students and like to see them everywhere in the building. I am looking forward to connecting with as many students as I can over the upcoming semesters and hope that I can make a difference in just one of their lives."
"My focus over the upcoming academic year will be to provide team-building and leadership development for the faculty and staff," she continued. "I believe this is an integral part of solidifying the School of Health Sciences and the School of Nursing into the College of Nursing and Health Sciences. I want to develop a new strategic plan that focuses on the priority needs of the college and build on the legacy that Dr. Hufft worked so tirelessly to establish."
Noviello holds a Bachelor of Science in Nursing (B.S.N.) from Columbus College in Columbus; a Master of Science in Nursing (M.S.N.), with a focus on adult health and education, from Troy State University in Montgomery, Ala., which she followed with post-master's training in pediatrics at the university's Phenix City, Ala., campus; and a Doctor of Philosophy (Ph.D.), with a focus on nursing across the lifespan, from the Medical College of Georgia in Augusta. Prior to joining the School of Nursing faculty at Columbus State University, she served one year as an instructor at Chattahoochee Valley State Community College in Phenix City, Ala.
"I have a passion for bringing faculty and students together to create a culture of excellence, civility, and professionalism so that learning can occur more freely and student success can be maximized," she said. "These efforts will hopefully spark a dynamic change outside of the academic setting as well … one graduate at a time."
Noviello's research has appeared in such professional publications as the Journal of Emergency Nursing and Nurse Educator. She has secured funding for a number of research and outreach projects and is a regular presenter at the local, state, national, and international level. She enjoys serving others through her active participation on statewide and university-based committees and advisory boards.
At Columbus State University, Noviello earned the Dean's Award for Innovation in 2012 from the College of Education and Health Professions, a Governor's Teaching Fellowship from 2006 to 2007, and a Most Outstanding Senior Professor Award in 2006. A registered nurse, she maintains membership in the Georgia Association of Nurse Educators, National League for Nurses, American Nurses Association, Georgia Nurses Association, and Sigma Theta Tau International.
Noviello and her husband, Kevin, have been married for 24-plus years. He recently accepted a position at Valdosta Middle School teaching eighth-grade language arts and serving as an assistant football coach and head wrestling coach. They have two miniature schnauzers, Sophie and Livvy, and three children, Kevin II, 22, Kaleb, 20, and Kody, 14. The youngest son is a freshman at Valdosta High School, the middle son is studying exercise physiology at VSU this fall, and the oldest son is continuing to take courses to become an electrician and may relocate to Valdosta at a later date.
When not working, Noviello enjoys singing, crocheting, reading, and going to her sons' athletic events.
Contact Dr. Sheri R. Noviello at (229) 333-5959 or srnoviello@valdosta.edu to learn more.
On the Web:
http://www.valdosta.edu/colleges/nursing-and-health-sciences/
---
Valdosta State University's 2013-2019 Strategic Plan represents a renewal of energy and commitment to the foundational principles for comprehensive institutions.
Implementation of the plan's five goals, along with their accompanying objectives and strategies, supports VSU's institutional mission and the University System of Georgia's mission for comprehensive universities. 
The hiring of a highly qualified professional such as Dr. Sheri R. Noviello within the College of Nursing and Health Sciences meets the following goal: 
Goal 5: Develop and enhance Valdosta State's human and physical resources.
Visit http://www.valdosta.edu/administration/planning/strategic-plan.php to learn more.
Newsroom
Office of Communications Powell Hall West, Suite 1120
Mailing Address
1500 N. Patterson St.
Valdosta, GA 31698
General VSU Information
Office of Communications