August 20, 2014
14-252
Jessica Pope
Communications and Media Relations Coordinator
Rural Health Care Tour Makes Stop at Peach City Walk-In Clinic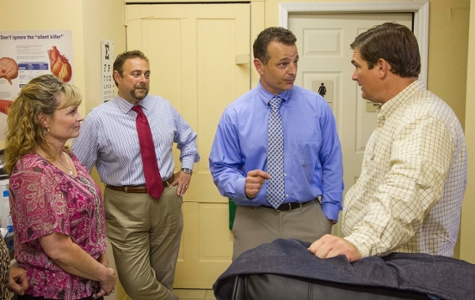 Pictured, from left to right, are Dr. Sheri R. Noviello, interim dean of the College of Nursing and Health Sciences; Dr. William J. McKinney, VSU president; Dr. J. Myron Faircloth, assistant professor of nursing; and U.S. Rep. Austin Scott of Georgia's 8th District.
VALDOSTA — U.S. Rep. Austin Scott visited Dr. J. Myron Faircloth's Peach City Walk-In Clinic LLC during his recent weeklong Rural Health Care Tour across Georgia's 8th District. The listening tour afforded the Tifton-based congressman an opportunity to meet and talk with health care providers and patients, collecting their thoughts and experiences to share with the rest of the nation's leaders in Washington, D.C. 
"As we continue to seek solutions to lower health care costs and ensure access to care for Americans, we must take into account the particular realities of providing health care in rural environments," said Scott. "It is important that I hear from these providers, so I can take their thoughts and experiences back to Washington to better serve as a voice for the 8th District. Rural health care providers, like Peach City Walk-In Clinic, are vital in small communities, and I applaud them for the good work they are doing in South Georgia."
Faircloth officially opened Peach City Walk-In Clinic on June 2 in the Brooks County town of Morven, a charming little place known for its peaches and homemade peach ice cream (Lawson Peach Shed), annual Peach Festival during the third weekend of May, award-winning barbecue (Miller's BBQ), and fresh, wild-caught seafood (Pike's Landing). With a population of 550 or so, it is the kind of place where families have lived for generations, where neighbors all know each other by name.
Opening the clinic in the small, rural, one-stoplight town is part of Faircloth's plan to bring back the days when health-related decisions were made by both a patient and his or her health care provider, the days when health care providers really and truly knew their patients and their families. 
"Rep. Scott's visit to Peach City Walk-In Clinic was a demonstration of his interest and concern for the constituents, as well as his belief in the importance of access to health care for the community," said Faircloth, a practicing family nurse practitioner and assistant professor of nursing in Valdosta State University's College of Nursing and Health Sciences.
During his visit to Peach City Walk-In Clinic, Scott, Faircloth, and others attending — including Dr. William J. McKinney, VSU president; Dr. Sheri R. Noviello, interim dean of the College of Nursing and Health Sciences; and Dr. Brenda S. Dyal, assistant dean of the College of Nursing and Health Sciences — discussed rural health care, the "common sense" approach to health care, and giving back to one's community.
Born in Homerville and raised in the Morven/Barney area most of his life, Faircloth used his own money, along with in-kind and monetary donations from residents in Morven and the nearby Valdosta community, to open the clinic. He described the experience as a true community effort — and a much-needed one.
"Due to this being a rural area," he explained, "there is a lack of providers, along with a decrease in health care coverage, which leads to higher mortality and morbidity rates. One of the greatest acts that a person can do is to give back to others and their community. This was my way not only to improve the health care of the citizens but also to give back to my hometown."
Faircloth said that the community's response to the clinic has continued to be quite "overwhelming," with church congregations and civic organizations donating funds to help support the clinic, as well as residents young and old offering to volunteer their time and services to help their families, friends, and neighbors get well, stay well, and live long, happy, healthy lives. 
"The involvement of so many people in the community with the startup of Peach City Walk-In Clinic serves as a model for rural primary care clinics," he added.
Peach City Walk-In Clinic is one more example of the College of Nursing and Health Sciences at Valdosta State supporting communities and families across the region through increased access to health care providers, Faircloth shared. The clinic, he said, also benefits the university by expanding opportunities for faculty to maintain clinical practice skills and for students across all health disciplines to gain valuable experience caring for patients in rural, community-based settings.
"My hope," he further noted, "is to have VSU students perform clinical rotations and volunteer. We have consistently had problems identifying sufficient and appropriate clinical placement sites for our baccalaureate and graduate students across health programs, particularly nursing. I have a vision to be in a collaborative role with not only the nursing program but also with others, such as exercise physiology, sports medicine, speech-language pathology, counseling services, etc."
"Rep Scott understands that this service will have far reaching impact for the future of health care, demonstrating to the students the importance of taking health care into the community where it is needed," he added.
Located at 468 Park Street in Morven, Peach City Walk-In Clinic is a cash clinic, and patients from newborn to adult pay a flat $50 for an office visit, with any necessary supplies and medications potentially costing a bit extra. The health care team, which includes Faircloth and Dr. Alberto Garcia and Dr. Vera Garcia of Valdosta-based G & G Family Medicine MD PC, is able to treat any and all conditions at the clinic, except chronic pain management. Patients of all ages and from across the South Georgia area have already sought treatment at the clinic.
Before the clinic opened its doors, Morven's citizens had to travel to Valdosta or to Quitman for medical treatment. Many of them were not seeking out health care due to a lack of insurance and transportation.
"Rural areas," Faircloth said, "are at a even greater disadvantage due to the shortage of providers, which leads to a decrease in access to health care.
"Congress needs to provide support for health care providers in the rural setting through increased reimbursement and training for preventative services, which are aimed at increasing the health and longevity of rural populations. 
Another way that Congress could help is by decreasing the regulations and paperwork; the costs and regulations associated with operating a clinic are overwhelming.
"Increased regulations equal decreased time allowed with each patient. Add to this a decrease in reimbursement and it leads to [a dedicated health care provider] being unable to afford to operate a primary health clinic in the rural setting."
Faircloth joined the VSU faculty in 2007 as an instructor in the College of Nursing and Health Science's Adult/Gerontology Nurse Practitioner Program. A practicing family nurse practitioner with admitting privileges at Smith Northview Hospital, he maintains an active practice at G & G Family Medicine MD PC, where he has worked since 2011, when not teaching. He is a member of the Golden Key International Honour Society, National Organization of Nurse Practitioner Faculties, and American Academy of Nurse Practitioners.
Faircloth earned a Doctor of Nursing Practice from Georgia Southern University in 2011, a Master of Science in Nursing from Brenau University in 2002, and a Bachelor of Science in Nursing from VSU in 1995. He is a Georgia Board of Nursing-licensed registered nurse and advanced practice registered nurse. He is certified as a family nurse practitioner by the American Nurses Credentialing Center and the American Academy of Nurse Practitioners.
In January 2013, Faircloth kicked off a four-year term as a member of the Special Advisory Commission on Mandated Health Insurance Benefits. Appointed by Gov. Nathan Deal, his role with this group is to advise the governor and Georgia General Assembly on both the social and financial impact of current and proposed health insurance benefit and provider mandates on small businesses.
In early 2014, Faircloth was named a member of the second class of the State Bar of Georgia's Citizens Advisory Council. The Lowndes County Board of Commissioners appointed him to the Lowndes County Board of Health on July 22.
Peach City Walk-In Clinic LLC can be reached by calling (229) 375-1016. Operating hours may vary.   
On the Web:
http://www.valdosta.edu/colleges/nursing-and-health-sciences/
---
Valdosta State University's 2013-2019 Strategic Plan represents a renewal of energy and commitment to the foundational principles for comprehensive institutions.
Implementation of the plan's five goals, along with their accompanying objectives and strategies, supports VSU's institutional mission and the University System of Georgia's mission for comprehensive universities. 
Dr. J. Myron Faircloth's commitment to rural health care meets the following goals: 
Goal 1: Recruit, retain, and graduate a quality, diverse student population and prepare students for roles as leaders in a global society.
Goal 3: Promote student, employee, alumni, retiree, and community engagement in our mission.
Goal 4: Foster an environment of creativity and scholarship.
Goal 5: Develop and enhance Valdosta State's human and physical resources.
Visit http://www.valdosta.edu/administration/planning/strategic-plan.php to learn more.
Newsroom
Office of Communications Powell Hall West, Suite 1120
Mailing Address
1500 N. Patterson St.
Valdosta, GA 31698
General VSU Information
Office of Communications