New Apps Help Improve the "V-State Experience"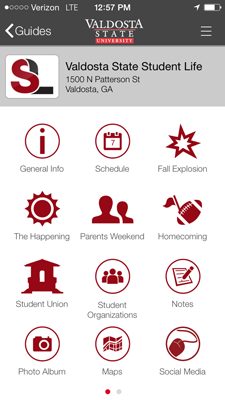 BlazerGuide App
VALDOSTA – Three new mobile apps have been introduced to help improve the "V-State experience." The new "BlazerGuide," "Where's the Blaze," and "V-State Mobile" apps provide students, faculty and staff with easy access to guides, transportation routes, communication tools and emergency services.
Through the "BlazerGuide" app, students can download guides from Admissions, Athletics, Campus Recreation, Greek Life, Housing and Residence Life, Student Life and Orientation. The app is available at https://guidebook.com/app/BlazerGuide/ .
"Where's the Blaze?" is a GPS tracking app that allows its users to locate the red and black shuttles as well as the night shuttle at any time. The app is available at www.wherestheblaze.com .
Released this summer, the "V-State Mobile" app streamlines the way students, faculty and staff access campus services and places safety and emergency services in the palms of their hands. With campus safety in mind, the app features a button that allows users to call campus police as well as an emergency guide that provides instruction for various crisis situations. The app also allows students to place housing work orders and view campus media and videos, as well as access BlazeVIEW, Banner, VSU Email, directories, and maps. It is available at http://www.valdosta.edu/applications/mobile .
Newsroom
Office of Communications Powell Hall West, Suite 1120
Mailing Address
1500 N. Patterson St.
Valdosta, GA 31698
General VSU Information
Office of Communications