August 29, 2014
14-261
Jessica Pope
Communications and Media Relations Coordinator
Lynn Adams Supports Families Impacted by Autism, Wins Citizen of the Year Award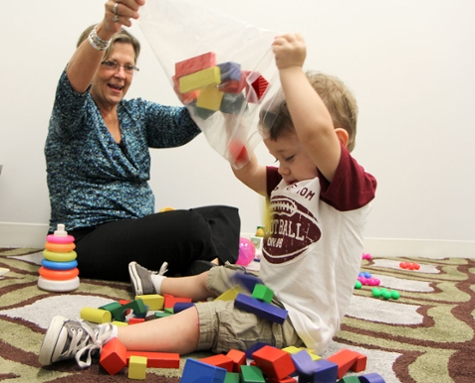 Dr. Lynn Adams is a nationally certified speech-language pathologist with roughly 30 years of experience working with children affected by autism spectrum disorders. She teaches in the Valdosta State University Department of Communication Sciences and Disorders and was recently named Citizen of the Year by the South Georgia Unit of the National Association of Social Workers-Georgia Chapter (NASW-GA). She spent Friday morning working with Colton Rogers, 23 months, in the campus-based Speech and Hearing Clinic. He is the son of Eric and Cory Rogers of Quitman. (Photos by Jessica R. Pope / Valdosta State University Office of Communications)
VALDOSTA — A nationally certified speech-language pathologist with roughly three decades of experience working with children affected by autism spectrum disorders, Dr. Lynn Adams educates future generations of early intervention professionals as a devoted member of the Valdosta State University team. Her home away from home is the campus-based Speech and Hearing Clinic located inside the Martin and Laura Lynn Miller Family Clinic on the first floor of the new Health Sciences and Business Administration Building.
"I love teaching," she said. "I tried to leave academia for about four years, but I found that I missed training future professionals too much.
"I also realized that I am not as young as I used to be."
Through her position at VSU, Adams noted, "I can train 75 students each year and let them go out into the world to help families impacted by autism spectrum disorders."
Since joining the university family as an associate professor within the Department of Communication Sciences and Disorders in August of 2011, Adams has established herself as an enthusiastic expert willing to share her knowledge not only with VSU's students but also with the general public. She believes in giving back and doing her part to better the community she has called home for three years.
"My area of expertise and passion is autism spectrum disorders," she shared. "I have been working with that clinical population for the past 30 years. I am particularly focused on supporting families from the moment of diagnosis."    
Adams routinely offers her services as a trainer for families and professionals with Moody Air Force Base's Child Development Center and the Georgia Department of Public Health's Babies Can't Wait Program. She has partnered with the VSU Regional Center for Continuing Education, offering public workshops designed to help area parents and service providers explore the impact of autism spectrum disorders in children of all ages and learn the characteristics of the disorders, how the disorders manifest at school and at home, behavior and academic challenges, and meaningful treatment planning.
Adams collaborated with VSU alumna Joni Cox to create the Family Autism Support Team, or FAST, in January of 2013. The nonprofit organization is open to families in the South Georgia area and meets from 1 p.m. to 3 p.m. once a month, on the second Saturday of the month, at a local church, although plans are underway to utilize the Health Sciences and Business Administration Building for future training sessions and meetings. Graduate student-clinicians from the Department of Communication Sciences and Disorders spend time with the children while their parents participate in support group activities. 
"Joni made this a service project related to her participation in scholarship pageants. I had expressed the need for a support group," Adams noted, "and Joni expressed a desire to start one. We … have held two pancake breakfasts, two Buffalo Wild Wings fundraisers, two Zumbathons, and a 5K. Our second annual 5K is coming up on Dec. 6 in Hahira. We participate in local festivals and events to provide information to the community."
Adams also recently developed a training program for emergency first responders to raise awareness and bring attention to some of the dangers children with autism spectrum disorders face, such as wandering, bullying, and drowning. The first safety seminar was conducted in April with local law enforcement, and due to the response received from attendees, a regional training seminar has been scheduled in March of 2015.
"FAST," she shared, "is sponsoring the event, which will feature a nationally known expert on autism spectrum disorders safety and law enforcement. We will be able to provide regional agencies — police, sheriff, emergency medical services, fire, and so on, particularly first responders — with free continuing education credits."
"Every year persons with autism wander from home," she said, "and 90 percent of them drown. So far, in 2014, 11 individuals with autism spectrum disorders have wandered and drowned. One of them, a 4-year-old boy, Jeremiah "Remi" Kalume, was a Georgia resident and a friend of mine. The 2015 safety seminar will be named in Remi's memory."  
In recognition of her commitment to support families impacted by autism spectrum disorders, raise awareness, conduct trainings, and educate the whole community as well as future generations of speech-language pathologists, the South Georgia Unit of the National Association of Social Workers-Georgia Chapter (NASW-GA) recently presented Adams with its coveted 2014 Citizen of the Year Award.
"I was so honored and surprised by the award," she said. "Ironically, I was doing a training the day of the awards luncheon and could not attend. I was just so humbled to be acknowledged by a group outside my profession."
Adams holds both a Bachelor of Science (B.S.) and a Master of Science (M.S.) in the area of speech-language pathology from Florida State University in Tallahassee, Fla., and a Doctor of Philosophy (Ph.D.) in the area of speech and hearing science from the University of Tennessee in Knoxville, Tenn. She also holds a certificate of clinical competence in speech pathology. She is an active member of the American Speech-Language-Hearing Association, Autism Society of America, Autism Advisory Board, National Autism Association, Georgia Speech-Language-Hearing Association, Autism Society of America-Georgia, and VaxTruth Advisory Board, and she serves as vice president of the Nathan's Something Special Board of Directors.
Adams previously served on the faculty at Armstrong Atlantic State University in Savannah; Southwest Missouri State University in Springfield, Mo.; the Medical University of South Carolina in Charleston, S.C.; Radford University in Radford, Va.; and Cross Country Education, a leader in continuing professional development for health care professionals. She has also worked as a consultant and speech-language pathologist in public school systems and served as clinical supervisor of the Hearing and Speech Center at the University of Tennessee and as founder and director of the Autism Center at Radford University.
Adams was named a Speech-Language-Hearing Association of Virginia Fellow in 2004, has been awarded grants from the Scottish Rite Summer Language Program and the Jesse Ball DuPont Foundation, and published three books on autism, as well as contributed to The Autism Encyclopedia. Her research has also appeared in a host of professional journals, and she is a regular invited presenter at conferences and special events.        
In addition to her role as an educator at VSU, Adams also serves as co-coordinator of the Doctor of Speech-Language Pathology (S.L.P.D.) degree program; the first group of students began taking classes in the Department of Communication Sciences and Disorders this fall. VSU became the third United States-based institution of higher learning to offer the application-driven clinical doctorate upon Board of Regents approval in May 2013; other colleges and universities offer the more research-driven Doctor of Philosophy (Ph.D.). The objective of the innovative program is to raise the educational level of the profession, creating advanced practitioners and future faculty in the field. 
Contact Dr. Lynn Adams at (229) 219-1327 or ladams@valdosta.edu to learn more.
On the Web:
http://www.valdosta.edu/colleges/education/communication-sciences-and-disorders/welcome.php
About the Speech and Hearing Clinic at VSU
Founded in 1962 by both the Valdosta Junior Service League and the university, the Speech and Hearing Clinic offers hearing evaluations, communication and cognitive evaluations, and therapeutic services to 150-plus men, women, and children from the South Georgia community each session of VSU's academic year, January through April, June and July, and August through November. Graduate student-clinicians provide services, working under the supervision of their Department of Communication Sciences and Disorders faculty members, who are also licensed and certified speech-language pathologists. This affords VSU's students the opportunity to train in a real-life setting; receive invaluable feedback from their supervisors, fellow student-clinicians, and clients; and improve the quality of life of others through public service.
---
Valdosta State University's 2013-2019 Strategic Plan represents a renewal of energy and commitment to the foundational principles for comprehensive institutions.
Implementation of the plan's five goals, along with their accompanying objectives and strategies, supports VSU's institutional mission and the University System of Georgia's mission for comprehensive universities. 
Dr. Lynn Adams's commitment to helping families impacted by autism spectrum disorders meets the following goals: 
Goal 1: Recruit, retain, and graduate a quality, diverse student population and prepare students for roles as leaders in a global society.
Goal 3: Promote student, employee, alumni, retiree, and community engagement in our mission.
Goal 4: Foster an environment of creativity and scholarship.
Goal 5: Develop and enhance Valdosta State's human and physical resources.
Visit http://www.valdosta.edu/administration/planning/strategic-plan.php to learn more.
Newsroom
Office of Communications Powell Hall West, Suite 1120
Mailing Address
1500 N. Patterson St.
Valdosta, GA 31698
General VSU Information
Office of Communications