Dr. Michael Meacham to be Named Among NASW's 1,000 Experts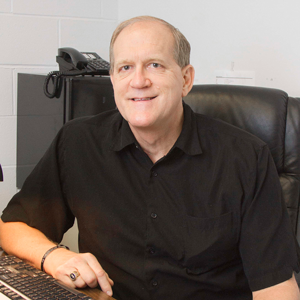 Dr. Michael Meacham, professor of Sociology
VALDOSTA – For decades, Dr. Michael Meacham has examined social issues and social justice among groups of people. His work with street gangs and cults has taken the Valdosta State University sociology professor into prisons and migrant camps to work with clients from many different walks of life. The National Association of Social Workers (NASW) has invited Meacham to be a part of its 1,000 Experts Campaign, which features some of the brightest and best leaders in the social work profession nationwide.
Social workers found among the NASW's 1,000 Experts represent several areas of social work, including mental health services and work with children and the elderly.
"My areas of expertise include gangs and cults, the sociology of religion, and diversity," said Meacham. "Many of my clients really need help, but are the ones who many people reject because they are frightened to work with them. I get special pleasure in working with these clients and helping them normalize their situations."
Meacham prides himself on working to fully understand each of his clients and their needs.
"This type of work requires training in safety and self-defense because one must be prepared to calm potentially violent situations," said Meacham. "However, I always urge people not to generalize. People in gangs and cults are, many times, very desperate people who are looking to belong. Understanding their situations could change one's perspective of them."
As a therapist with the Kansas Department of Corrections for several years, Meacham went into minimum to maximum security prisons and worked with inmates to break up gangs within the facilities.
"A few of my clients, after therapy, were freed from the prison system because their crimes appeared to be the result of posttraumatic stress disorder," Meacham said. "With others, I found that getting them involved in other activities and hopeful situations helped them make better decisions."
Growing up the son of a civil rights attorney in a working class neighborhood, Meacham developed an interest in social justice and social issues early in life.
"My siblings and I learned about discrimination and bigotry as kids, so when we grew up we all got into fields that addressed those things," he said.
While most of his career has been spent working in prisons he has spent the last 17 years with VSU, where he teaches courses that address organized religion and gang structure.
Meacham is also a part of the American Red Cross Georgia Chapter disaster team and is preparing to teach courses to licensed members on disaster preparation. He has also worked with farmworkers for at least four years as part of the South Georgia Farmworker Project.  
"One of the things that I pride myself on most is showing respect to all of my clients regardless of their circumstances," said Meacham. "Many clients are dealing with depression, substance abuse, domestic violence or adjustment disorders. If you work with them the right way, they will show you respect and you can work together to reach many solutions."
Meacham is a licensed social worker with a Master of Arts in sociology, a Master of Philosophy in sociology, a Master of Social Work and a Doctor of Philosophy in sociology. His background includes work with inmates, the chronically mentally ill, juveniles, the elderly, and the homeless. He has held several positions in the National American Sociological Association and has been published more than 25 times. 
Newsroom
Office of Communications Powell Hall West, Suite 1120
Mailing Address
1500 N. Patterson St.
Valdosta, GA 31698
General VSU Information
Office of Communications